Assembly investigation: Cuomo began planning his lucrative book just days into the COVID-19 pandemic
Investigators also found the ex-governor sexually harassed staff, hid nursing home data and used state resources for personal gain.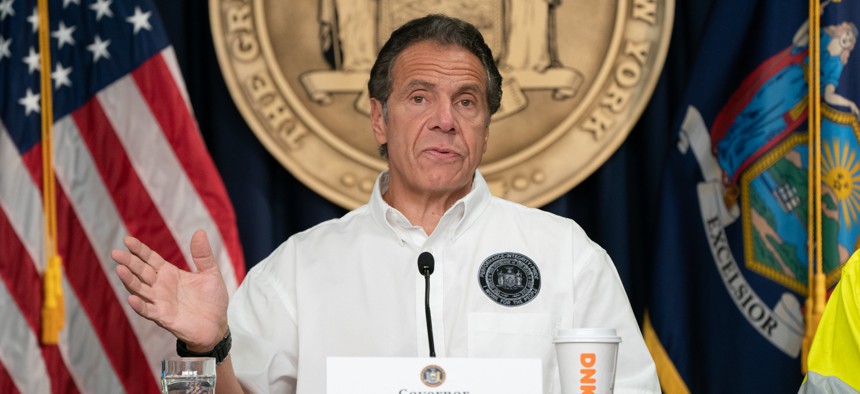 Updated 5:15 p.m. Nov. 22, 2021.
Former Gov. Andrew Cuomo spent much of the COVID-19 pandemic engineering a self-serving campaign to boost his own national profile and shield himself from criticism of his handling of nursing homes ravaged by the virus, a much-anticipated report released Monday found. 
The report, commissioned by the state Assembly Judiciary Committee, found that while Cuomo was claiming to run a 24/7 operation to combat the spread of coronavirus in New York, senior staffers were in fact steeped in work on his personal pandemic memoir. One aide sent and received an upward of 1,000 emails on the book in a span of six months, while others worked on promoting it and helped draft the manuscript, carefully casting Cuomo in a positive light specifically when it came to his handling of nursing homes during the pandemic, staffers told investigators hired by the Committee to compile the report.
Investigators also revealed that less than 24 hours before closing all nonessential businesses on March 20, 2020, Cuomo was approached by Penguin Random House about the book-deal, which is expected to net $5.1 million in proceeds, a number probers say Cuomo downplayed during the sign-off process with a state ethics committee.
Assembly Speaker Carl Heastie unveiled the 60-page document, which was compiled by the law firm Davis Polk and Wardwell, as part of the Committee's now-defunct probe into whether it had grounds to draft articles of impeachment against Cuomo. Assembly members floated the idea of retroactively impeaching Cuomo following his August resignation – an option the lawyers say in the report is unlikely to be legally permissible now that he has resigned. 
In addition to misusing state resources to work on his book, investigators said there's evidence Cuomo's team downplayed the number of COVID-19 deaths of nursing home patients in its publicly released data and that Cuomo tried to distance himself from his controversial policy requiring homes to accept infected patients.
The report also details claims of sexual misconduct made by at least 12 women against Cuomo and concludes "that there is overwhelming evidence that the former governor engaged in sexual harassment." In at least two instances, the accusers said the former governor pressured them not to tell anyone about the interactions.
The revelations are the latest in a series of damning investigations this year that have shadowed the erstwhile national hero – and are the clearest indication yet that the wrongdoing was so sweeping that legislators could have had grounds to impeach the former governor over it, Committee members have suggested in recent days. 
"I hope this report helps New Yorkers further understand the seriousness of the allegations that have been made and serves to guide us to a more ethical and responsible government," Committee Chair Charles Lavine said in a press release. "New Yorkers deserve no less."
Information collected as part of the investigation – which includes 600,000 pages of documents and more than 200 individuals' accounts – will also be handed over to outside agencies conducting their own probes into Cuomo. 
Cuomo's spokesperson blasted the report in the hours after its release as "hypocritical, revisionist" and part of a "partisan campaign" by the Assembly. He denied Cuomo misused state resources to work on his memoir, repeating his claim that staffers "volunteered" their time.
"To be clear, the people who volunteered to work on the book were people mentioned in the book and therefore they were involved to make sure the representations concerning them were accurate," spokesperson Rich Azzopardi said. "Staff who volunteered took time off, evidencing that they were volunteering and not on state time."
The report hardly substantiated all the allegations of wrongdoing against the governor. Investigators, for example, did not find much about reported safety concerns at the Mario. M. Cuomo Bridge. However, there was a lot of interesting reading in the report, including its lengthy footnote section and a letter from Lavine to Assembly Speaker Carl Heastie that accompanied the release of the report itself. City & State is here to guide you through it with a quick reading of the report and some of its most notable passages by topic area. Excerpts from the report are in italics (parenthesis indicate our own additions for clarity), and our takeaways are in bold. 
Cuomo book deal
The idea for Cuomo to write a book began early on in the pandemic (page 28).
As early as March 19, 2020, a Penguin Random House ("PRH") employee reached out to a literary agent representing then-Governor Cuomo to see if the then-Governor was interested in writing a book. On July 1, 2020, the literary agent told a PRH representative that then-Governor Cuomo had been writing a book about his experiences during the first six months of the pandemic and his actions as Governor to respond to the crisis. The literary agent represented that the then-Governor already had 70,000 words written
Cuomo staffers worked on his COVID-19 pandemic memoir on taxpayer time (page 3).
Certain senior state officials worked extensively on the Book, including attending meetings with agents and publishers, transcribing and drafting portions of the Book, coordinating the production and promotion of the Book, and participating in working sessions to review and finalize the Book. This work was done as part of the regular course of work in the Executive Chamber, including during normal work hours.
Cuomo misled the public about his book payout (page 4).
Former Governor Cuomo's book contract guaranteed payment to him of $5.2 million in royalty advances, with additional payments available if the Book met certain sales targets. In public statements, the former Governor suggested otherwise, indicating that his income from the Book was principally dependent on sales.
Cuomo did not cooperate with impeachment investigators to provide evidence for his benefit with regard to his book (page 27).
The former Governor's counsel has made several requests to address the issues under investigation by the Committee and on September 13, 2021, the former Governor's counsel provided the Committee with a written submission, which included only a paragraph regarding the Book and did little to refute the evidence gathered (...) As noted above, the former Governor failed to cooperate in any meaningful way with the Committee's investigation including with respect to the Book. Key senior officials also declined to cooperate with our investigation or otherwise make themselves available.
Making the book a bestseller was an apparent obsession for some Cuomo staffers (page 36).
Executive Chamber employees also appeared focused on ensuring that bulk sales were counted toward The New York Times Best Sellers list's ranking of the Book (...) In late October, email correspondence between a senior Executive Chamber official and individuals at PRH reflects frustration between the Cuomo side and PRH regarding obtaining up-to-date sales information on the Book.
Sexual misconduct
Two of Cuomo's alleged victims – a female State Trooper and former aide Brittany Commisso – said he urged them not to discuss their interactions (page 2).
Trooper #1 has worked for the New York State Police since 2015. Trooper #1 has alleged that the then-Governor touched her inappropriately on multiple occasions – including by running his finger slowly down her spine, running his hand across her stomach, kissing and hugging her, and making numerous inappropriate and offensive comments to her ( ... ) the then-Governor instructed her not to tell "anyone."
Brittany Commisso, an Executive Assistant in the Executive Chamber since December 2017, has alleged a pattern of sexual harassment by former Governor Cuomo, which began with flirtatious and sexually suggestive comments, and escalated to ( … ) reaching under her shirt and groping her breast. According to Ms. Commisso, the then-Governor asked her not to share "the things that have gone on," stating that it could get him in "big trouble."
Commisso's account is credible, though Cuomo, who is facing a criminal charge accusing him of groping her in the Executive Mansion last year, has attempted to use the discrepancies in her timeline to cast doubt (pages 23-24).
We have also reviewed the transcripts and memoranda reflecting the recollections of the Executive Assistants in whom Ms. Commisso confided regarding the then-Governor's conduct toward her. We have not identified any material inconsistencies between or among these various descriptions. The types of minor inconsistencies we have observed do not indicate that Ms. Commisso is lying, or that the Executive Assistants are lying or were lied to by Ms. Commisso; on the contrary, they are the types of minor inconsistencies that are common among witnesses and often regarded as "the hallmarks of truth."
Investigators detailed allegations made by a 12th woman, Rochester-area business owner Sherry Vill, that Cuomo forcibly kissed her in March 2017 outside her home while touring flooding damage of the area. Vill was not included in the state Attorney General's report that found his 11 other accusers were credible, but she went public with her story in March, retaining sexual harassment lawyer Gloria Allred to represent her and appearing on national news networks (page 14).
According to Ms. Vill, she asked the then-Governor about the state of her home, and the then-Governor responded by taking her hand and kissing her on both cheeks, without her consent. Ms. Vill said that, as the group was walking out of the house, the then- Governor turned around and told Ms. Vill she was beautiful. Ms. Vill stated that she felt uncomfortable and stayed behind at the front of her home as the then-Governor and his staff toured the damage on the side of her home. According to Ms. Vill, when the group returned, the then-Governor approached her, asked if there was anything else she wanted, and then leaned down and kissed her again – also without consent – while grabbing her hand.
Cuomo's team acted maliciously when it released former aide Linday Boylan's personnel file shortly after she went public with sexual harassment allegations against him in December 2020, prompting his other accusers to come forward (page 10).
The former Governor has argued that the disclosure of portions of Ms. Boylan's confidential personnel files to the media does not meet the legal definition of retaliation. Putting aside whether those who released Ms. Boylan's confidential employment files are legally culpable, contemporaneous documents indicate that the public release of these documents was intended to demean and embarrass Ms. Boylan, and it had the predictable effect of discouraging Ms. Commisso from coming forward.
Cuomo understood the definition of sexual harassment that he signed into law in 2019 – including that the perpetrator's intent is not relevant – despite his use of contradictory interpretations to defend himself previously (page 15).
The former Governor acknowledged that his intent was irrelevant under the law, and that – as a result of a state law that he personally signed as Governor – conduct need not be severe or pervasive to constitute sexual Harassment.
Nursing Homes
Team Cuomo tried to pressure the state Department of Health to take the blame on a controversial March 25, 2020 order requiring nursing homes to accept COVID-19 patients (page 41). 
During testimony before the New York State Senate in August 2020, a senior Executive Chamber official, who was in the room where a senior DOH official was remotely testifying, wrote a message on a whiteboard suggesting that the senior DOH official testify in effect that the March 25 Directive was authored by DOH and that the Executive Chamber was not involved. This statement was not true, and the senior DOH official did not make such a statement in the testimony.
Cuomo was directly involved in engineering a state report that appeared to downplay his role in the controversial nursing home directive (page 40).
The former Governor reviewed and edited the draft DOH Report on multiple occasions, and made edits to strengthen the defense of the March 25 Directive.
DOH officials who worked on the DOH Report expressed a number of concerns regarding drafts of the report, including that drafts of the report used data that could not be independently verified by DOH, and that drafts included statements of causality and drew oversimplified conclusions, and did not explain the limitations of the data used in the DOH Report. More generally, DOH officials were concerned that the DOH Report was directed by the Executive Chamber and Task Force, and was not in fact a scientific or medical report.
Assembly investigators found no evidence contradicting the state Department of Health's conclusion that the coronavirus was likely introduced to nursing homes by infected staff members (pages 4-5).
Of note, we did not uncover any documents during the course of our investigation that undermine the central conclusion of the DOH Report that COVID-19 was likely introduced into nursing homes by infected staff, nor did any Executive Chamber, Task Force, or DOH employee with whom we spoke disagree with that conclusion. To be clear, we did not conduct an independent medical review of the cause of nursing home infections and deaths during the pandemic and such a review was not within our mandate. We note that many of the decisions regarding the pandemic and related policies were made in the context of a once-in-a-century event that was fast-moving and presented significant challenges. 
Health care professionals say they were stifled by Cuomo during the pandemic (page 41). 
There was only one healthcare professional on the (COVID-19) Task Force, a senior (Department of Health) official, and that senior DOH official did not have regular meetings with the former Governor during the pandemic and found it difficult to speak directly with the former Governor, as senior Executive Chamber employees guarded access to the former Governor. Moreover, the senior DOH official did not feel able to speak freely to the former Governor or senior Executive Chamber employees, as advice that was contrary to the Chamber's views was often rejected.
Safety concerns at Mario M. Cuomo Bridge
Assembly investigators didn't find out much about reported safety concerns on the Mario M. Cuomo bridge (page 42-45).
In light of the former Governor's resignation and the fact that substantial further evidence would need to be gathered and analyzed, the Committee instructed Davis Polk not to pursue this investigation. The Committee will make all evidence that it has gathered available to appropriate authorities.