Politics
The developing storylines at Somos
A few narratives are emerging from the Democratic conclave in Puerto Rico.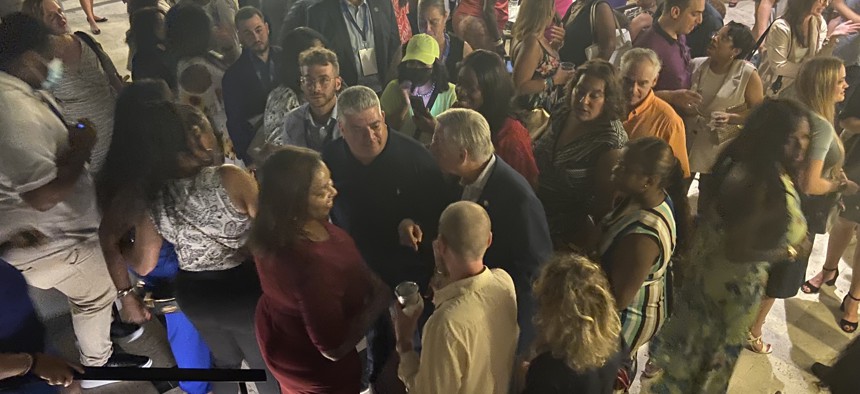 New York Democrats are holding their annual retreat in Puerto Rico this week at a pretty interesting time. Their party took a shellacking at the polls a day before the start of Somos on Wednesday, in an apparent rebuke of the political left, just as races for New York City Council speaker, governor and state attorney general heat up. Centrists blame progressives and vice versa. The very identity of the party appears to be once again, very much up in the air. 
More than a few chatty Democrats have spent the last couple days intimating their deepest desires for the party while sipping stiff drinks at some of the finest hotels on the island. Some of them remain fixated on the speaker's race. Others are wondering how Republican success on election day might affect statewide races next year. And then there is the specter of a certain ex-governor hanging in the air. You just can't beat Somos for Democratic drama!
Here are the top takeaways from City & State reporters with another day to go at Somos.
Moderate candidates feel emboldened
Whether you wanna blame moderates or lefty progressives for Republicans' big election day victories, relatively centrist candidates clearly feel emboldened. Suffolk County Executive Steve Bellone – the so-called "last of the New York centrists" – appears closer than ever to making a decision about running for governor. State Sen. Shelley Mayer of Westchester, who is also present at Somos, is finding a lane in the race for attorney general as a relative centrist compared to her state Senate colleagues and rival candidates like Fordham Associate Law Professor Zephyr Teachout. Potential gubernatorial hopeful Rep. Tom Suozzi (who reportedly arrived at Somos just before publication time) has been making political hay from afar in recent days through media interviews talking up the recent election results reflecting voters' preference for more moderate candidates … like maybe himself. 
The field for speaker is widening rather than narrowing
City Council Member Justin Brannan is still a contender for speaker – just not as formidable as he might have looked had he done better in his own reelection campaign against his conspiracy-minded Republican opponent. His apparent vulnerability and the ongoing uncertainty over who is the person to beat in the speaker race, has helped create an opening for other people to enter the race. Incoming City Council Members Gale Brewer and Julie Menin are now among the names included in ongoing discussions at Somos – along with incumbent members Carlina Rivera, Francisco Moya, Adrienne Adams, Diana Ayala, Keith Powers and Farah Louis.
To Tish or to Kathy is the six-month-long question
Somos attendees generally agree that Gov. Kathy Hochul and Attorney General Letitia James are in a league of their own when it comes to the June 2022 gubernatorial primary no matter what possible candidates like New York City Council Jumaane Williams, Mayor Bill de Blasio, Suozzi and Bellone do. Elected officials, labor leaders and other political insiders, however, do not appear to be in any hurry to pick between Hochul and James. The governor has made a lot of progress over the past two months expanding her downstate political network, especially in voter-rich Brooklyn, while James has home field advantage in the borough because of her time representing in the City Council and later as public advocate. Expect a lot of people to begin jumping off the fence as soon as the state budget gets signed sometime around April 1. 
Everybody is running for state attorney general
Maybe your mother is sitting this out, but the field of candidates for attorney general continues to grow, with many of them rubbing elbows with potential supporters at Somos. Teachout was spotted Friday morning on the back deck of the Royal Sonesta San Juan, where many of the various Somos events are taking place, talking to left-leaning folks like Assembly Member Robert Carroll of Brooklyn, State Sen. Brad Hoylman of Manhattan and Stanley Fritz of the advocacy group Citizen Action of New York. Mayer and Brooklyn District Attorney Eric Gonzalez are also at Somos as is state Senate Deputy Majority Leader Michael Gianaris of Queens, who has told City & State he has not made any final decisions about getting in the race. 
Cuomo who?
The ex-governor used to be such a commanding presence that he did not even bother to work the bars at Somos. People came to him. His political future remains up in the air but you would not know it from listening to Democratic chatter at Somos. The name Cuomo hardly comes up at all! No one can know for sure what exactly is going through the head of the former governor – who continues to spread his own version of a Big Lie about being deprived of due process even though he resigned to avoid impeachment and removal from office – but one sign of how desperate he might be for the limelight came through a Friday morning tweet posted by one of his daughters plugging a Substack post – the unofficial venue of wronged culture warriors –by the sole journalist who appears to still take his various claims of victimhood seriously.