This Week's Headline
Election bruises and Somos cruises
Rounding up the week's political news.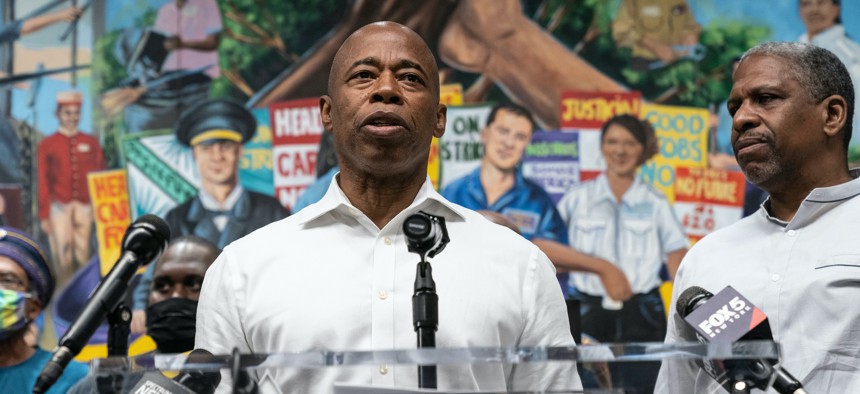 Lawmakers, their staff, union leaders, lobbyists and anyone else interested in local politics headed to Puerto Rico for the annual Somos legislative conference, where the political elite meet to wine, dine and forge alliances. Headline attendees included Gov. Kathy Hochul and her newly announced primary challenger state Attorney General Letitia James. Freshly elected New York City Mayor-to-be Eric Adams and his outgoing predecessor Bill de Blasio – who is eyeing a run for governor – also came for the New York political event of the year. Truly a "be there or be square" kind of gathering. Keep reading for more on the elections that immediately preceded the revelry and the rest of this week's news. 
Democrats take a drubbing on election night...
A red wave washed over the country on Election Day, and New York did not escape dry. Republicans won races across Long Island, picking up the district attorney offices in both Nassau and Suffolk Counties and likely the Nassau County executive position as well. In Western New York, Republicans also picked up the Erie County sheriff seat, something that has not happened in many years despite a voter enrollment advantage for Republicans in the county. Even in tried-and-true blue New York City, Republicans made some gains, picking up at least two new City Council seats and holding onto the three they already had. And on Staten Island, a Trump-loving disgraced former Congress member won the race for borough president. Voters also resoundingly rejected three ballot proposals championed by Democrats after the Conservative Party spent $3 million on a campaign to oppose them. One would have tweaked the redistricting process, while the other two would have allowed same-day voter registration and no-excuse absentee ballots. Many of the losses, including the ballot proposals, came as a surprise to many political observers, as well as the sheer size of many Republicans' margins of victory. 
… but not all Democrats were defeated
On the flip side of the coin, New York City Democrats had reason to celebrate with the election of Eric Adams to be the next mayor, as well as progressive leader Brad Lander as the next comptroller. Countless City Council candidates also officially became council members-elect with their general election victories following crowded primaries, with a record 31 women (admittedly some who are Republicans) set to take office next year. At the borough levels, Democrats also secured expected victories everywhere but Staten Island, with Alvin Bragg voted in as Manhattan's first Black district attorney and Vanessa Gibson as the Bronx's first female borough president. Over in Buffalo, the mayoral race was more controversial even if a Democrat technically won in the end. After waging a write-in campaign, incumbent Mayor Byron Brown bested insurgent India Walton, who ran on the Democratic Party line after winning the June primary. Although the write-in votes still need to be officially tallied for Brown, he easily won, declaring victory on election night. Walton conceded the next day.
Deal reached on municipal worker vax mandate
New York City Mayor Bill de Blasio reached a deal with union leaders on the mandate that all municipal workers receive a vaccine in order to give workers more time to seek religious or medical exemptions. As part of the deal, those who have applied for an exemption will still be allowed to work and get paid while awaiting approval of their application. However, if it gets denied, they'll be put on leave even if they appeal the decision. Although the vast majority of city workers have gotten the shot, enough have been placed on leave that some city services have been affected. Most notably perhaps has been the buildup of garbage on the street thanks to shortages in sanitation workers over the vaccine mandate. 
Taxi hunger strike ends after two weeks
Struggling cab drivers broke their two week hunger strike after reaching a deal with New York City for a new relief plan to help get them out of crushing debt that came with inflated medallion prices after the bubble burst within the industry. Many had been protesting outside of City Hall for weeks before the hunger strike, demanding a better plan from the city to help drivers after a spate of suicides over the past several years. Under the deal with the largest holder of taxi loans, the city will shell out millions more to help the taxi drivers. The agreement is a huge victory for cab drivers and their allies, representing essentially everything they had asked for.