New York State
Hochul: "I'm not giving a straight answer on that"
Gov. Kathy Hochul dodges, sidesteps and avoids direct questions about hot-topic issues in a one-on-one interview with City & State.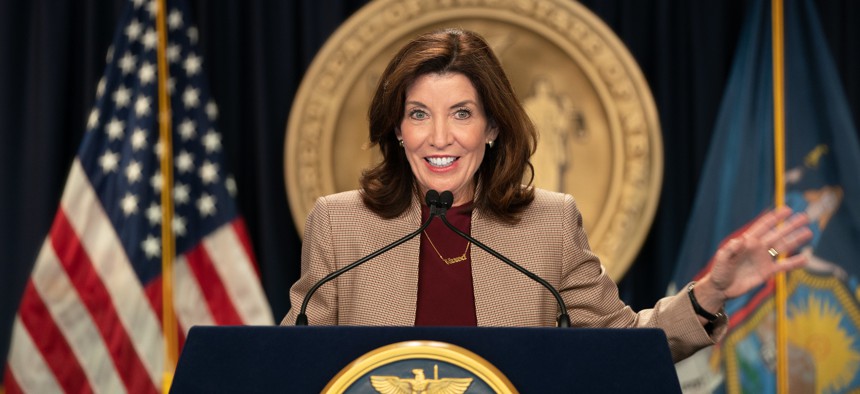 Since assuming her new role, Gov. Kathy Hochul has managed to expertly sidestep taking positions on many controversial issues. With two months to go before her State of the State and the start of budget season, Hochul has generally brushed aside questions about tax breaks and eviction protections by saying that she would need to speak to legislative leaders first. In a one-on-one interview with City & State, sponsored by AARP, Hochul continued this strategy, at one point saying outright, "I'm not giving a straight answer on that."
When asked about several hot-topic issues, such as criminal justice reform and affordable housing, Hochul talked about what she has already accomplished as governor and general platitudes on the importance of the issues before saying she would need to talk with the Legislature before coming to any conclusions about potential future legislation and other state business. "I'll just take a chance to state my priorities," Hochul said. "One is to listen to legislators. I know that's a little radical coming out of the governor's office." While an admirable goal after over a decade under Gov. Andrew Cuomo's rule, it has also provided Hochul with an easy out during the early months of her tenure, while the Legislature is not in session, when questioned about her position on specific legislation or initiatives prior to her State of the State address in January.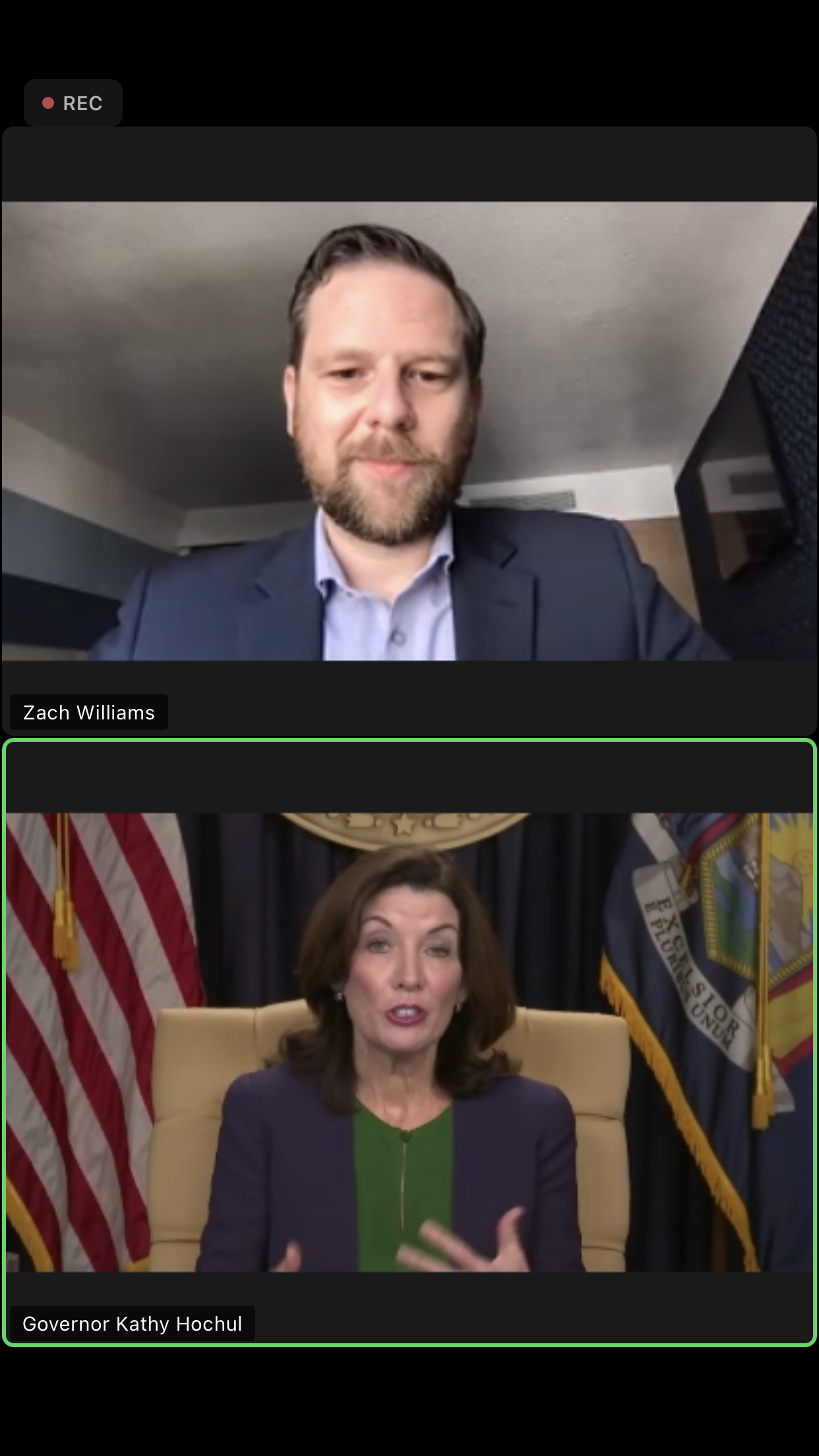 Hochul wouldn't pin down where she stood on so-called good cause eviction, which would prevent landlords from evicting tenants in most circumstances and set limits on rent increases. "I'm not going to prejudge them right now," Hochul said. "I want to see what the Legislature's priorities are, work with them." She similarly demurred when questioned about the controversial 421-a tax break for real estate developers to set aside affordable units in their buildings, which is set to expire in June. "I'm making modifications but again … the timing is such that I want to be able to have the conversation with the Assembly leadership, Senate leadership, in a collaborative way so there is a higher percentage of success in getting a shared vision accomplished." 
When asked about the broad issue of affordable housing, Hochul spoke largely about the success of her administration in distributing federal rent relief money right out of the gate and the need to create more places for seniors and low-income people to live. She said she'll have a plan for all sorts of housing issues – but you'll have to wait until January to hear about them.
On the subject of criminal justice reforms, the opposition to which was at the heart of GOP victories across the state over Democratic opponents and incumbents, Hochul similarly touted past achievements without weighing in on where she'll stand on future efforts in light of the party's recent losses. "What I can explain to people is that the bills that I signed, and I'm proud of the reforms I signed, do not have a direct correlation to what has been going on in this post-pandemic world where a lot of people turned to crime," Hochul said. She committed herself to keeping New Yorkers safe, and to working together with New York City Mayor-elect Eric Adams to that end. However, Hochul did not offer a position on what future criminal justice reforms will look like, or her position on bills like Clean Slate and Fair and Timely Parole, which did not pass in Albany last session. Asked to clarify if recent losses had not dampened her enthusiasm for criminal justice reform, Hochul pivoted to police funding. "I have signed what I am going to sign," she said. "I also appreciate the opportunity to reaffirm my strong commitment that we will keep protecting the people, will continue making sure our police are fully funded."
Hochul's most candid response came when she was asked about whether she would support a constitutional amendment to limit the governor's power over the budget process by affording the Legislature more say. A pair of 20-year-old judicial decisions referred to as Silver V. Pataki expanded the executives' already extensive powers and only a change to the state constitution can overturn it. 
At first, Hochul avoided the question by pointing out the amount of time it takes to approve a constitutional amendment in the state – the shortest amount of time possible is two years. Pressed to give a clearer answer on where she stands with regards to an amendment, Hochul replied, "I'm fairly saying I'm not giving a straight answer on that." She went on to say that her style of governance wouldn't necessitate such a formal change anyway. "I don't need to take the steps to wait five years to get something done that I have the power to do right now, which is to share that power in a way it has not been done before," Hochul said, seemingly referring more to local governments than the co-equal state Legislature. This, of course, means nothing for future governors, or if she decides she doesn't like the direction in which the Legislature is going.
That's not to say that Hochul has completely shied away from any concrete position. She clearly stated her opposition to raising taxes, at least for now, saying it would be counterintuitive when trying to attract businesses to come to New York. "I'm not interested in driving people out of the state," Hochul said bluntly. She also pledged tacit support – "that makes sense" – for the idea of creating a right to counsel in Housing Court the same way public defenders are provided to criminal defendants if they cannot afford their own lawyers. It still came with a caveat about the need to analyze where the money for such a program would come from.
Hochul's mastery of political doublespeak and general niceties seems to be serving her well so far, as early polls still have voters viewing her favorably. While Hochul has held her new post for a couple of months already, it would seem that New Yorkers will have to wait a couple more to hear about where she stands on a variety of issues, even if they ask her about them directly.
Powered By
NEXT STORY: Activist lawmakers share in taxi drivers' victory