News & Politics
Lawmakers, legal experts react to Rittenhouse not-guilty verdict
A jury found Kyle Rittenhouse not guilty on Friday on all five charges in the shooting of three men at a protest in Kenosha, Wisconsin, in 2020.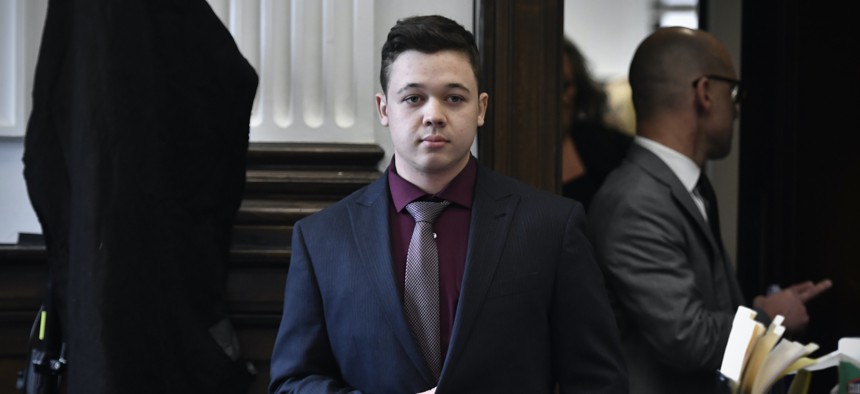 Lawmakers and legal experts across the country reacted to the not-guilty verdict in the Kyle Rittenhouse case on Friday, with many lambasting his acquittal on all five charges in the shooting of three men, two fatally, at a protest in Kenosha, Wisconsin, held in support of Jacob Blake, a Black man shot in the back by police in August 2020. 
Rittenhouse, 18, was charged with five felonies in the shooting deaths of Joseph Rosenbaum, 36, and Anthony Huber, 26, and the non-fatal shooting of Gaige Grosskreutz, now 27. 
The 12-person jury reached a decision Friday afternoon after four days of deliberation. 
Rittenhouse was shaking as the jury delivered the verdict and cried after all five "not guilty" counts were read. 
Lawyers for Rittenhouse, who was 17 at the time of the shootings, claim he was defending himself from an angry mob of protesters when he fired several rounds from an AR-15 style rifle.
"I didn't do anything wrong. I defended myself," Rittenhouse testified. "I didn't intend to kill them. I intended to stop the people who were attacking me."
Prosecutors argued he incited violence when he made the 30-minute drive from his hometown of Antioch, Illinois, to the protests and carried a loaded AR-15 style rifle through the highly emotional crowd demonstrating against the police shooting of Blake. The 29-year-old Black man was shot seven times in the back by a white police officer outside of his Kenosha apartment complex. His three children witnessed the shooting, which was caught on video by a bystander and quickly went viral, sparking outrage. 
Blake was left partly paralyzed. The officers involved were not criminally charged following an investigation by the Kenosha County District Attorney.  
Testimony in the trial showed that Rittenhouse shot Rosenbaum – who was released from a psychiatric hospital that day and was witnessed by others and in video footage acting erratically during the protests – after he chased him into a parking lot. Rittenhouse then shot Huber and Grosskreutz, who testified that he pulled out a pistol he was carrying because he believed Rittenhouse was an active shooter, when they pursued him. 
The Rittenhouse case has become a flashpoint in the country's culture wars. 
Conservatives rallied around the teen, characterizing him as an All-American hero protecting the town from tumultuous protests while exercising his gun rights. 
To others, Rittenhouse represents extremism, the far-right and a justice system that caters to white privilege.
The chaotic trial brought a media circus to Kenosha, where 500 Army National Guard troops were stationed Friday in preparation for turmoil following the verdict. 
At times, Circuit Judge Bruce Schroeder came under fire for bizarre behavior and perceived sympathy for Rittenhouse. He allowed Rittenhouse to select jurors from a tumbler, and later tossed a gun possession charge he was facing. 
Here are some of the early reactions to the verdict from lawmakers and criminal justice experts:
Gov. Kathy Hochul: "Kyle Rittenhouse used an assault weapon to kill two people. This is not justice. If there was any question about why we need strong gun safety laws, this is your answer. This should never have been allowed to happen in the first place. We have a lot of work to do," she tweeted.
New York City Mayor-Elect Eric Adams: "The decision is an indictment of irresponsible laws that make our society far more violent and unsafe under the guise of personal freedom and so-called self-defense. It also sends an extremely dangerous message to those in our country who seek agendas of anarchy – often born in prejudice and ignorance – to wreak havoc in their communities and potentially murder their neighbors. We should not be shocked. We should be focused on swift and righteous action," he said in a statement.
New York Attorney General Letitia James: "This is a dark day for our justice system. As a lawyer, I respect jury verdicts. But this is yet another reminder that our system needs to be uprooted and reformed," she tweeted.
New York City Mayor Bill de Blasio: "Anthony Huber and Joseph Rosenbaum are victims. They should be alive today  . . . The only reason they're not is because a violent, dangerous man chose to take a gun across state lines and start shooting people . . . To call this a miscarriage of justice is an understatement," he tweeted.
New York City Public Advocate and gubernatorial candidate Jumaane Williams: "The Kyle Rittenhouse trial and the verdict it produced are clear and devastating representations of the way our country and our legal system view innocence and guilt, vigilantes and villains, race and the fight against racial injustice," he said in a statement. "Across the country we see people committed not to changing systems of injustice, but using those systems to harm those who would object or protest against them. This verdict sets a new standard that will only encourage future Kyle Rittenhouses – some in the streets armed with weapons, some in government armed with oppression."
Manhattan Borough President Gale Brewer: "Joseph Rosenbaum, 36 and Anthony Huber, 26 — victims killed by Kyle Rittenhouse. The killer walks free thanks to a miscarriage of justice in WI. Huber leaves behind a stepdaughter, and Rosenbaum a daughter. White supremacy, guns, & institutional racism are a toxic combination," she tweeted.
State Senator Zellnor Myrie: "This isn't just about one case in... an already failing system ... The Supreme Court of the United States could sanction the Rittenhouse fact pattern for the entire country next year . . . Allow yourselves to feel whatever emotions you are feeling. Then, organize. Immediately," he tweeted.
State Assembly Member Latoya Joyner: "What the f--k!" she tweeted.
State Assembly Member Jo Anne Simon: "This is really bad. Freaking unbelievably bad," she tweeted. 
New York City Council Member Keith Powers: "No one can look at today's verdict and not believe there aren't two systems of justice in America . . . It's more clear than ever that we have an incredible amount of work to do to build a fair and equitable justice system," he tweeted.
New York City Council Member-Elect Sandy Nurse: "The jury's decision is not out of the blue. The trial was marred by the defense's racist dog whistles and the judge's gratuitous, biased commentary," she said in a statement. "The trial and its result were characterized by the white supremacist ideologies ingrained into the fabric of our country. The jury's decision will have far-reaching consequences on our shared democratic ideals of free speech and the right to assemble. Ultimately, today's verdict greenlights extremists to enact violence against those fighting for a more compassionate, just and equitable world."
New York City Council Member-Elect Crystal Hudson: "Wish I could say I'm surprised," she tweeted. 
Former New York State Assembly Member Dov Hikind: "It wasn't just Kyle Rittenhouse that was on trial over Kenosha, but our very constitutional rights . . . And the verdict is in . . . Americans have a right to self defense and to be free of liberal madness that makes violent rioting & property destruction acceptable! . . . A day of justice" he tweeted.
Civil Rights Lawyer and former Manhattan District Attorney candidate Tahanie Aboushi: "The #RittenhouseVerdict puts a target on protestors & sets dangerous precedent that it is OK to kill/injure protestors under the guise of "self defense." The judge wouldn't let them be referred to as victims because that would've weakened Rittenhouse's self-defense claim," she wrote in a tweet also shared by Council Member Justin Brannan.
New York City Public Defender and former Manhattan District Attorney candidate Eliza Orlins: "Kyle Rittenhouse found not guilty on all charges . . . This is not an example of our 'broken' criminal legal system. It's another an example of the system working exactly as designed," she tweeted.
President Joe Biden: "While the verdict in Kenosha will leave many Americans feeling angry and concerned, we must acknowledge that the jury has spoken," he said in a statement. "I ran on a promise to bring Americans together, because I believe that what unites us is far greater than what divides us. I know that we're not going to heal our country's wounds overnight, but I remain steadfast in my commitment to do everything in my power to ensure that every American is treated equally, with fairness and dignity, under the law."
With Additional Reporting by Jeff Coltin and Zach Williams.