New York State
Rittenhouse verdict was a victory for gun advocates. Their next fight is in New York.
The Supreme Court will soon decide whether New York's restrictions on concealed carry gun permits are constitutional.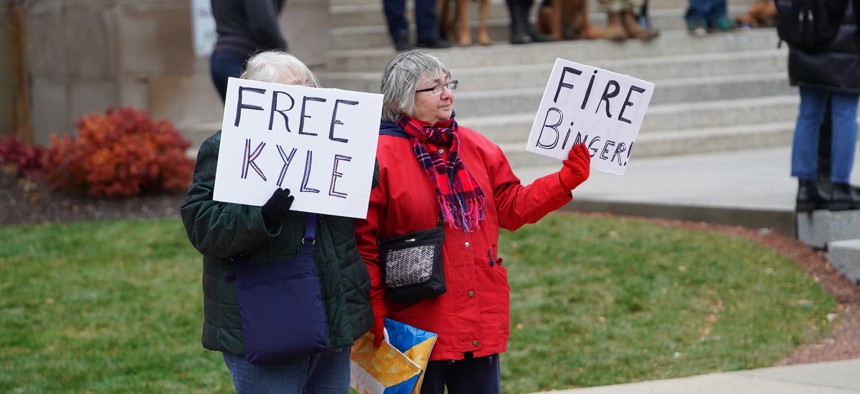 On Friday, Kyle Rittenhouse was acquitted of all five charges levied against him for shooting three men and killing two during a protest against the police shooting of Jacob Blake in Kenosha, Wisconsin, last summer. The 12-person trial's acquittal of Rittenhouse has since been widely viewed as a symbol of America's commitment to the Second Amendment.
Gun rights advocates cheered the verdict in the high-profile case, while activist leaders and racial justice experts have pointed out that the ruling sets a dangerous precedent on vigilantism and guns at protests, which can often be chaotic, emotional and susceptible to violence even without the visible presence of firearms. 
In New York, hundreds of people marched in Brooklyn in protest of the acquittal, while many legislators and law enforcement officials publicly denounced the decision.
The controversial verdict also comes as the Supreme Court weighs a decision on a New York-based concealed carry case that could further embolden firearm enthusiasts and has thrust the state into the national conversation on gun laws and self defense. 
The case centers on the definition of "proper cause" for obtaining an unrestricted license to carry a concealed gun in public. It was filed by the New York State Rifle and Pistol Association, along with two Rensselaer County men, Robert Nash and Brandon Koch, who argue that their desire to defend themselves meets the threshold for "proper cause" to obtain a concealed carry permit.
Justices have indicated they are leaning toward ruling the current law unconstitutional, meaning New York may have to revise its gun laws to lessen the requirements for obtaining the license, experts have said. However, that doesn't mean that people will suddenly be carrying guns through Times Square. 
Justices have signaled that guns could still be banned in certain public places, such as the subway system and college campuses. In New York City, the New York City Police Department is responsible for vetting applicants and issuing concealed carry licenses.
Both the Rittenhouse verdict and the concealed carry case before the Supreme Court have unfolded at a time when both firearm sales and shootings have surged in New York and across the country, and when the political divide on gun laws has never been wider. 
The decisions have unique implications for New York City, which is an anomaly when it comes to its record on both protesting and gun control. It has some of the strictest gun licensing restrictions in the U.S. and a reputation as a launching pad for global protest movements.   
Politically, the discussion on guns is expected to weigh heavily on the upcoming gubernatorial race and Mayor-elect Eric Adams' tenure.
Adams, a retired NYPD officer who has said he will carry a gun as mayor, has urged the Supreme Court not to loosen the concealed carry restrictions. 
"We need fewer people carrying guns – not more – and the ability to keep our streets safe, preserved, not reversed," he said in a statement to The New York Times. "If this law is eliminated in New York, police departments in New York City and across the state will have to immediately prepare for more shootings and need additional resources to prevent them."
Gov. Kathy Hochul has also said she supports the existing law, despite her brief history with the National Rifle Association, which endorsed her in her failed 2012 bid to retain her Congressional seat. Hochul's opponent in next year's gubernatorial race, meanwhile, State Attorney General Letitia James' office, is embroiled in a legal battle with the NRA over a lawsuit it filed to dissolve the lobbying group.
Hochul has since come out against the NRA and has taken various actions to limit illegal guns and shootings since she took office in August. On Monday, she announced a $6.2 million investment in intervention and community outreach programs in Westchester County aimed at reducing gun violence. 
"I believe there are legitimate gun owners, they have their rights. But those rights do not include walking around with a hidden gun – and who knows how it's going to be used," Hochul told NY1 earlier this month. "I really hope that the Supreme Court sees the wisdom of what we put in place."
Powered By
NEXT STORY: FAQ: all the Cuomo investigations