New York City
21 in '21, others, blast Eric Adams' support for male speaker candidate
As the City Council speaker race reaches its final leg, some lament the lack of a female finalist.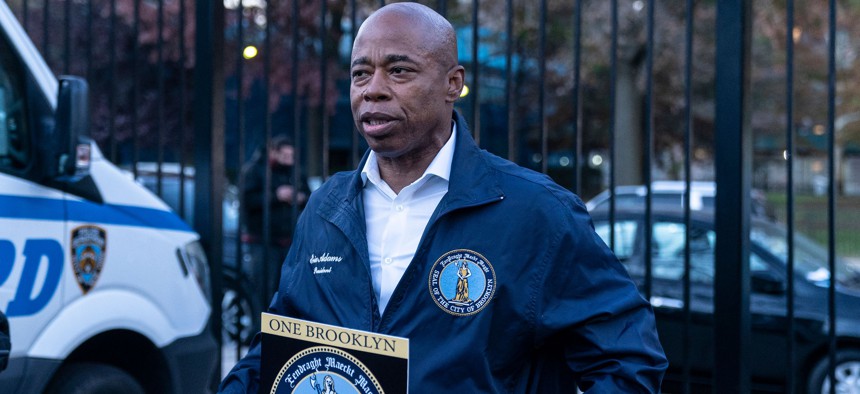 For a while, it seemed the first majority female New York City Council might end up electing a female speaker. But as the ground shifts in the fast-moving race to choose the council's leader, those close to Mayor-elect Eric Adams are pushing for Council Member Francisco Moya, as City & State and othersreported earlier this week. 
In a statement Wednesday night, several groups focused on electing women criticized Adams for pushing only a male candidate. "With a historic 31 member majority of women, and an historic year for gender representation, women's groups are working with the new majority to empower them to select a woman speaker," the letter – signed by leaders of groups including 21 in '21, Eleanor's Legacy and the National Organization for Women in New York City – read. "It is unconscionable that Mayor-elect Adams would indicate support for only male identified Speaker candidates."
Organizations such as 21 in '21 have been credited with helping to elect the first majority female City Council in history, and are among those who have pushed for that body to be led by a woman. While mayors have sometimes put their fingers on the scale in past speaker races, Adams has maintained that he would stay out of it. That seemed to shift this week, when allies of the incoming mayor began pushing aggressively for members – along with labor leaders and other power brokers – to support Moya. "This is not in the hands of the Mayor-elect," Jessica Haller, executive director of 21 in '21, wrote in the release. "We are not willing to accept the boys club of the old New York. Mayor-elect Adams needs to read the room, and when he does, he will see a majority (of) women, and they are ready to lead."
Moya, who represents Queens neighborhoods including East Elmhurst and Corona, was a later entry in the race for speaker. While Adams surrogates have been working the phones to pump up Moya, it's still unclear how many votes he's counting on from returning and new members. Politico reported earlier on Wednesday that in a couple of straw polls taken by different voting blocs – including incoming progressive members and members from the Bronx – Moya did not rank among members' top three picks. And apart from the interest in electing a woman, some members expressed frustration with the attempt to manufacture support for Moya. "I think the (letter), in combination with what I'm hearing from other members, underscores the dissenting opinion about this decision for people to rally around Moya, considering that he was not one of the top people that anyone really liked," said one incoming council member. That incoming member said that a Moya speakership is not a sure thing yet, adding that there is a "serious contingent of people" working to dismantle any building support for Moya.
Still, Adams' support would be formidable, and Moya's campaign argues that they have support and are picking up votes. "Francisco's always been a front-runner," David Weiner, who is consulting for Moya's speaker campaign, told City & State earlier this week. Moya also picked up the endorsements of the New York City District Council of Carpenters and LiUNA-NY on Wednesday. 
While it was never a sure thing that the council would elect a woman speaker, the push for Moya towards the end of the game has rubbed some close to the discussions the wrong way. "There are 31 women in the council right now," said one Democratic consultant. "You only need 26 votes to decide the next speaker. And there are a whole bunch of men basically telling them who they should pick. That, to me, is just awful."
Spokespeople for both Adams and Moya did not immediately respond to a request for comment late Wednesday night.