New York City
The CCRB just got a little more powerful
A bill passed by the City Council will allow the police watchdog to initiate its own investigations.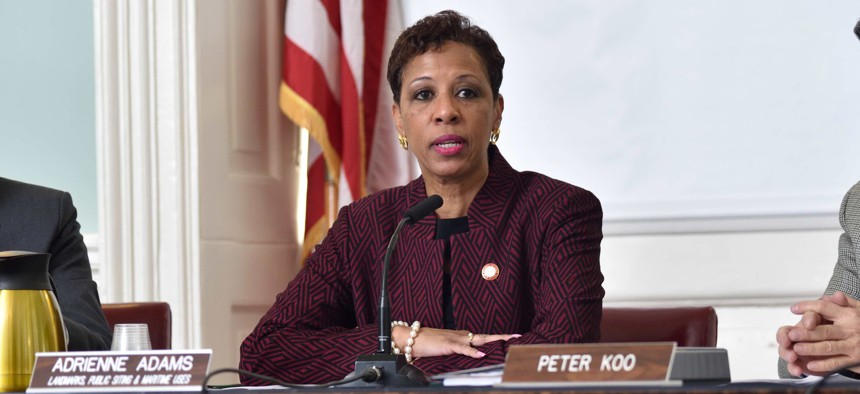 As New York City has ushered in several major policing reforms over the last two years or so, one target for improvement has been the Civilian Complaint Review Board, the body that receives, investigates and recommends action on complaints made against police officers. 
That board's powers were expanded on Thursday as the New York City Council passed a bill sponsored by Council Member Adrienne Adams and backed by Mayor Bill de Blasio that will allow the body to self-initiate its own investigations rather than having to wait for people to file official complaints against officers. "This long overdue legislation will lead to greater accountability and public safety for all New Yorkers," Adams tweeted on Thursday. The passage of the bill marks the latest expansion of the board's powers, including receiving the ability to investigate complaints of sexual misconduct and false official statements against officers – a rule put in place last year and affirmed by a state Supreme Court justice earlier this year. 
The Daily News editorial board endorsed Adams' bill last month. "While it shouldn't be used as a tool to go on fishing expeditions, it will prevent the CCRB from having to sit on its hands and wait for a go-ahead that may never come," the Daily News editorial board wrote of the bill. 
The CCRB currently hears and investigates complaints from the public against officers for alleged offenses including excessive or unnecessary force, abuse of authority, discourtesy and the use of offensive language. With the new bill, however, the CCRB won't have to wait for a civilian – usually someone who experienced or witnessed alleged misconduct – to file a complaint in order to investigate an incident. "If the CCRB is aware of misconduct, it should not go ignored because a victim does not have the capacity to file a complaint," CCRB Chair Fred Davie told The City last month. "All misconduct should be addressed, and this bill will bring us one step closer."
Following the protests against police brutality after the police killing of George Floyd in May 2020, the CCRB received hundreds of complaints about cops' conduct with protesters. In October, the board announced that out of 313 complaints it was investigating, it had completed 127 investigations, finding 42 substantiated complaints of misconduct against 65 officers. For 37 of those officers, the CCRB recommended the highest level of discipline – which could mean cops facing suspension or termination, among other actions. Investigations into the remaining complaints were still underway as of October. In a press release, that board noted that it was having "unprecedented challenges" investigating complaints because of problems identifying officers who covered their names and shields, among other failures to follow protocol.
The CCRB continues to encounter criticism as a body without much teeth, however. The New York Times reported last year that NYPD officials were able to downgrade or reject recommendations of the highest level of discipline for about 71% of 6,900 misconduct charges over the last twenty years.  
While the bill passed on Thursday doesn't address the ability of senior officials at the NYPD to overrule recommendations of discipline, it was seen by some advocates for greater accountability as a step in the right direction. "Strengthening the independence of the CCRB is long overdue," the New York Civil Liberties Union said in a tweet on Friday. "Enhancing their authority to bring investigations of NYPD misconduct is an important step towards greater police accountability."