Congeniality wins out at NYC Council Speaker race debate
Council Member Diana Ayala pushed aside political niceties in favor of compliments at a candidates forum Thursday, reminding all what it takes to do the job – earning trust.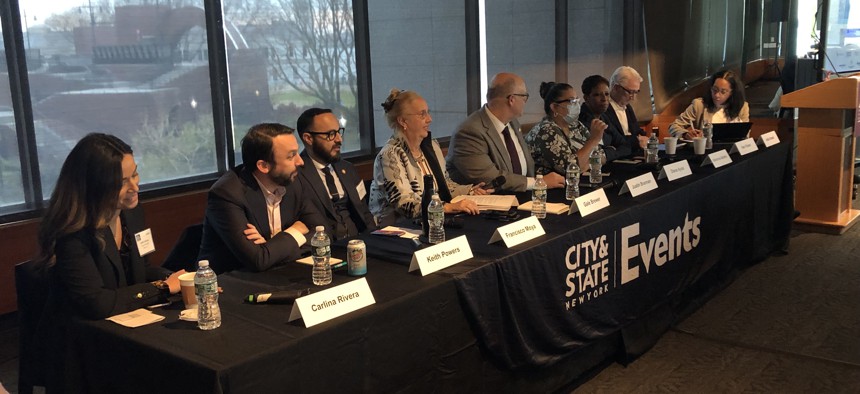 New York City Council Member Diana Ayala understood the assignment. Near the end of the speaker candidate forum Thursday afternoon (listen here), the seven contenders were asked if they could name a characteristic from one of their opponents that they would like to emulate, and bring to the role of speaker. Four candidates spoke, giving bland statements about how they appreciate all their colleagues and the fact they're running.
Ayala got a bit annoyed. "This is what we don't do, the political responses!"she said. Then she proceeded to gush about each of her opponents. Carlina Rivera is "spunky" and "badass." Keith Powers is a great human being, "one of my go-to people, definitely in my top five." Gale Brewer "knows everything! … I call her the perpetual student." Justin Brannan is "my baby boo," and "Last year when I had COVID, he was the only one who sent me a gift!" Ayala explained. "He sent me a fruit basket." While Adrienne Adams, is "very structured, she's very strict, very much focused on the issues" but also "kind, gentle, and very collegial." (Francisco Moya had to leave the forum a bit early to deal with a family issue, he said, but surely would have gotten a compliment too, had he been there.)
"I think this is very unpopular of me to say all of these things because we're in a competition all together and we all want your vote and your support," Ayala explained. "But I think we have a very unique situation where we all genuinely love each other."
That last part might not be entirely true – after all, gossip is flying behind the scenes about who does and doesn't have a shot at winning the race, and unflattering stories that appear to be born of opposition research have shown up in the tabloids. Nevertheless, Ayala's moment perked up the room full of incoming council members and various people who want their ears more than any other moment in the forum. It was a reminder that the City Council speaker race isn't won by bragging about previous budget wins, or promises to sign on to this or that piece of legislation. More than anything, the race is won by people skills, earning the trust of 50 colleagues representing every corner of the city – and the ability to give great, public compliments on the fly is a part of that. 
The forum was held at the Council Members' Retreat, hosted by City & State at the Museum of Jewish Heritage in Lower Manhattan. It's one of the final two public forums the candidates plan to attend, after coordinating to cut off the growing number of invites ahead of the expected Jan. 3 vote. Two lobbyists moderated, Ken Fisher of Cozen O'Connor, a former council member, and India Sneed of Greenberg Traurig, who is married to New York City Public Advocate Jumane Wiliams, a former council member who ran for speaker just four years ago. 
While the moderators mostly tailored their questions to individual candidates, everyone was asked their position on a letter released Wednesday from ten progressive organizations calling on the seven Democrats to reject the support of the Council's five-member Republican minority in their efforts to secure the speakership. All seven candidates said they'd stick to tradition and accept Republican support. Six of the candidates also said that the Republican minority leader would be on their Budget Negotiating Team, an influential group that works with the speaker on funding. The one disagreement came from Moya, who said he'd take from the model in the state legislature, where he previously served as an Assembly member and state Senate staffer. The speaker would discuss budget priorities with the minority leader, but "there's a reason why we have a Democratic majority."
Ironically, Minority Leader Joe Borelli said afterward that he himself didn't even want to be on BNT – but hoped that another Republican could have a seat. 
The seven speaker candidates make up a diverse field regarding gender, race and borough. That came up most clearly when Adams was asked about the way her southeast Queens district differs from other districts with more commercial activity. "The outer boroughs have been neglected by the speaker for far too long. And as speaker, I will change that," she said in an apparent dig at the current speaker, Corey Johnson. Like the three speakers before him, Johnson is from Manhattan. And Adams reminded the audience that she would be the first Black speaker, as well as the first speaker from an outer borough since 2001. Moya is also from Queens, and Brannan is from Brooklyn. The other four candidates represent Manhattan. "Things will change radically, quickly and drastically for the outer boroughs that I intend to support," Adams said.
The outer boroughs are quite close to City Hall compared to Mayor-elect Eric Adams, who is 5,119 miles away from City Hall on vacation in Ghana this week. But he too, was a topic of discussion as candidates were asked whether the speaker should be a foil to the mayor, or a partner. To nobody's surprise, the candidates were careful in answering. While Adams has said he doesn't plan to put his finger on the scale in the race, many observers expect him and his political allies to have some influence. Many incoming members are hoping to make a friend of the popular mayor-elect. 
"You've got to know when to be a check, and when to be a partner, " Brannan said. Powers echoed the sentiment. "We, on both sides of city hall, need each other," he said. But "There will be moments when, as a council, we will have different priorities, and we have to clearly articulate those." Even Rivera, who has more distance from Eric Adams than the other candidates, took a relatively peaceful line. "We need to make sure that the mayor's successful," she said. "No one benefits from a mayor that is not. But we also need to make sure we are that independent, proactive, results-driven body."