Health Care
County officials call on Hochul to support increased wages for home care workers
40 offices for the aging across the state sent a letter to Gov. Hochul asking she help pass the Fair Pay for Home Care Act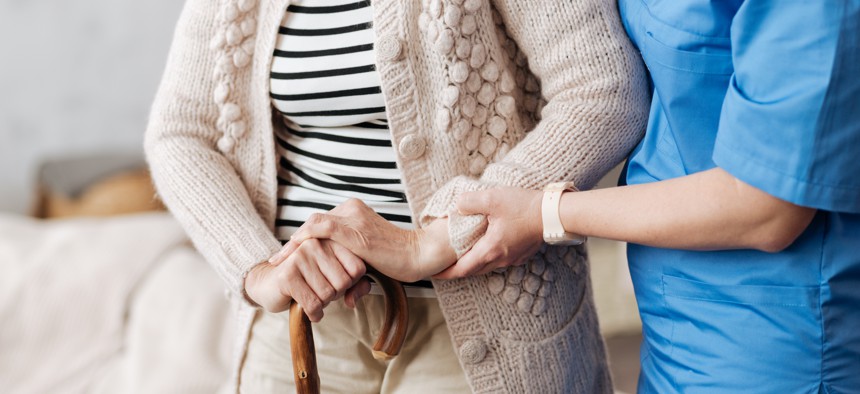 New York is facing a crisis in the home care industry. The population of older residents is increasing, and there is a growing desire among the elderly and disabled – especially during the pandemic – to remain at home rather than in a congregate setting. At the same time, the state is facing a shortage of home health aides, in large part due to low wages. In a letter shared exclusively with City & State, offices for the aging from 40 counties across the state are calling on Gov. Kathy Hochul to support legislation that would increase the rate of pay for home care workers paid through Medicaid in an effort to attract people to the field, and to keep them from leaving. 
The Fair Pay for Homecare Act would set base pay for home health aides at 150% the local minimum wage, which would allow workers to get at least $35,000 a year, according to the elder and disability advocacy organization PHI. Currently, many in the industry make as little as $21,300 a year, working long hours while providing crucial care. Around 42% live in or near poverty, according to a fact sheet by PHI, often qualifying for Medicaid themselves. The low rate of pay makes retention of workers difficult, as less demanding jobs could offer more money. As it stands, a report by the consulting firm Mercer shows that New York has the worst home care crisis in the nation. "I think it's become this perfect storm of there's so much demand for the workforce, but there's also so much competition from other sectors for the same worker base, that it's just leaving a huge gap," said Becky Preve, executive director of the Association on Aging in New York, which represents county offices for the aging.
The home care shortage is a significant one. A report by the Home Care Association of New York found that 20% of positions in the field were unfilled in 2019, and that 25% of patients reported an inability to find home health aides. Meanwhile, a survey released this year by the Consumer Directed Personal Care Association of New York State found that seven out of ten consumers surveyed upstate and three out of five surveyed on Long Island said their home health aides left the industry due to low pay, with many often taking better-paying fast food jobs instead.
The legislation proposed by state Sen. Rachel May and Assembly Member Richard Gottfried would set a minimum wage of home health aides who are paid through Medicaid, who are among the lowest paid among home health aides due to rates of reimbursement available to their employers. The first pool of money would come from the federal government if Congress passes President Joe Biden's Build Back Better Act, with following years' funds coming from as yet undefined recurring state sources.
The home care industry faces many labor issues around the problem of workload and compensation, leading to a state Senate hearing on the matter in the summer. "What we heard over and over and over from the home care workers was they just couldn't afford to keep doing the job," May said. "They wanted to do the work, but they couldn't afford to."
Lilieth Clacken is one such home health aide, caring for a stroke victim, who testified at the summer hearing. "We demand better pay as we should be able to take care of our own families while providing care for our patients," Clacken told lawmakers at the time. "And this is the heart of most issues facing home health aides – the work is undervalued and underpaid, and it creates hardship for the aides who stick with the work, and it makes it harder to find new workers."
This creates problems not just for patients who rely on Medicaid, but for other patients as well. Local offices for the aging provide services to people who make too much for Medicaid, but still need assistance paying for their home health aides. Those agencies subsidize care for those who are eligible. But because they contract with the same groups for care workers, shortages driven by lack of money in the Medicaid sphere mean fewer people to serve other populations too. "The 59 area agencies on aging are all reporting that they can't sell their cases," Preve said. "So these are individuals that qualify for the service, they've been accepted for the service, but we can't turn the service on because there's no home health aides available to fill those authorizations." Preve added that the support her group's offices provide help keep people off of Medicaid and out of Medicaid-funded nursing homes, providing an overall cost saving for the state that is in jeopardy. 
Proponents also point to data that shows the legislation would overall be an economic boon for the state. A study by the City University of New York Graduate Center predicted the bill would fill 20,000 direct care jobs annually over the next decade, the majority of which would likely go to women of color who make up most of the field. It would also create 18,000 additional jobs in other sectors through increased economic activity – the report predicted the legislation would generate $5.4 billion for the state's economy. Combined with Medicaid savings from keeping people out of congregate settings and keeping workers and patients alike off of Medicaid, CUNY researchers concluded the bill would pay for itself.
So far, state Senate Majority Leader Andrea Stewart-Cousins is the only state leader to offer an opinion on the legislation. "(Home health aides) are doing great work as we've seen, but they are not getting a living wage. It is up to us to make sure that happens" she said at a virtual October press conference attended by advocates. "You have the support of the Senate." In the past budget cycle, Stewart-Cousins included some additional funding for home care workers in her one-house budget, although it did not make it into the final spending bill.
Neither Hochul nor Assembly Speaker Carl Heastie have yet taken a public stance on the legislation, which has bipartisan support and enough co-sponsors to pass in both chambers. But advocates for the aging and home care workers feel confident the support will come. "We are very excited with Gov. Hochul coming on board, and she has historically always been very supportive of the aging services network," Preve said. May added that she had a conversation with the governor a few weeks ago in which the issue of home and health care came up. "She definitely indicated she understood that that was an important piece of it off here," May said. Hochul offered tacit support in a statement to City & State without pledging to help the bill pass. "Ensuring quality work conditions and quality care for our most vulnerable New Yorkers is critical, and we will review the bill if it passes," Hochul spokesperson Hazel Crampton-Hays said in an email.
Increasing the minimum wage for home care workers is just one of several pressing issues plaguing the industry right now. Home health aides in New York City's Chinatown have been protesting for months over 24 hour shifts and forced overtime. Under state law, home care agencies only need to pay their workers for 13 hours even if they're at a patient's home for the whole day as long as they are given adequate time to sleep and eat.  Direct care workers have taken aim specifically at the Chinese-American Planning Council, one of the largest home care agencies in the city, over lack of compensation, demanding back pay for the hours they worked. The agency, which gets its money through Medicaid, contends that it simply does not have the money nor the proper Medicaid authorization to meet those demands. On Monday, the agency sent letters to Hochul, Stewart-Cousins and Heastie expressing its support for the Fair Pay for Home Care Act and a bill that would end 24-hour shifts, though it has not weighed in on making overtime voluntary. The letters focused largely on the 24-hour shift dilemma, but added that "in addition to  schedules, our home care workers need living wages that reflect this highly important work, and begin to address the home care workforce shortage" in support of increasing the minimum wage.
Given the money necessary to fund the Fair Pay for Home Care Act, it most likely will have to pass as part of the budget next year. And while May hopes to see all the various home care bills pass in the next legislative session, she said that she hopes to see hers passed first to at least stop the bleeding with the home care crisis. "I do think if you raise the pay of the home care workers, then they suddenly have a lot more power in making decisions about what kinds of shifts they're taking," May said. "I think that if we have to lead with one, we should lead with raising wages."