New York City
De Blasio touts community policing and ThriveNYC as successes
Both highly criticized efforts were mentioned during an interview as the term-limited New York City Mayor prepares to depart office at the end of the year.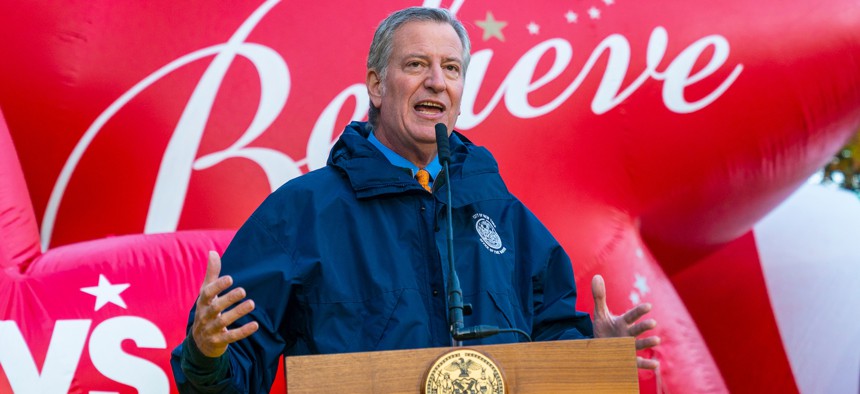 New York City Mayor Bill de Blasio on Monday, during a stop on his farewell tour, touted two highly criticized issues among his biggest accomplishments during his tenure: community policing and the city's mental health program, ThriveNYC.
"Neighborhood policing, which is really a reworking of public safety on many levels, and now is extended out to the Cure Violence movement and investments in community-based solutions to violence," he said when asked by the moderator to name his signature achievements. 
"And then I'd say it's everything around mental health that started with Thrive. I think these were three areas where we rewrote the playbook, I believe in my heart, and I think they'll be built upon much more going forward." 
The mayor tacked on the pair of examples to his initial answer in which he, unsurprisingly, pointed to his pet issue of universal pre-K.
"The notion of pre-K for all, for example, came from the fact that [First Lady Chirlane McCray and I] struggled to find early child education for our kids that we could afford, or that we could even get our kids into in our neighborhood. And that kind of opened my mind to the fact that there's a lot of people struggling for it, and it should be a fundamental right," he said, before moderator and Hunter College Public Policy Professor Joseph Viteritti asked him to list two additional accomplishments. 
De Blasio, who has less than five weeks left in office before Mayor-Elect Eric Adams takes over on Jan. 1, answered questions Monday afternoon at the Roosevelt House Public Policy Institute during a Q&A session hosted by Hunter College. The mayor also made yet another veiled hint at a possible gubernatorial run in 2022 and took several jabs at his political nemesis, former Gov. Andrew Cuomo. 
"I think [Adams] will have a hell of a lot easier time than I have," de Blasio said when asked about how his successor can maintain a relationship with Albany. "I think any of the people running for governor now will be a much better partner than I had in the previous governor. That was an understatement of the day."
While universal pre-K has long been seen as a boon for de Blasio, the other two issues – policing and the city's ThriveNYC mental health program --  have both been subject to heavy backlash in recent years. 
ThriveNYC, which was created in 2015 and made permanent in May, quickly faced criticism from the time it was launched up until this year, when the pandemic exacerbated mental illness for many New Yorkers. 
In its first year, the city allocated $44 million for ThriveNYC – $35 million less than what was earmarked – across more than 15 city agencies, including $3.9 million on media. De Blasio assigned his wife, First Lady Chirlane McCray, to manage the program and she went on a national publicity tour that included speaking with congressional leaders.
Some observers viewed the initial rollout as a PR campaign that did little more than set up a hotline for New Yorkers experiencing anxiety and depression, but failed to address serious mental illnesses, such as schizophrenia and bipolar disorder, that can lead to incidences of violence and a cycle of incarceration for those who are experiencing them.
"The mayor dedicated over $2 million to an ad campaign trying to get people who have 'anxiety, depression or need someone to talk to' to call a referral line," the late DJ Jaffe, former executive director of the Mental Health Policy Org., wrote in the Daily News six months after ThriveNYC's launch. "The ads don't ask those who are psychotic, delusional, and eating out of dumpsters to call."
Repeatedly, the program has been blasted for a lack of financial transparency. New York City Comptroller Scott Stringer in March 2019, questioned the foundation of the program altogether in a letter to ThriveNYC Director Susan Herman, writing "We are having trouble looking at what Thrive is . . . One of the basic questions we are trying to figure out is, what is Thrive?" 
Over the summer, mayoral hopeful Kathryn Garcia, the city's former Department of Sanitation commissioner and a long-time senior staffer to de Blasio, doubled down on the transparency issues at ThriveNYC, saying that she does "not have any idea where the [$1 billion budgeted for the program] went," she said in a June interview with Fox 5.
Policing is another issue that has dogged de Blasio during the pandemic, generating headlines such as "Bill de Blasio Has Failed The Test of This Moment," from liberal magazine The Nation in June last year, at the height of protests in the wake of the police-killing of George Floyd. 
"New York's mayor has floundered in the face of stunning police violence—just like so many other mayors who aren't prepared to rein in the cops," the magazine wrote, as videos of NYPD officers becoming violent with protesters went viral. "Nobody looks more like a clown right now than New York Mayor Bill de Blasio."
"Bill de Blasio Lacked the Courage to Change the NYPD," reads another June headline by The Intercept. And The New Republic wrote that same month: "Bill de Blasio Has Failed."
De Blasio on Monday compared his record on crime to his predecessor Mayor Michael Bloomberg when boosting his legacy regarding policing. "This one, I'm very proud of – 2019 pre-pandemic, compared to the last year of Bloomberg 2013, there were 180,000 fewer arrests in New York City and crime went down."
He also addressed housing issues and homelessness, wealth inequality and gentrification, while also boosting President Joe Biden's Build Back Better social spending and infrastructure program.
When pressed by Viteritti about a possible gubernatorial run in 2022, de Blasio vowed to make an announcement "very soon."
"I won't say in which particular venue or capacity, but I'm going to be talking about (that) a whole lot, very soon," de Blasio teased.