New York City
Eric Adams picks Nassau County Detectives Chief Keechant Sewell as NYPD commissioner
Sewell will become the first woman to hold the post in the department's 176-year history.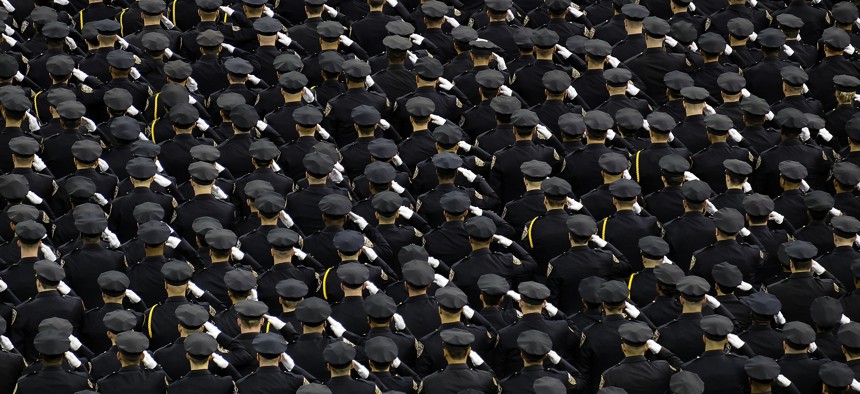 Mayor-elect Eric Adams has selected Nassau County Chief of Detectives Keechant Sewell to lead the New York City Police Department in a historic move that will make her the first female commissioner in the department's 176-year history.
The selection, which was first reported Tuesday night by The New York Post, is unexpected in that Sewell was not on Adams' short list of candidates, all of whom were women and included Philadelphia Police Commissioner Danielle Outlaw and Seattle Police Chief Carmen Best. 
Adams was reportedly impressed by Sewell's "meteoric rise" in Nassau County and the "emotional intelligence" she displayed during the interview process.
"Keechant Sewell is a proven crime fighter with the experience and emotional intelligence to deliver both the safety New Yorkers need and the justice they deserve," Adams told The Post. "Chief Sewell will wake up every day laser-focused on keeping New Yorkers safe and improving our city, and I am thrilled to have her at the helm of the NYPD."
Sewell, who is originally from Queens and now lives on Long Island, will replace NYPD Commissioner Dermot Shea, who is expected to retire in the coming months. In addition to being the first female commissioner, Sewell will be the third Black commissioner and the only since 1992. The 49-year-old has 25 years on the job and has held her current post for the past 15 months. 
She joins the department during a time when serious crime, particularly gun violence, has skyrocketed in the city and as police-community relations have deteriorated during Mayor Bill de Blasio's tenure. 
In an interview with The Post, Sewell said she is "ready to hit the ground running."
"I want to actually take a look at what's working in the city and what's not working," she told the paper. "I've been policing for 25 years, so, I've actually got some sort of a grasp on what I think works and doesn't work."
Pat Lynch, president of the Police Benevolent Association, the union that represents the city's 24,000 rank-and-file officers, welcomed Sewell to the department in a statement released Tuesday and urged her to repair morale in the department. 
"We welcome Chief Sewell to the second-toughest policing job in America," Lynch said. "The toughest, of course, is being an NYPD cop on the street. New York City police officers have passed our breaking point. We need to fix that break in order to get our police department and our city back on course. We look forward to working with her to accomplish that goal."
Powered By
NEXT STORY: The Democrats (not) running for New York attorney general