Politics
Five key takeaways from the new Siena College poll
Voters have mixed thoughts about 2022 gubernatorial candidates and what elected leaders should be focused on next year.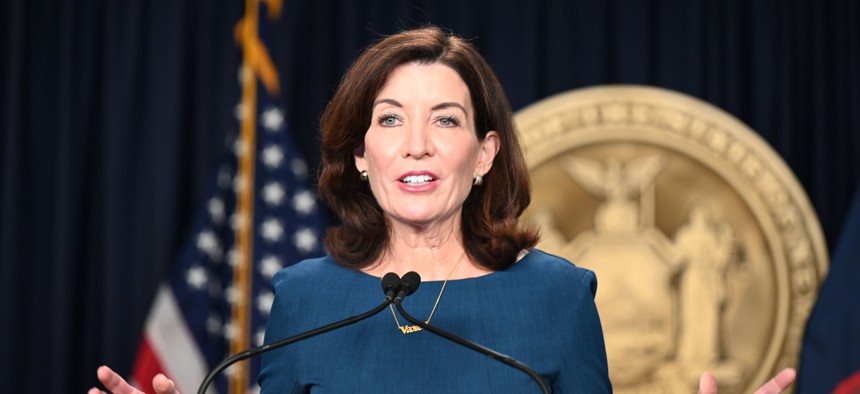 A new Siena College poll measures the political zeitgeist as another eventful year draws to a close. The 2022 Democratic primary for governor is heating up. Republicans are bullish about what recent elections show their chances of winning a statewide election for the first time in two decades could be. Sensational crimes, inflation and the omicron variant of the coronavirus are making headlines and chryons alike as state legislators, activists and ordinary New Yorkers brace for another round of elections.
"(Gov. Kathy) Hochul continues to have a double-digit lead over her opponents in the Democratic gubernatorial primary and, unlike what is often seen in early polls, it is not completely based on name recognition," Siena College pollster Steven Greenberg said in a press release. "After all, Hochul and James have very similar favorability ratings among all voters – with nearly identical favorability ratings among Democrats – and de Blasio is the most known – and most disfavored – candidate among all voters and with just Democrats."
The crosstabs of the poll (conducted Nov. 29 to Dec. 3) of 785 registered voters offers additional insights into voters' moods on upcoming elections as well as prominent issues like public safety, the economy and the ongoing surge of COVID-19 cases. 
Here are five key takeaways from Siena College's recent poll.
Hochul remains the frontrunner in the 2022 Democratic primary for governor
She has led every poll and appears to have a huge edge with fundraising. Thirty-six percent of voters indicated their support for Hochul, which is twice what James got. Other candidates like New York City Public Advocate Jumaane Williams (10%), Mayor Bill de Blasio (6%) and Rep. Tom Suozzi of Long Island (6%) are in an entirely separate tier based on the polling results. About a quarter of Democrats say they have no preference among these candidates. A lot can change before the June primary but things are looking pretty good for Hochul – for now. 
Black voters, a key voting demographic, favor state Attorney General Letitia James over Hochul and other Democratic gubernatorial candidates
There is one demographic where a plurality of registered Democrats do not back Hochul – Black voters. James has the support of a third of Black voters in her bid to become the first Black woman elected governor in the United States. Williams, who would be the first Black man elected governor, has the backing of 17% of Black voters – just two points ahead of Hochul. The governor has made no secret of how she is courting Black voters in places like New York City, but James has a big advantage among this key Democratic demographic thus far. 
Most GOP voters have no idea who Rep. Lee Zeldin is 
It would seem that having the endorsements of nearly every county GOP leader in the state has done little to help the Eastern Long Island member of Congress gain recognition in other parts of New York. Over half of Republicans in the state have heard of Zeldin, the presumptive Republican nominee for governor, or have any opinions of him. That's considerably higher than fellow GOP gubernatorial candidate Andrew Guiliani, considered a longshot by experts but who benefits from his high-profile father's name when it comes to being known.
Voters care about crime and the economy
It never hurts for lawmakers to go back to the basics, the kitchen table issues that ultimately drive the majority of voters: crime and the economy. Both Democrats and Republicans agree that "fighting crime in communities across New York" and "creating economic opportunities for New Yorkers" are their top priorities for the next legislative session in Albany. That is a rare moment of bipartisanship in an increasingly polarized state. Even Democrats rank "managing the pandemic" lower than these two issues. 
Low favorability ratings all around
Voters are split over the current state of political affairs. Slightly more voters (45%) say the Empire State is "headed in the wrong direction" compared to those (41%) who told pollsters that the state was on the "right track." Large majorities of Republicans think things are getting worse in the state and country alike. A majority and plurality of Democrats respectively say the opposite. 
New York voters have a positive opinion of President Joe Biden despite recent decreases in his popularity nationally. He is the onlyelected official in the poll who has a favorability above 50%. Just 42% of voters said the same about Hochul and 40% for James. 
While a strong majority of voters overall have a negative opinion of former President Donald Trump, his 36% favorability rating is higher than de Blasio (28%), Williams (23%), Zeldin (20%) and Suozzi (20%) thanks to his nearly universal name recognition compared to their apparent obscurity among voters.