Letitia James suspends her campaign for governor
The news comes just two months after James launched her campaign.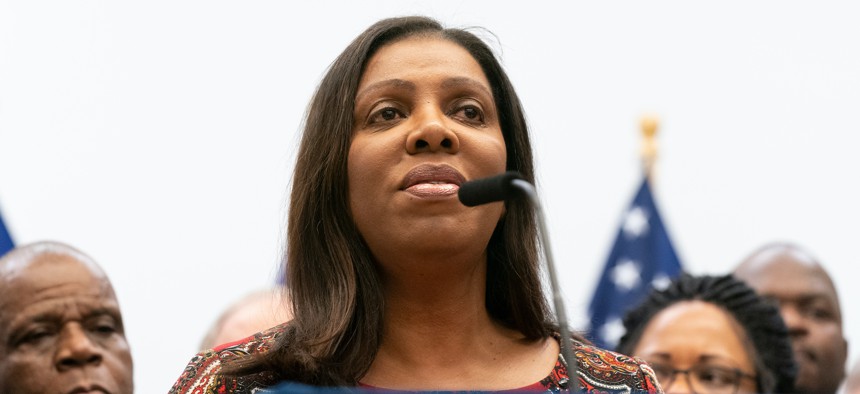 In an unexpected development, state Attorney General Letitia James is suspending her campaign for governor. She will instead run for reelection as attorney general. 
First reported by NY1, James quickly confirmed her decision to drop out of the race on Twitter. 
The news comes just two months after James announced her run for governor. "I have come to the conclusion that I must continue my work as attorney general," James tweeted. "There are a number of important investigations and cases that are underway, and I intend to finish the job." Her office is expected to issue a subpoena to former President Donald Trump as part of a civil fraud investigation, news that broke the same day.
The timing of James' launch – a day after news broke that the Albany County sheriff had filed sexual misconduct charges against former Gov. Andrew Cuomo – has gained scrutiny, as has her office's involvement in Cuomo's fall from grace, which at the time spawned rumors of her gubernatorial aspirations. Although she has been a mainstay at various political insider events, James' campaign has been notably quiet in the public. 
James' decision changes the political calculus in the race. She was widely seen as the biggest threat to Hochul and the most likely to unseat the incumbent in the primary. Early polling had the attorney general consistently placing second among the declared candidates, but she still trailed significantly behind Hochul. James' exit could potentially help gubernatorial contender Jumaane Williams, as the pair had been expected to compete for votes in Brooklyn in particular but his pathway to victory is still considered incredibly slim.
 Brooklyn Democratic Party Chair, Assembly Member Rodneyse Bichotte Hermelyn almost immediately endorsed Hochul on Thursday. "Kathy has accomplished more in four months than many of her predecessors in an entire term," Bichotte Hermelyn said in a statement. "I am confident that Hochul will be the best choice to lead our state forward through the recovery, and she will have the support of Brooklyn behind her." Support from the largest local Democratic Party in the state would be crucial for candidates looking to win, especially in vote-rich New York City, which raised speculation about whether Bichotte Hermelyn would endorse the incumbent, or a native daughter. James dropping out made the decision much easier.
The news also shakes up the crowded race for attorney general after numerous candidates announced they would seek what they expected to be an open position. State Sen. Shelley Mayer, who had only recently announced her campaign, released a statement saying she would drop out. "I am confident that with the strong and principled leadership of Governor Hochul and Attorney General James, the state will continue down the right path," Mayer said, confirming also that she would run again for her Senate seat.
Not everyone decided to take Mayer's route as former Department of Financial Services Superintendent Maria Vullo has decided to stay in the race even with an incumbent. "We have had an incredible response to the campaign since we launched just a few weeks ago and our momentum continues to build," her campaign said in a statement.
Other contenders like law professor Zephyr Teachout, Assembly Member Clyde Vanel had not put out statements as of Thursday afternoon about their intentions. And others rumored to have interest in becoming attorney general, like state Sen. Michael Gianaris and Brooklyn District Attorney Eric Gonzalez, very likely won't enter the race now.
Gov. Kathy Hochul said on Thursday that James called her that morning to inform her that she would be suspending her campaign. "All I can say is I respect her tremendously – always have, that it has never been not the case – and we are going to do great things," Hochul said during an unrelated press conference. " And I look forward to having her on the ticket as we head into the November election together." Hochul also said the news doesn't change her approach to the primary. "I always, always, always run like an underdog."
Williams reacted to the development with praise for James. "I look forward to working with her to continue to cause some transformational change across the state," the New York City public advocate told City & State. Asked if the news excited him, Williams insisted that it doesn't change his own campaign. "I've been saying for a while that we're presenting a vision. So we weren't running against anyone." 
Fellow candidate Rep. Tom Suozzi offered his "best wishes" to James in a brief statement on Twitter. "She has tremendous responsibilities as the sitting AG & I understand her desire to devote her energies to seeing through & continuing the important matters before her," he added.
State Democratic Party Chair Jay Jacobs, who, controversially, has already endorsed Hochul, applauded James for dropping out. "She united Democrats for the sake of the Party, which she again put over her own interests," Jacobs said in a statement. He has advocated for her and other primary opponents not to challenge Hochul, and would still like to see Williams and Suozzi follow James.