New York City
NYC gives noncitizens the right to vote. Here's what comes next.
As the City Council passed a historic voting rights bill, its advocates are looking to ensure its successful implementation.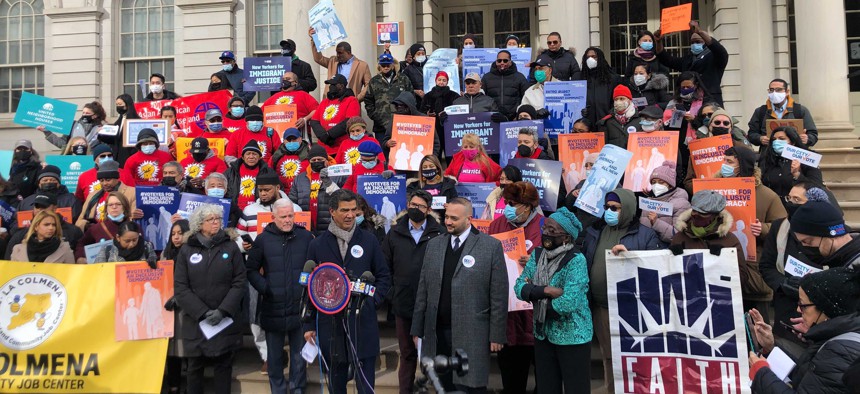 New York City's voter rolls could soon grow by an estimated 800,000 to 900,000 people. City Council legislation passed with 33 votes in favor, 14 votes against and 2 abstentions on Thursday will give immigrants with permanent residency or legal work authorization the ability to vote in municipal races. The legislation, now sponsored by Council Member Ydanis Rodriguez, has been years in the works. "It is no secret that today, inside this chamber, the New York City Council is making history," Rodriguez said Thursday, casting his vote in favor of the bill.
While it looked earlier this year like the bill might not make it through to passage until next year, a large coalition of immigrant advocacy groups and a veto-proof majority of City Council co-sponsors worked to usher it through. New York City Mayor Bill de Blasio has raised concerns about the legislation but has said that he won't attempt to veto it. "At a time when Republicans are working around the clock to dismantle voting rights and democracy across this nation, New York City is delivering a clear and uncompromising vision: We believe that more New Yorkers should have a say in our representatives in this city," said Murad Awawdeh, executive director of the New York Immigration Coalition, which is one of the groups leading the push for the legislation.
Despite the bill having several dozen co-sponsors, a spirited debate on the legislation broke out at Thursday's stated meeting. Council Member Mark Gjonaj, one of the more conservative Democratic members of the council, moved to send the bill back to the Committee on Governmental Operations, in order to consider possible amendments to it, including extending the mandatory residency requirement for noncitizen voters prior to the election date to more than 30 days. Several members spoke in favor of moving it back to committee, including Republican Minority Leader Joe Borelli and Democrats Kalman Yeger and Robert Holden. 
Majority Leader Laurie Cumbo, too, spoke in favor of spending more time considering the bill before voting on it, questioning whether African-American communities may be negatively impacted by the bill or see their power as a voting bloc change. (Those advocating for the legislation dispute the notion that giving immigrants the right to vote will negatively impact Black voters, and note that it will benefit Black immigrants.) Cumbo is listed as a co-sponsor on the bill, but voted in favor of sending it back to committee in order to ask more questions about it. The motion to recommit the bill to committee ultimately failed, however. 
Though the tone on the steps of City Hall ahead of the vote on Thursday was one of celebration – chants of "sí, se puede" and "our city, our vote" rang out – advocates for the measure are already thinking about the hard work ahead of implementing the bill. Educating the hundreds of thousands of eligible new voters about their rights, ensuring the blunder-prone Board of Elections is able to handle the expansion of voting rights, and bracing for potential legal challenges are all steps that lie ahead.
Of those, Awawdeh said he is not concerned about legal challenges, however. Skeptics and opponents of the legislation have raised concerns that granting noncitizens the right to vote in municipal elections would violate the state constitution, which states that "every citizen" should be entitled to vote. Proponents of the noncitizen voting measure argue that that language constitutes a floor and not a ceiling. "Federal, state and local law says that it's legal," Awawdeh said. "If people want to say that they just don't want to enfranchise people of color, that they don't want to enfranchise immigrants, they should say that." 
Still, lawsuit attempts seem likely. Republican Council Member Joe Borelli and state GOP Chair Nick Langworthy have said they'd pursue legal challenges. 
What Awawdeh and other advocates said they're focused on now is the successful implementation of the measure. While a huge new swath of immigrant New Yorkers will be eligible to vote in municipal elections – for mayor, City Council, comptroller, public advocate, borough president and municipal ballot measures – they are still prohibited from voting in state and federal elections. Ensuring they don't mistakenly vote in the wrong elections, and face penalties for doing so, will be crucial. As will ensuring that eligible voters are aware of their new rights and register to vote. 
Nora Moran, director of policy and advocacy at United Neighborhood Houses, said that provisions included in the legislation will help with those goals. The legislation says that the city Board of Elections and the campaign finance board should "consult regularly" with advocacy and community groups on implementation, including carrying out community education programs.
Council Member-elect Pierina Ana Sanchez, who will represent the Bronx come January, said that resources must be put toward voter education. "One of the biggest powers we have in the City Council is the power of the budget," she said. "Next year, when we are negotiating our first budget as a City Council, there's going to be a question about how much money we allocate to the education that is needed to inform New York City that this is a new right that our immigrant New Yorkers have."
And then there's the task of ensuring the New York City Board of Elections is able to facilitate the implementation of this measure. The Board of Elections is the frequent subject of scrutiny, thanks to problems ranging from the botched release of election results and absentee ballots to  broken voting machines and voter purges. "I'm always worried about the BOE. It's like Groundhog Day with the BOE," Council Speaker Corey Johnson said on Thursday, when asked about their ability to implement the noncitizen voting measure. Asked whether he trusted the board enough to do it, Johnson said, "It's trust, but verify. I don't know. They screw things up a lot." 
Advocates for the bill said that resources and training for the board will be key. "We have to make sure that they have appropriate trainings for their staff, and that their staff understand what this law means and who is now enfranchised so that when people are registering, that their voter registration forms get processed, and then when they get to the ballot box, that they're able to vote and that they're not turned away," Awawdeh said. 
While much of that work still remains, lawmakers, advocates and immigrants who fought for the passage of the bill found a little time Thursday to revel in their success. Immigrant New Yorkers who will be affected by the legislation joined lawmakers in heralding the bill's impending passage, including Melissa John, the founder of RepresentWe, a group that supports the bill, and a green card holder. "Today I'm finally being seen, I'm finally being heard as part of the democratic process," John said on the steps of City Hall. 
Powered By
NEXT STORY: SUNY Chancellor Jim Malatras announces resignation