New York City
Progressive groups say GOP members shouldn't choose the NYC Council speaker
The new five member Republican caucus is expected to be influential in the vote – and possibly decisive. Ten organizations want to prevent that.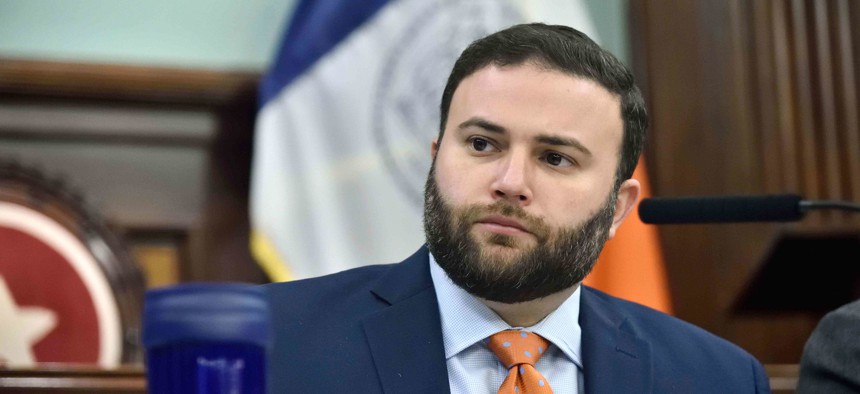 A group of ten progressive organizations is reaching out to New York City Council speaker candidates, asking them to publicly reject the support of the Republican minority in trying to secure the speakership. 
 "We write to articulate our strong belief that the Speaker of the City Council should be determined solely by the Democratic members of the City Council—not by Trump-aligned Republicans," wrote Daniel Altschuler, co-executive director of Make the Road Action. "We urge every Speaker candidate to publicly commit to rejecting alliance and support from the Republican caucus to achieve the majority needed to secure this leadership post."
Organizations signing include Make the Road Action, Jews for Racial & Economic Justice and New York Communities for Change, all of which endorsed progressive candidates in this year's elections.
While there are only five Republicans in the incoming 51-member New York City Council class, they're expected to have some influence in choosing the next speaker, as a unified bloc of votes that might even include conservative Democrats such as Queens Council Member Bob Holden and Brooklyn Council Member Kalman Yeger. Both Holden and Yeger won more votes on the Republican party line in November than on the Democratic party line. 
Speaker candidates probably won't be eager to forfeit a group of voters, no matter how much they may disagree. All the speaker contenders are Democrats, while New York City Council Minority Leader Joe Borelli is an outspoken supporter of former President Donald Trump. Republican Council Member-elect Vickie Paladino has reportedly declined to get a COVID-19 vaccine on ideological grounds. But unlike in Congress, the council's always small Republican minority has not just joined in the floor vote for Democratic speakers but also have been part of their behind-the-scenes coalitions counting votes. For just one example, former Speaker Peter Vallone secured victory in 1986 with the backing of the body's lone Republican, former Council Member Susan Molinari. This year, in the still wide-open race with seven serious contenders, any one bloc of votes could be a decisive factor.  
But Altschuler told City & State that a number of progressives were worried about the way Republicans were positioning themselves as key to a deal. "And were frankly offended by the idea that a small, marginal, extremist caucus should play a role in determining the speaker of what is an overwhelmingly Democratic body," he said. Altschuler hasn't endorsed any one speaker candidate, and doesn't think any of the organizations signing the letter have either.
Republican Council Member Joe Borelli dismissed the letter. "These are groups who purport to support access to voting, and yet here they're trying to disenfranchise 875,000 New Yorkers who are represented by Republicans," Borelli said of the groups that signed onto the letter. 
Borelli also predicted the letter would not keep speaker candidates from trying to win the support of the Republican conference, noting that several speaker candidates shared the letter with him, though he declined to name which ones. No speaker candidates that he's aware of have stopped taking his calls because of the letter, Borelli said. 
Council Member Keith Powers, one of the candidates running for speaker, said he does not plan to reject any member's support. "I want all 51 votes," Powers told City & State. "I recognize that we have some policy differences when it comes to the Republicans and all the speaker candidates. But at the end of the day, this is a democratic process. It should include every member, regardless of where you live geographically or what your party label is."
Correction: This story originally conflated the organizing and nonprofit arms of Make the Road.
Powered By
NEXT STORY: NYC Council speaker candidates say enough forums