New York City
Schumer calls on FEMA to open 100 new testing sites in NYC
The Senate Majority Leader made the plea as the city logged 11,000 new cases on Wednesday.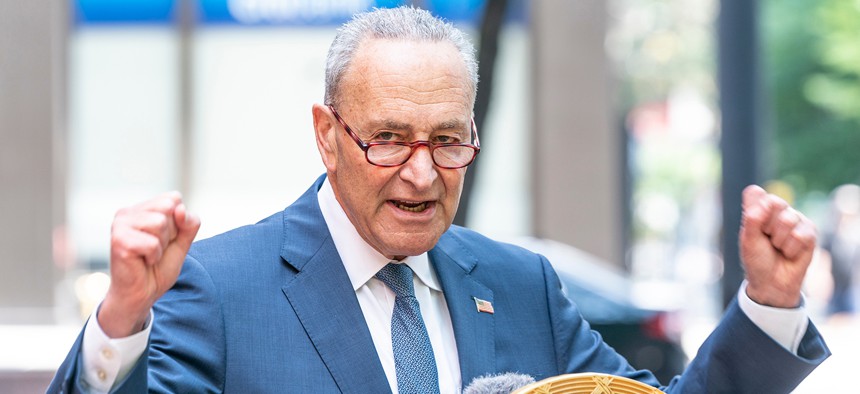 Senate Majority Leader Chuck Schumer called on the federal government to set up 100 new COVID-19 testing locations in New York City – on top of the six the Federal Emergency Management Agency began to open Wednesday, as demand for more testing continues to explode.
Schumer made the request in a letter to FEMA Administrator Deanne Criswell, in which he also asked the agency to provide home testing kits for distribution in the city. 
"As reports of daily cases and hospitalizations continue to trend upward, it is vital that FEMA provide the City with the necessary resources to help slow this spread," the letter said. "With more testing capabilities in the form of at-home kits and testing sites, the City can better gauge the trends of this variant and provide more accurate guidance and information to residents."
Schumer reiterated his plea in a briefing alongside Mayor Bill de Blasio, while also announcing that FEMA would open six testing sites in Queens over the next two days. The effort is "not close to enough given the magnitude of the crisis and what we need," Schumer said.
"I asked the federal government two, three weeks ago in one of my little Sunday press conferences to do this. Now COVID is raging," he said during the briefing. "The variant is raging. We need these mobile testing sites. You see people lined up all over in every part of the city waiting to be tested."
New York City logged 11,000 new COVID cases on Wednesday, a four-fold increase from just a week earlier, according to the city health department. The city is currently administering 150,000 tests a day, officials said, and labs are backlogged, taking days in some cases to produce results. 
Hospitalizations have grown but are nowhere near where they were during the deadliest days of the pandemic in the city. Fifty-four COVID patients were hospitalized in intensive care units across the city's 11-hospital system as of Wednesday, Health + Hospitals CEO Dr. Mitchell Katz said during the press briefing. That's up from 20 during the hospital system's lowest point since March 2020, Katz said, but a small percentage of the 970 patients at its peak. 
After President Joe Biden announced plans to deploy federal aid to New York on Tuesday, the Centers for Disease Control and Prevention began to open testing sites in Queens, starting with a location in Travers Park. Additional sites are slated to open Thursday at Queens Valley Playground in Flushing and Helen Marshall Playground in East Elmhurst.
The CDC's "Increasing Community Access to Testing Team" plans to add more mobile units after Christmas that will provide 25,000 PCR tests per week, officials said.
In addition, Gov. Kathy Hochul announced on Wednesday that five new state-run PCR testing locations will be set up in subway stations across the city next week.
Seven new mobile testing sites operated by or in partnership with the city also opened Wednesday, de Blasio said, bringing the total to 119. Rapid at-home tests will be distributed at five sites beginning Thursday, the mayor said, while continuing to push vaccination.
"If we get enough people vaccinated, if we do the right thing, get enough people with boosters, the day is coming when the COVID era is behind us," de Blasio said.