Campaigns & Elections
Sources: Assembly Member Yuh-Line Niou is challenging state Sen. Brian Kavanagh
A primary against the relatively moderate incumbent Kavanagh could become one of the most high-profile races of 2022.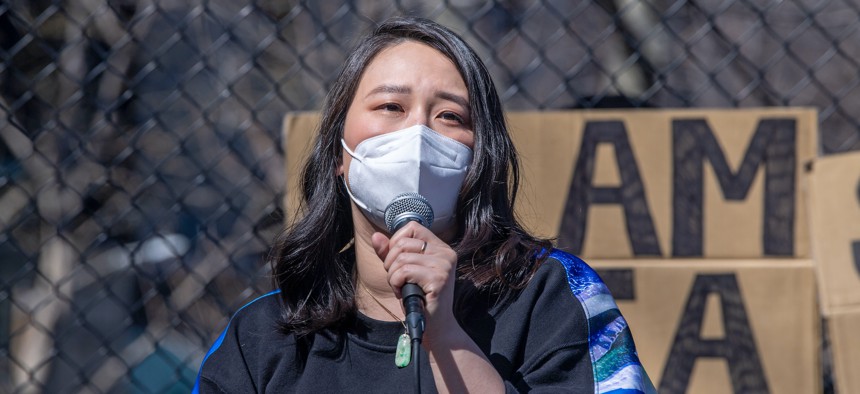 Assembly Member Yuh-Line Niou is eyeing a 2022 primary challenge against state Sen. Brian Kavanagh in a district that currently covers part of Lower Manhattan and North Brooklyn. 
Two sources familiar with her thinking say that an announcement is expected in the near future in what will likely be one of the most high-profile Democratic legislative primaries next year. Niou has been a rising star on the progressive left while Kavanagh has built a reputation as a pragmatic liberal who can get things done in Albany.  
A spokesperson for Niou, Max Burns, did not deny that she was running for the Senate seat when asked by City & State. "We're focused on next year's budget!," he said in a Twitter message. "Right now there's nothing to report, our team is focused on next year and representing our community with a better budget." 
Kavanagh declined to comment about a future primary challenge from Niou.  
Niou, who did not respond to a request for comment by publication time, has declined to directly say in recent weeks whether she had any interest in moving on to the Senate when asked by City & State despite rumors of a possible campaign. 
Kavanagh once represented parts of Manhattan in the Assembly before replacing Daniel Squadron in the state Senate, where members generally get more prestige, bigger staff budgets and additional sway over policy compared to their Assembly colleagues.
A seat in the upper chamber of the state Legislature would add Niou to the ranks of a left-leaning bloc of senators who have been especially vocal in recent years about making state government more transparent and accountable to the public. But before that happens, she has to get through Kavanagh, a prolific legislator who has sponsored a litany of big bills in recent years including  a landmark bill signed into law on Friday that increases housing subsidies for homeless families. Kavanagh could highlight such successes while pointing to Niou's relative lack of bills that have been signed into law. 
Three challengers have already launched campaigns against Kavanagh: Illapa Sairitupac, a mental health social worker who was endorsed by the New York City chapter of the Democratic Socialists of America, as well as Democratic district leader Vittoria Fariello and socialist attorney Alana Sivin. None of the three contenders immediately responded to a request for comment about their plans should Niou enter the race. But with Sairitupac and Sivin both being somewhat politically aligned on the left with Niou, there would likely be pressure in the progressive movement for just one candidate to run, if they want to unseat Kavanagh. "The feeling is that Yuh-Line wins a head-to-head, and Kavanagh wins a head to head to head," one downtown activist told City & State. 
There are still many months to go until the June primary and the final boundaries of the district might change through the ongoing redistricting process. Niou beat back a well-funded primary challenge last year from Grace Lee, an entrepreneur and community activist. She also prevailed in a crowded 2016 race to replace ex-Assembly Speaker Sheldon Silver. She has gained much attention since then for outspoken floor speeches, criticism of Albany leaders and politicking on behalf of Democratic candidates, such as U.S. Sen. Elizabeth Warren, in races outside the realm of state-level politics. If all goes well with a state Senate campaign, she might even join the ranks of young progressives who have unseated relatively moderate Democrats in recent years. 
With reporting by Rebecca C. Lewis
Powered By
NEXT STORY: In Eric Adams' administration, cryptocurrency industry sees an opening