New York City
Assembly Member Diana Richardson named Brooklyn deputy borough president
Borough President Antonio Reynoso chose a fellow progressive, which will create an open legislative seat.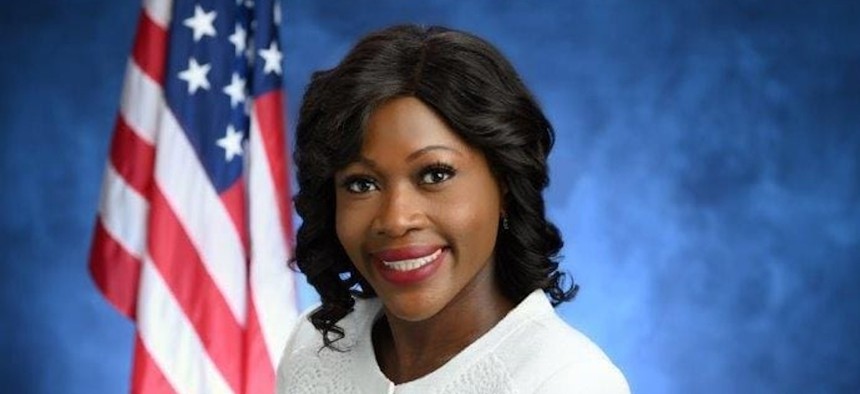 Assembly Member Diana Richardson was selected to be the deputy borough president under Brooklyn Borough President Antonio Reynoso, creating a progressive alliance in Borough Hall, and leading to a legislative vacancy and special election in Central Brooklyn.
Reynoso's office announced the appointment Monday afternoon, saying that Richardson would be focused on "addressing food insecurity, reducing gun violence, and supporting Brooklyn's Community Boards and ensuring they are reflective of the communities they serve." Richardson did not immediately respond to a request for comment, but tweeted a video of the news featuring her in Brooklyn Borough Hall while Jay-Z's "Public Service Announcement" played.
Richardson is a progressive Democrat who was first elected to the Assembly on the Working Families Party line in a 2015 special election following former Assembly Member Karim Camara's appointment to then-Gov. Andrew Cuomo's administration. Nobody had the Democratic Party line in the race, but she became the first state legislator to win while running exclusively on the WFP line.
Reynoso is Latino, and from Williamsburg, and appointing Richardson would provide some balance of gender and race in his office, following a 2021 Democratic borough president primary that saw Brooklyn divided in part along racial lines.
Richardson did not back Reynoso in that race, instead endorsing Khari Edwards – a fellow Black candidate from Central Brooklyn. Edwards praised the expected appointment, calling Richardson "a seasoned legislator who really put the community first." He thought it could help Reynoso's reach among people that didn't support him in the primary. "I think it's a good choice for Antonio because when he was running, he lacked the Black community, the Caribbean community, which she is a part of."
But Richardson and Reynoso have aligned on many issues in the past – most recently joining together with other progressive reformers to call for Brooklyn Democratic Party boss Rodneyse Bichotte Hermelyn's resignation. At a November rally, Richardson had some of the sharpest words for Bichotte Hermelyn, accusing her of "divisiveness" and threatening to run a challenger for district leader against the county leader's husband, Edu Hermelyn.
Richardson and Bichotte Hermelyn have a long-standing political rivalry. The county leader declined to endorse Richardson's reelection effort in 2020 when she faced a challenge from former state Sen. Jesse Hamilton. 
Richardson will resign her seat representing the 43rd District, covering parts of Central Brooklyn including Prospect Lefferts Gardens and Crown Heights. Gov. Kathy Hochul would then be expected to call a special election, most likely sometime in early March.
It would be the latest in a string of special elections to fill New York City-based Assembly seats. A special election has been called for Jan. 18 to fill former Assembly Member Robert Rodriguez's seat in East Harlem. And a special election will be held Feb. 15 for the Upper Manhattan seat vacated by now-Council Member Carmen De La Rosa and the East New York seat formerly held by now-Council Member Charles Barron. A special election could also be called soon for Assembly District 58 in East Flatbush, if Assembly Member N. Nick Perry's appointment as U.S. ambassador to Jamaica is confirmed as expected.
Despite the tension between Richardson and Bichotte Hermelyn, some speculated that the Brooklyn Democratic boss would be pleased by the appointment, since it creates an opportunity for her to get another ally in the Assembly. "It's certainly going to cause political upheaval. I can't see that Rodneyse would be anything but pleased by it," said Howard Graubard, a Brooklyn-based election lawyer. "All of a sudden you open up a situation where there's no incumbent."
But Richardson already has her own candidate. She told Brooklyn Paper on Monday that she, Rep. Yvette Clarke and state Sen. Zellnor Myrie will be supporting Jelanie DeShong, who currently works as Hochul's assistant secretary for intergovernmental affairs.
Another name that has been raised as somebody who could be interested in the seat is Sarana Purcell. Bichotte Hermelyn backed her for district leader in the 43rd Assembly District late last year. Purcell did not immediately respond to a request for comment. 
Jesse Hamilton once represented the area in the state Senate from 2015 through 2018 as a member of the Independent Democratic Conference – a group of Democrats who entered a power-sharing agreement with Republicans. Hamilton lost reelection in 2018, and also lost a comeback bid in the Assembly in 2020. Another run in 2022 sounds unlikely. "I don't know," Hamilton told City & State on Monday. "I won't rule it out. But right now, I'm not thinking about it too much."
The race also presents an early opportunity for New York City Mayor Eric Adams to get involved in electoral politics as chief executive. Adams represented the area in the state Senate from 2007 through 2013 and championed Hamilton to succeed him. Adams' political efforts stumbled in the City Council speaker race, but his support in this race could go farther in helping to elect a candidate.