New York City
De-De-Blasifying the city's highways
DOT says signs with former Mayor Bill de Blasio's name will be changed by the end of the month – a lot longer than it took to change signage when Kathy Hochul became governor.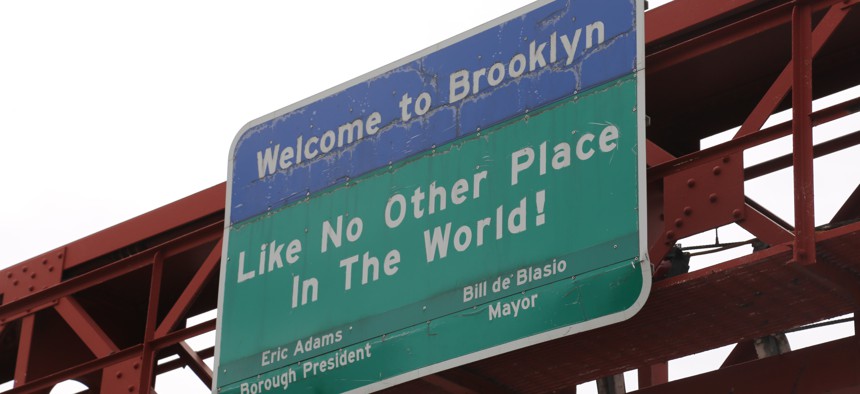 Drive over the Throgs Neck Bridge from Queens and you might just see it on the other side. "Welcome to the Bronx" the green metal sign proudly proclaims. Under that: "Mayor Bill de Blasio" and "Boro President Ruben Diaz Jr."
We're 12 days into New York City Mayor Eric Adams administration, and the whole city hasn't quite adjusted yet. But things are changing, from photos on office walls to advertisements on the subway to giant signs on highways. Call it de-de-Blasification.
The New York City Department of Transportation is responsible for those road signs, and department spokesperson Seth Stein said they will all be changed to reflect the new mayor and borough presidents by the end of January – barring serious weather impacting operations. Sick days are up because of the recent COVID-19 surge, but they don't expect that to stop them from updating all the signs by the end of the month. 
It's not that anything is slowing the DOT down – it's just that there are about 50 or so of the large green metal signs, and some of them are hanging over busy roadways. It's a big job. 
Still, things seemed to move a lot quicker on the state level. The USA Today network reported that when Andrew Cuomo announced his resignation as governor, the state parks department jumped into action to get Gov. Kathy Hochul's name on signs by the time she took office two weeks later. Reports at the time highlighted the sign in front of Watkins Glen State Park, a jewel of the system. 
Asked why New York City, with its $99 billion budget, couldn't keep up with some yokels upstate, the DOT commended them. "We applaud Watkins Glen State Park for their efficiency," Stein wrote in an email to City & State. "The largest city in the country, with over a million signs, strives to match their quick work." 
Any big de Blasio fans want to take home an old sign? That seems unlikely. "The old signs, if they are in good shape, are recovered and reused," Stein said. "If they are not, they are recycled."