New York State
A first look at Gov. Kathy Hochul's 2022 State of the State
From green energy to ethics reform, here are the highlights from the legislative agenda the governor is outlining today.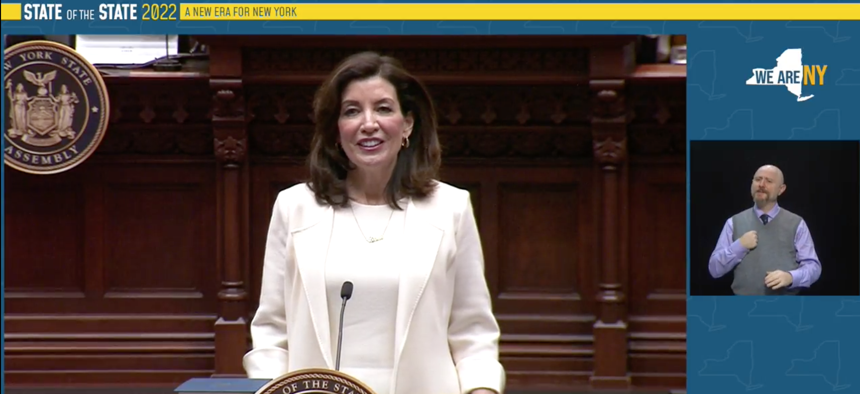 Gov. Kathy Hochul has promised to enact big policies as governor since she officially took office in August. The State of the State address she is delivering Wednesday afternoon is a big chance to explain how she wants to transform her political vision into reality through the legislative process and state budget negotiations expected to conclude April 1.
Her first months as governor have featured a range of challenges. The scandals that led to the downfall of her predecessor have inspired calls for new ethics reforms. Tropical storms have highlighted the dangers of climate change. COVID-19 is still surging. Hochul has vowed to make big proposals to deal with all of these issues as well as many others.
Many key policy details will not become known until the governor releases her proposed state budget later this month, but her Wednesday speech nonetheless offers more insight than ever into the type of legislative agenda Hochul will pursue as governor while she runs for a full term in office. Here is an issue-by-issue breakdown of what the first female governor in state history had to say in her State of the State address.
Climate change
Hochul had to direct a state response to a tropical storm as soon as she took office before announcing in October her intent to pursue "historic" spending on renewable energy projects. Her proposal highlights ongoing efforts like a $500 million investment in new offshore wind infrastructure. The New York State Energy Research and Development Authority and the Department of Public Service will team up to plan how the state could double energy storage to at least six gigawatts by 2030. The state will also be leaning on hydrogen energy more as it continues its effort to meet its goal of reducing greenhouse gas emissions by 85% (compared to 1990 levels) by 2050. Hochul meanwhile will require state investment portfolios to be net-zero by 2040. She is also calling on the Legislature to add $1 billion to the $3 billion "Clean Water, Clean Air and Green Jobs Environmental Bond Act" that will be on the Nov. 2022 ballot. 
Ethics reform
The various scandals that led to the downfall of her predecessor appear to have inspired several proposals for ethics reforms. Hochul is proposing new limits on outside income for statewide officials, likely inspired by the notorious pandemic book deal that made former Gov. Andrew Cuomo $5.1 million. Hochul is also proposing that statewide officials be limited to two terms in office moving forward, which would require an amendment to the state Constitution. She is also proposing to replace the much-criticized Joint Commission on Public Ethics with a new body that would be controlled by "a rotating board of five members made up of the 15 state-accredited law school deans or their designees." She also wants to make JCOPE subject to the Freedom of Information Law, like other state agencies, while requiring it to make any votes public. 
Public schools
Hochul is proposing to "dramatically increase funding for K-12 education" while taking "immediate actions" to increase the number of teachers, bus drivers and other school staff. This includes speeding up the certification process for teachers and creating a new mentorship program. The governor also said she will push for the Legislature to approve new grants to local school districts to encourage them to use more federal funding to help students with mental health needs caused by the pandemic. 
Public colleges and universities
The governor has announced a new goal of making sure that two-thirds of New Yorkers have some type of college-level credential by 2030. She wants to make it easier for part-time students to access the state Tuition Assistance Program by creating prorated awards available to anyone enrolled in at least six credits at any public college or not-for-profit private institution while also making incarcerated people eligible. The booklet accompanying her State of the State outlines a variety of strategies for making individual campuses like Stony Brook University and the University at Buffalo more competitive at the international level. 
Housing and homelessness
Improving access to affordable housing was a big part of Hochul's priorities. Perhaps most notably, she expressed her support for eliminating the controversial 421-a tax break for developers to include affordable units in new buildings, and replace it with a different program to incentivize building affordable housing.
She also proposed a five-year housing plan that involves creating or preserving 100,000 affordable rental and co-op units across the state, and 10,000 supportive housing units.
In addition to that, Hochul said the state would establish an Eviction Prevention Legal Assistance Program, though this falls short of housing advocates' desire for a statewide right to counsel in housing court.
Taxes
After pledging last year not to raise taxes in the state, Hochul has stuck to her promise in her year's priorities. In what is surely a disappointment to progressive advocates, the governor offered no support for new taxes on the rich, like a pied-à-terre or wealth tax. Instead, she proposed a $100 million in tax relief for 195,000 small business owners, accelerating the pace of the middle class tax cuts established under her predecessor, and a $1 billion tax rebate to 2 million New York homeowners.
Criminal justice and public safety
In one of her first definitive legislative commitments of her tenure, Hochul pledged support to pass the Clean Slate Act, which would expunge the records of hundreds of thousands of people across the state, after it failed to pass at the end of last year's session. This is part of a broader plan she proposed dubbed "Jails to Jobs" that would provide additional support for formerly incarcerated people reentering the workforce. Another part of the plan involves fully staffing the state Parole Board and preventing board members from holding outside employment.
On the public safety side of things, Hochul did not mention any new changes to bail reform, focusing a large part on preventing gun violence. She said she would triple state resources for State Police's gun tracing efforts, create a gun tracing consortium with local governments and neighboring states, triple investments in local gun violence prevention programs and provide additional training to law enforcement on the state's Red Flag law.
Voting rights
With voters facing new limits on the ballot in other states, Hochul is proposing that the Empire State take matters into its own hands through a "State Voting Rights Act" that aims to "enhance protections against voter suppression and vote dilutions, establish new protections against voter intimidation and deception, improve language access for voters, and require board of elections with a history of civil rights violations to obtain preclearance for changes to election-related policies and practices." Lowering the voting registration deadline from 25 to 10 days before the election is one way to enact changes through the normal legislative process. The governor is also urging state lawmakers to launch a new effort to allow same-day registration and no-excuse absentee voting through changes to the state Constitution.
Transportation
Hochul is throwing her support behind the idea of giving Outer Borough travelers a new transit option by using an existing 14-mile stretch of freight tracks between Bay Ridge, Brooklyn and Jackson Heights, Queens. Her proposal also highlighted ongoing efforts to rebuild Penn Station, cover portions of the Cross Bronx Expressway and expand the Second Avenue Subway in Manhattan. She also wants to invest $175 million in the next five years to expand charging stations for electric vehicles while requiring that all state vehicles and school buses be electric by 2035. 
Read Hochul's full State of the State booklet here:
2022 State of the State Book by City & State NY on Scribd