Budget
Gov. Kathy Hochul proposes $216.3 billion state budget
The unexpected incumbent is offering fiscal details on the policy plans included in her State of the State address.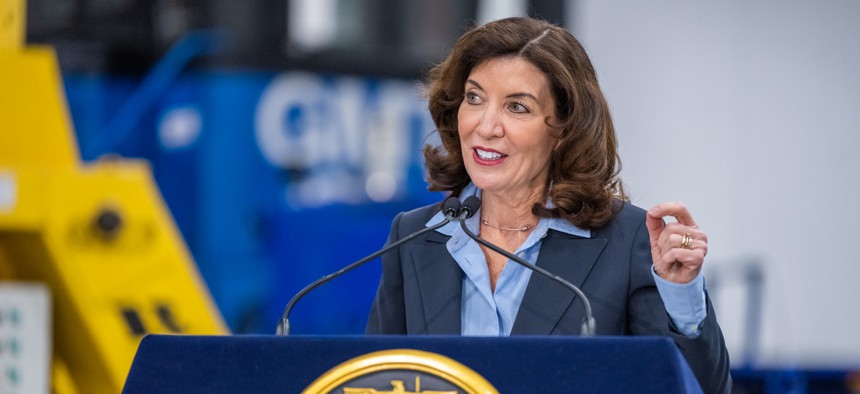 Gov. Kathy Hochul has said many things in recent months about what she wants to get done in the upcoming year. Now she has to translate that into hard numbers and legislative language that can pass the state Legislature before the April 1 state budget deadline. Her Tuesday budget speech is a key step in that process.
The budget process will be a test for Hochul as she runs for a full term in office. She has built her political brand on avoiding conflict with local officials and state legislators alike, but the give and take of budget negotiations inevitably will likely lead to conflict with many of them though the state constitution gives governors enormous power to pass a spending plan over the objections of the state Senate and Assembly. 
"As I said since I took office 147 days ago, my top priority is to confront this pandemic head on and to save lives, protect the health of New Yorkers and protect the health of our economy," Hochul said Tuesday. "We also must pass a bold agenda that'll do more than just help us recover from this crisis. We need to embrace this moment of possibility and use it to redefine New York's destiny."
Hochul's total proposed budget of $216.3 billion is notable because it is several billion dollars higher than the $212 billion budget approved last year – and more than $20 billion higher than the budget her predecessor unveiled one year ago. The governor is proposing the state devote $118.8 billion to operating funds, $95.5 billion to the General Fund and $18.6 billion more to the state Capital Budget for public works. Her budget projects spending growth of 3.1% in Fiscal Year 2021 and a balanced budget through 2027. 
Other budget highlights include $31.2 billion for school aid, including a $1.6 billion increase in Foundation Aid, as well as $2.2 billion for property tax relief, $2 billion for pandemic recovery and $1.2 billion for bonuses for front line workers. Two advantages for Hochul this fiscal cycle are the billions of dollars in federal funding and unexpectedly high tax receipts, which mean she will not have to make as many difficult choices as past years when state finances appeared to be in disarray.  
More details about the proposed budget will be available once the official legislative language is posted online but it is already obvious that the governor is wanting to keep local officials happy. The governor is proposing a four-year extension of mayoral control over New York City schools. She is also vowing to have the state take over billions of dollars in Medicaid spending by local governments while maintaining the current categories of funding that helps school districts purchase things like textbooks and school buses – notable changes from the budgets proposed by her predecessor. State Budget Director Robert Mujica told reporters Tuesday that no significant tax increases were included in the proposed budget, which includes numerous provisions that appear aimed at winning support from local officials.
State lawmakers will then get ready to hold hearings and craft their formal response before Hochul releases any amendments to her proposed spending plan. "The policies I laid out two weeks ago are ambitious," Hochul said in her budget address. "Just as importantly, they're realistic and achievable and we're in a position to fully fund them by making historic investments."