New York State
Letitia James drops 'final' edition of Cuomo tapes
The state attorney general released a trove of videos, transcripts and other materials from her sexual harassment probe of the ex-governor.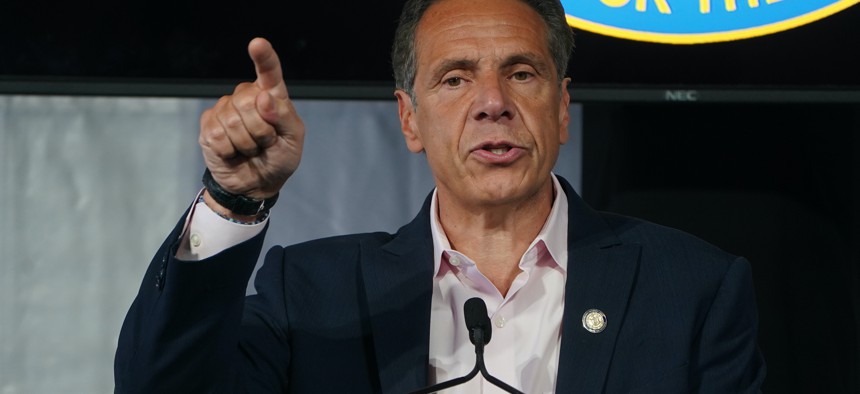 State Attorney General Letitia James has released "the final set of videos, transcripts, and corresponding exhibits" from her recent investigations into sexual misconduct allegations against ex-Gov. Andrew Cuomo.
The materials offer new insight into a reportedly toxic workplace culture under the former governor, who resigned in August as state legislators got ready to impeach and remove him from office. This includes transcripts and videos of testimony from former aides and political allies of Cuomo including his brother Chris, a former CNN host who advised him on responding to allegations. 
Some of the biggest names in state politics are on the list of people whose testimonies were released by James Thursday. Newly-released transcripts detail what longtime Cuomo pollster Jefrey Pollock and former Empire State Development Commissioner Howard Zemsky said about their time working with Cuomo. Longtime gubernatorial fixer Larry Schwartz and political consultant Lis Smith are seen in newly released videos that followed the previous release of transcripts only. 
Political allies of the fallen governor have called for the release of additional investigation materials for weeks while attacking the credibility of the report she released in early August and some of the women who have accused Cuomo of misconduct. Rita Glavin – an attorney who has received about $900,000 from Cuomo's campaign account in recent months – continued thouse efforts Thursday afternoon at a 3 p.m. pretaped appearance on WAMC Thursday. "This is what you came up with?" Glavin said of the extensive allegations of sexual harassment in the report released by James. "The governor was run out over people (saying) 'I don't like that conduct.'" She added that Cuomo would continue attacks on James' investigation. 
The newly released transcripts for the first time offered an explanation as to Zemsky's changing story about an interaction between Cuomo and Lindsey Boylan on a plane years ago. Boylan was Zemsky's chief of staff at the time. Originally, he said he did not recall the former governor ever asking Boylan to play strip poker, but later said he did remember the exchange. Zemsky said he agreed to sign onto a statement from the administration denying the interaction occurred after he received a call from Cuomo's second-in-command Melissa DeRosa. 
Zemsky claimed he legitimately did not remember the incident when signed on, though he added that he experienced a certain degree of pressure to agree on the conference call with DeRosa and others. But a "jarring, threatening" message from Boylan he received – he said it read "I can't wait to destroy your life, you shit follower" – prompted him to reread her Medium article describing the comment, which jogged his memory. It led him to remember "a very different type of exchange from the one that (he) had been thinking about," something he perceived as a joke rather than a serious offer to play strip poker.
The newly released materials contain additional revelations about Cuomo, who has claimed that much of the alleged sexual harassment was simply a matter of people misunderstanding his sense of humor. "I think because he's in a position of power he thinks he's funnier than he is," Maggie Moran, a lobbyist who managed Cuomo's 2018 reelection campaign, said in her testimony. Other materials detail how she and other outside advisers helped his administration workshop its response to a growing list of scandals in early 2020. "I politely declined telling people that his old chief of staff saying he was 'fatherly and he touched me' was the best way to go," former Cuomo aide Josh Vlasto said of responding to one request for comment from The Washington Post. Schwartz reportedly said "I don't recall" 131 times in his own testimony.
The transcripts add to an enormous library of materials detailing alleged wrongdoing by Cuomo during his three terms in office. This includes materials from James' sexual harassement probe and another damning report by her office on a cover-up of COVID-19 deaths at nursing homes. An investigation by the Assembly also found additional evidence of wrongdoing that includes the use of state resources to help Cuomo land a multimillion dollar book deal. Cuomo has kept a low profile in recent months, granting few interviews to the press, but his political allies continue pushing the idea that he did not do much of anything wrong. This latest document dump, however, gives his critics even more evidence to argue New York is better off without him in office.