Education
NYC Mayor Eric Adams insists all is well with the UFT amid schools battle
Adams made the declaration days after members of the union filed a lawsuit seeking remote schooling as COVID-19 cases surge.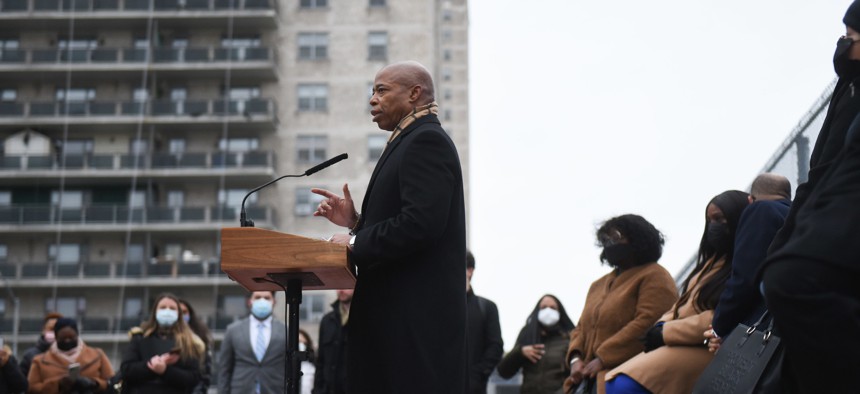 New York City Mayor Eric Adams defended his stance on keeping schools open Tuesday – and his relationship with the teachers' union – as staffing shortages plague the city's school system upon students' return from winter break. 
"I'm going to tell you what's going to happen day to day, we're staying open," Adams said on CNN's "New Day" on Tuesday morning, as the omicron surge continued to pummel hospitals and testing facilities.
Adams' declaration comes after 11 members of the United Federation of Teachers' Solidarity caucus filed a lawsuit in the Manhattan Supreme Court last week seeking a mandated remote learning option until all staff and students can be tested. 
Nonetheless, Adams said his relationship with the union is strong. 
"We're not in a battle with the teacher's union," he said, insisting he speaks to UFT President Michael Mulgrew "three times a day"
"We are (in) lockstep … Michael Mulgrew and I are on the same page that we need to create a safe environment," Adams said. 
It's unclear how many Department of Education staffers were out on Monday and Tuesday due to COVID-19, but city data shows about one-third of students were absent at the start of the new year.
At least one school, PS 58 in Brooklyn, was closed Monday due to staffing shortages, but reopened Tuesday. 
Beginning Monday, the district ramped up testing requirements to include 20% of all vaccinated and unvaccinated students on a weekly basis, opposed to just 10% of unvaccinated students. In addition, more than 2 million at-home test kits were distributed to schools during the winter break.
In an email to all UFT members sent Sunday, Mulgrew reiterated the union's call for remote schooling, but also committed to taking measures to adhere to the mayor's directive. 
"We advised the new mayor that it would be safest to allow our school system to go remote temporarily until we could get a handle on the staffing challenges that each school is about to face as we return. However, he feels strongly that schools need to remain open," Mulgrew wrote. 
On Monday morning, Mulgrew put the impetus on parents to ensure that schools are safe by getting their children vaccinated and completing testing consent forms. 
"Please, parents, get your children vaccinated and give consent on surveillance," Mulgrew said at a press conference outside of P.S. 347 in Manhattan. "Throughout this pandemic when the schools are faced with this challenge, the schools are always the safest place in the community and once again we are going to try to reach that goal."
Mulgrew also reiterated his call on the state to require every student to be tested on a regular basis.
"Both the mayor and I have asked the state to do that for New York City, and at this point they have not granted the request," Mulgrew said. 
The back-and-forth with the union is Adams' first tangle with labor since taking office on Jan. 1. The UFT threw its weight behind another candidate, former City Comptroller Scott Stringer, during the mayoral campaign, but made clear after Adams won the Democratic primary that it expected a good working relationship with him, nonetheless.