New York State
An oxymoronic Albany debut for Nassau County Executive Bruce Blakeman
The mandate scofflaw starred at a law-and-order rally hosted by Republican state lawmakers.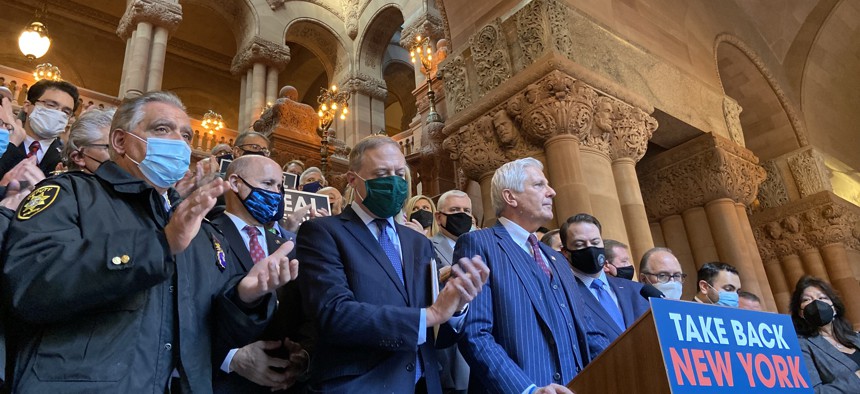 New York Republican legislators have branded themselves for years as the party of "law and order." They have criticized bail reform and other Democratic policies as emboldening criminals and even lawlessness. Yet, GOP legislators were happy to appear alongside Nassau County Executive Bruce Blakeman at a Tuesday rally in the state Capitol days after he signed several executive orders, including one that encouraged school boards to disobey the statewide mask mandate for students.
Democrats said Blakeman should spend more time worrying about the ongoing surge of COVID-19 deaths and hospitalizations rather than violent crime in a county that has been rated the safest place in the country for two years straight. "It's ironic that Bruce Blakeman is pretending to care about law and order today, when just last week he attempted to seize power over democratically elected school boards through an illegal and dangerous executive order," Democratic state Sen. Anna Kaplan of Nassau County said in a statement. Blakeman's critics said his executive orders exceeded his authority considering the supremacy of state law over the counties. His record as a pandemic scofflaw also included holding an indoor inauguration ceremony that disregarded state rules mandating masks at indoor locations that didn't already have a vaccine mandate in place.
The Tuesday rally with dozens of Republican legislators and members of law enforcement is the latest sign of how the New York GOP has grown increasingly emboldened on bail reform as Albany begins its fourth year under one-party rule by Democrats. Such efforts are unlikely to make Republicans legislative agenda a reality this year, though the November elections, including Blakeman's own win, underscored the political potency of bail reform in key electoral battlegrounds like Long Island.
"What we've seen the past three years under Democratic rule over New York state is a less safe New York," state Senate Minority Leader Robert Ortt said Tuesday.
Violent crime has risen during the COVID-19 pandemic, which also happened to largely coincide with the implementation of new limits on cash bail that were approved by Albany Democrats in 2019. The latest state data also showed that thousands of criminal defendants committed violent crimes after being released before their arraignments, though that amounts to a small percentage of overall cases. Criminal justice advocates meanwhile have noted that the number of people benefiting from criminal justice reforms, whether by keeping their jobs or avoiding notorious violence in places like Rikers Island, has outweighed the various harms. Democratic leaders, including state Senate Majority Leader Andrea Stewart-Cousins, have downplayed the possibility of passing any changes to bail reform in the upcoming weeks.
Republicans appear likely to continue beating the drum of bail reform this year following Blakeman's surprise victory over former Nassau County Executive Laura Curran in November. He was one of several Republican candidates whose wins were fueled by the backlash to bail reform. Democratic state Sen. Todd Kaminksky also lost a race for Nassau County district attorney against an opponent who incessantly attacked him on the issue. Lackluster approval ratings for President Joe Biden likely played a role in hampering Democrats on Long Island. Blakeman also made a big issue in the campaign on how Curran handled property reassessment. The big takeaway for Republicans from November seems to be that bail reform might be a proverbial silver bullet against Democratic moderates like Kaminsky.
Appearing at the state Capitol with Republican legislators on Tuesday is one way that Blakeman can show how he intends on making good on the various campaign promises to promote public safety. Pushing too hard on bail reform, however, could cause problems for local leaders like Blakeman as the April 1 state budget approaches. "Want to do something on bail reform? You can't do it all with Republicans," Lawrence Levy, executive dean of the National Center for Suburban Studies at Hofstra University, said in an interview. "(He has) got to be a little careful here, then decide what part of his agenda is most important and how much political capital he wants to spend on any one piece."
Owning the Democrats appears to be a big goal for Blakeman, a former Hempstead Town Council member, at this point in his new tenure as county leader during the ongoing surge of COVID-19 cases. A spokesperson for Gov. Kathy Hochul referred City & State to her past comments on the newly elected county executive where she threatened various actions against him. "Those who underestimate me do so at their own peril," she said. Blakeman, for his part, said Tuesday that such comments were just more evidence of what he called the "autocracy in Albany" while doubling down on his opposition to bail reform. "She threatened to remove funding from our schools in Nassau County, but she hasn't threatened the Manhattan district attorney who refuses to prosecute criminals under the wall," Blakeman (who wore a mask at the Tuesday rally while he was not speaking) said in response to a question from City & State about contradiction between his positions on crime and public health. "It's inconsistent."
Powered By
NEXT STORY: Assembly Member Diana Richardson named Brooklyn deputy borough president