New York State
Suozzi demands AG investigation into Hochul's travel habits
The Congress member argues that the governor is flouting her own calls for improved ethics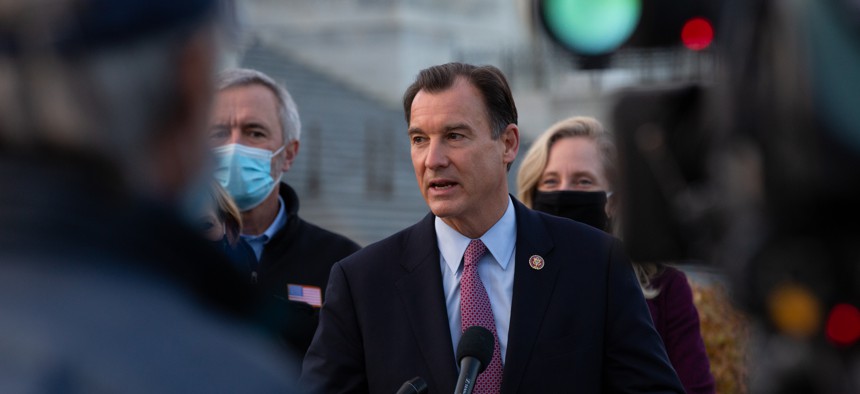 In his latest attack of Gov. Kathy Hochul, Rep. Tom Suozzi is taking the governor to task for, according to him, failing to live up to her lofty promises about ethics reforms and transparency. The Democratic gubernatorial candidate called into question Hochul's recent fundraising practices, private meetings and questionable usage of taxpayer-funded aircraft to travel to and from political events. And he's demanding the governor allow state Attorney General Letitia James to investigate whether Hochul broke any state laws. 
Suozzi referenced recent reporting by the Times Union about questionable uses of state resources by the governor, as well as limited transparency in her public schedules. According to the Times Union, Hochul has repeatedly used the state aircraft to transport herself to parts of the state where she would hold both governmental and political events without reimbursing the state. The governor also reported no meetings with lobbyists in her first four months in office despite lobbyists reporting over 250 meetings with her office during that time. 
Suozzi further criticized Hochul for not regularly releasing her daily schedule – only the first three months of her tenure are currently available – and for failing to identify participants in "private events" listed in her schedule. "We really have to look at what she said about ethics reform and about transparency that she promised would be the hallmark of her administration on day one," Suozzi said. In her very first speech as governor, Hochul said that making a more transparent and ethical Albany topped her list of priorities along with addressing the ongoing COVID-19 pandemic. "It's one thing to make a pronouncement," Suozzi chided. "It's something else to actually follow up on that."
To prove her commitment to transparency, Suozzi made several demands of the governor. Chief among them was to refer an investigation into her use of state aircraft to the attorney general to determine whether she broke any state laws. "If she truly believes in openness and transparency – let's not make this about me … let's have the governor refer this to the attorney general," Suozzi said. He followed up with several more requests of Hochul, including releasing her all her daily schedules since she's been in office, a list of people she met with during "private events" and for her to immediately reimburse the state for improper activities. 
A spokesperson for Hochul said that the governor's new deputy counsel – hired in December to oversee ethics – is in the process of conducting a "thorough review" of her use of state aircraft, and that she has already made reimbursements in the three necessary instances already identified. "Governor Hochul is committed to transparency, accountability, and the highest ethical standards," press secretary Hazel Crampton-Hayes said in a statement, adding that the administration is "creating additional controls and processes" in order to ensure ethical adherence. 
However, Crampton-Hayes did not indicate that the governor had any intention of referring an investigation into her use of state aircraft to the attorney general. And she did not say when Hochul would release the rest of her public schedules for her first six months, nor whether the administration would identify participants in the "private events" listed.
Suozzi himself has faced a few questions about his own ethics and use of government resources for his campaign. A recent press conference Suozzi held in his capacity as a member of Congress denouncing the conditions at Penn Station and laying the blame on Hochul could easily have been mistaken for a campaign event. Asked by City & State about whether he thought that event was proper, he defended his actions. 
"We thought about that particular event," Suozzi said. "And that was a congressional event because I represent the people that use the Long Island Rail Road on a regular basis." Though in the next breath, he seemed to contradict himself by calling conditions in and around Penn Station "appropriate as a campaign issue." Suozzi also added that he paid for his train ride into Manhattan with either campaign cash or his own money.