New York State
What comes next for redistricting as final vote looms next week
Albany Democrats are getting ready to unveil new legislative and congressional lines that could help them in the 2022 elections.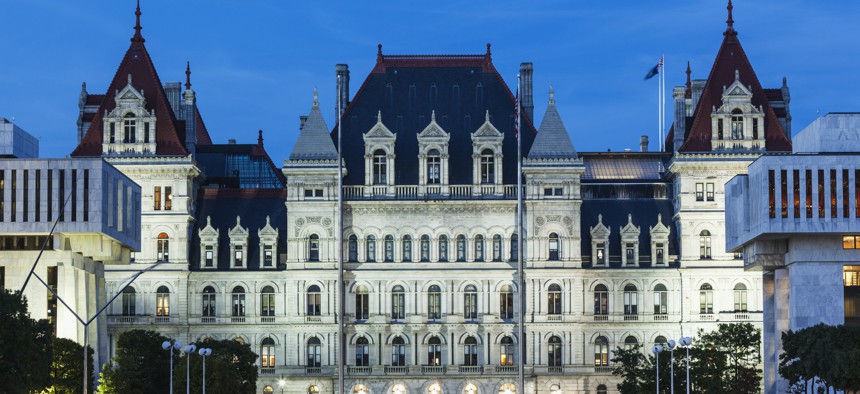 The future of New York politics comes down to the new legislative and congressional maps that Albany Democrats aim to approve, which will likely help them expand their supermajorities in the state Legislature over the next decade while helping Democrats maintain control of the U.S. House. Everything depends on the maps expected to pass the state Senate and Assembly this upcoming week. 
New York legislators get to draw their own districts because an appointed panel called the Independent Redistricting Commission failed to submit new draft maps before a deadline earlier this week. All Democrats have to do is approve new maps by a two-thirds majority, with the support of Gov. Kathy Hochul, but that is no easy task considering the political considerations that go into the redistricting process. The introduction of new maps will kick off the next stage of redistricting in the coming days.
The state and federal constitutions place limits on gerrymandering especially when it comes to limiting the ability of racial minorities and other groups to get representation in Congress. A range of interest groups, many of whom testified at public hearings hosted by the commission months ago, want legislative or congressional lines to be drawn one way or another. Incumbents want districts that enable their own reelections. Legal challenges can hold things up too. And there is not a lot of time to negotiate new maps because political candidates have to start petitioning for office in a few weeks. 
Here is your guide to what comes next in a redistricting process like no other in state history.
Are new legislative and congressional maps really getting approved next week?
Assembly Speaker Carl Heastie and state Senate Majority Leader Andrea Stewart-Cousins have said that time is of the essence when it comes to getting new maps done in time for legislative and congressional candidates to begin petitioning to get their names on the ballot in the upcoming weeks. "Given the expedited nature of the political calendar, we fully expect the Senate and Assembly to consider new fair maps in a timely manner. The plan is to vote on these maps next week," Heastie and Stewart-Cousins said in a statement Wednesday. Good government groups, however, are urging legislative leaders to hold at least one public hearing before a final vote, which could delay the maps' approval.
What was supposed to be different this year?
This was supposed to be the first redistricting cycle when the Independent Redistricting Commission would oversee the process as envisioned by a 2014 amendment to the state constitution. Everything seemed to be going fine after the leaders of the majority and minority conferences of the state Senate and Assembly appointed members to the commission last year. A series of public hearings were held, but then commissioners failed to agree on a single set of maps though their respective proposals were similar in many ways. Long story short – the state constitution now gives the state Legislature control over the redistricting process like it has in years past. 
Who directly controls the process?
Hochul signed a bill into law late last year that clarified how state lawmakers can redraw the maps after the commission failed to submit a second round of draft maps after legislators rejected their first drafts earlier this month. State Senate Deputy Majority Leader Michael Gianaris and Assembly Member Kenneth Zewbrowski – neither of whom could be reached for comment by publication time – will have outsized importance in that process as the co-chairs of the Legislative Task Force on Demographic Research and Reapportionment. While Albany Democrats could use the draft maps submitted by the commission as a basis for new lines, they are not required to do that and the vast majority of the give-and-take of redistricting will likely happen behind closed doors as Democratic insiders maneuver for their preferred lines. It remains unclear whether new maps will be submitted in time to get a vote by the last scheduled day of session next week on Wednesday, Feb. 2. 
How does the state or federal constitution limit how Democrats might gerrymander new lines for the state Senate, Assembly and Congress?
A key impediment to gerrymandering congressional districts is federal law which outlaws redistricting practices "that discriminate on the basis of race, color or membership in a language minority group," according to the U.S. Department of Justice. The state and federal constitutions both include other provisions requiring that districts be as geographically contiguous and as compact as possible while conforming as much as possible to other political boundaries, like town or county lines. 
Who are some of the groups advocating for significant changes to the legislative or congressional maps?
Asian Americans are advocating for new maps that would create three Assembly districts in Queens, and a state Senate district in Brooklyn, where they might dominate future elections. A coalition of groups that includes the NAACP Legal Defense and Educational Fund has proposed maps that aim to simplify currently meandering gerrymanders in places like southern Brooklyn. The website of the Independent Redistricting Commission includes an expansive archive of the testimonies submitted at its hearing. 
A memo attributed to Rep. Sean Patrick Maloney of the Hudson Valley, who chairs the Democratic Congressional Campaign Committee, outlines all the electoral pain that Republicans will likely have to endure on the congressional side of redistricting as the two parties fight for control of Congress in the 2022 midterms. Albany Democrats for their part have said they intend on approving fair-minded maps, but the upcoming days will detail how much they mean it.