New York City
What does the female City Council majority want to do for women?
The New York City Council's first female majority wants to bring more attention to issues including maternal health and family care.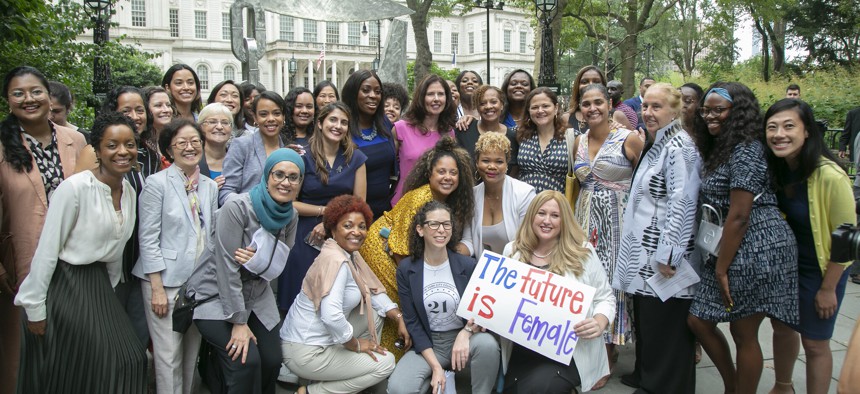 With 31 women, the New York City Council is for the first time in history majority female. And with City Council Speaker Adrienne Adams, the body will be led by a woman too. 
The women who are returning to the council or joining it for the first time have long lists of legislative priorities that cut across gender identities – from police accountability and education equity to affordable housing and transit accessibility. 
But for some of the women who make up the council's new female majority, the new session represents an opportunity to bring increased attention to issues such as the maternal mortality crisis and stubborn pay disparities – so-called "women's issues," even if the term is a bit of a misnomer. "They're not solely our issues, they're everyone's issues," said new Democratic Council Member Marjorie Velázquez. 
As several council members pointed out, it's not the case that these kinds of issues have been previously ignored by council members. The City Council has allocated money to an abortion access fund in the past, and both the state and city have introduced plans to confront maternal mortality – though follow through on those plans has fallen short of health advocates' hopes. 
But with more women in the City Council than ever, some members said there's now a better chance of seeing action on these and other issues that primarily affect women. "We have more expecting and new, young parents and mothers in the council. We have people who are the primary caregivers in their family," said Democratic Council Member Carlina Rivera. "The issues that we take on will be very, very intersectional. Anti-racist, anti-poverty, focusing on supporting families."
Maternal mortality is one area in which the City Council and New York City Mayor Eric Adams may have an opportunity to work together. Adams campaigned on a promise to increase access to doulas particularly in parts of the city with low access to health care and high-risk factors. Research has shown that support from trained professionals like doulas during pregnancy and childbirth can help improve health outcomes and experiences for mothers. 
Black women in particular have been found to have higher rates of maternal mortality and morbidity. A 2020 study from the New York State Health Foundation found that Black women were more than twice as likely to experience potentially life-threatening complications during or after childbirth. The mortality gap is even higher.
The issue hits home for members including Velázquez, who represents Bronx neighborhoods including Pelham Bay and Throggs Neck, and Democrat City Council Member Rita Joseph, who represents parts of Central Brooklyn. In recent years, the Bronx and Brooklyn have had the highest rates of severe maternal morbidity, defined as experiencing life-threatening conditions during pregnancy. 
Joseph campaigned on advocating for universal access to doulas. "I'm a Black woman, I made it out, thank God, but there are so many others that do not," said Joseph, who has four children. As Joseph points out, doula services are not currently covered by Medicaid in New York – though the state did experiment with a pilot program offering some reimbursement for doula care in Brooklyn and Buffalo. Adams has proposed his own city-funded pilot program to offer free doula services – potentially fully funded through the city's budget if partial Medicaid reimbursement couldn't come through. 
Velázquez, meanwhile, said that one of her priorities is securing a women's and children's health center in the Bronx, a type of facility it currently lacks. "We can get there through talking to Health + Hospitals, but more importantly, looking at it as a capital project and just delivering those funds through there," she said. A second step, Velázquez said, is ensuring birthing centers are fully staffed and fully funding public hospitals in order to do so.
During the pandemic, Rivera was among those who advocated for doulas to be classified as essential workers so that they were able to be present in maternity wards. "I'm not sure why we have to fight to make that classification necessary," she told Gothamist last year. "But it's certainly something that we're proud of." Rivera said she plans to reintroduce a bill in the council that would mandate hospitals develop and communicate clear guidelines regarding visitation in public health emergencies to ensure people in labor can have access to birth workers whenever possible.
The COVID-19 pandemic also made clear that caregiving work – both for children and the elderly – more often than not falls on women. The U.S. Centers for Disease Control and Prevention reports that two of every three caregivers in the country are women. Women also left the workforce at higher rates than men during the pandemic, often to take care of children out of school and daycare. 
While New York City has made strides with universal pre-K, some council members said there's still work to do to provide accessible and affordable child and family care support across the city. "I know that for myself, we're sort of in that sandwich generation, where we're taking care of our kids as well as parents," said Linda Lee, a new Democratic council member from Eastern Queens. Lee praised the previous administration's work on universal pre-K, but said that support for people taking care of older relatives is lacking and is looking to beef up the city Department for the Aging's budget. "I'm looking at this from a preventative measure, how can we put systems in place to take care of our elderly," Lee said.
Lee, who comes from the nonprofit sector, added that she went back to work three months after giving birth and found that few child care centers accepted children that young. "Those places that are willing to have child care for three months and up, how do we support them more?" Lee asked. "What are some of the barriers that they're facing? … If you're not looking for those services, you wouldn't know."
The three women who are joining the Republican minority in the council – Inna Vernikov, Vickie Paladino and Joann Ariola – did not respond to requests for comment for this story. But several other members City & State spoke to said they anticipate working with those members to address issues that affect women. Lee said she has spoken with Paladino, whose neighboring Queens district resembles her own in having a large elderly population. "In that sense, we both share the same concern of what's going to happen with the older population," Lee said. 
Sandra Ung, a new Democratic council member from Flushing, has said that a top legislative priority is expanding language access for city services and programs. It's a problem she's encountered in trying to help her own parents, who are immigrants, navigate through city services. 
Providing services to the elderly or child care programs doesn't mean much if they're not accessible to all New Yorkers. "Before they roll out a program, they think, 'Oh, we'll figure out the language access later,'" Ung said of the city's current approach. "When you roll out a program without figuring out the language access part to it, people (for whom) English is not their first language, they're not going to get the benefit of the resources."
Access to safe and affordable abortions is another issue lawmakers are hoping to shine a light on. While New York codified protections of Roe v. Wade in state law in 2019 with the Reproductive Health Act, affordability and access barriers still remain. In 2019, the New York City Council first allocated $250,000 to the New York Abortion Access Fund, which provides financial assistance to clinics who see patients who can't cover the costs of abortions. Rivera said that that funding should continue. "I think it should be baselined in the city budget," she said. "I think it's not only proven to be helpful, it's been a model for the rest of the nation."
Several council members also said that addressing pay disparities across the city is crucial. Pew Research Center data shows that in 2020, women in the United States earned about 84% of what men earned. While the council has passed laws aimed at addressing these gaps – the council passed a bill at the end of last session that requires salary ranges to be included in all job postings – one avenue city lawmakers might have to attack pay gaps is through their own municipal workforce. A report mandated by a 2019 city law found that within the municipal workforce, the median salary for men is $21,600 higher than the median salary for women, while the median salary for a white employee is $27,800 higher than for a Black employee and $22,200 higher than for a Hispanic or Latino employee. 
"I don't want it to be a hashtag," Joseph said of pay equity, referring to the pithy calls for parity that tend to circulate on social media on Equal Pay Day. "I want it to become a reality."