New York City
The 2022 New York City Power 100: The rise and fall of political players
Who made the biggest moves on this year's list?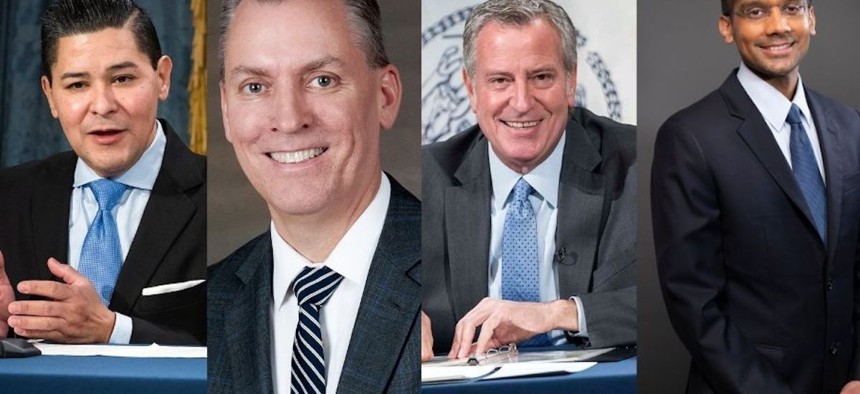 For years, then-Gov. Andrew Cuomo landed at or near the top of the New York City Power 100 list, thanks to the way he maximized his leverage over the city – and consistently outplayed his longtime foil, then-Mayor Bill de Blasio. Both men are now out of office, and their successors have brought in their own teams to help run the show. That means there's a lot of reshuffling in the 2022 edition of the New York City Power 100. Here's a rundown of the political players who made the biggest moves over the past year.
Who's up? 
Rep. Adriano Espaillat rose higher than anyone else, from No. 87 in 2021 to No. 7 this year, thanks in large part to his endorsement of and alliance with New York City's new mayor, Eric Adams. With no Latinos currently holding citywide office, Espaillat has emerged as one of the most influential Latino politicians in the city. What's more, the Dominican American lawmaker has become the power broker in his northern Manhattan district, with his allies holding such key posts as Manhattan borough president (Mark Levine) and transportation commissioner (Ydanis Rodriguez) as well as a number of local legislative seats, including Assembly Member Manny De Los Santos and New York City Council Members Shaun Abreu, Carmen De La Rosa, Oswald Feliz and Pierina Sanchez.
Another Adams ally, Sheena Wright, shot up the list as well after being named deputy mayor for strategic initiatives. Wright landed at No. 25, up from No. 89 last year when she was still running the United Way of New York City. (She also topped City & State's Nonprofit Power 100 last year.)
Other key players to make big moves up the rankings were Henry Garrido, the leader of the labor union District Council 37, which has been at the center of debates over COVID-19 protections for city workers and was an early Eric Adams backer (up 32 slots); New York City Council Member Rafael Salamanca Jr., who retained his influential position as Land Use Committee chair after overseeing the New York Blood Center rezoning, a rare project to advance against the wishes of the local council member (up 20 slots); and Patrick Lynch, the longtime leader of the New York City Police Benevolent Association and an outspoken supporter of the police officers he represents, who welcomed Eric Adams' election and agrees with his pledge to crack down on crime (up 19 slots).
Who's down?
Not only did Bill de Blasio have to leave office due to term limits, it's also unclear what the former mayor will do next. A serial candidate for elected office, de Blasio underperformed (to put it mildly) in the 2020 presidential primary. He reportedly considered bids for governor and Congress in recent months but ultimately stayed out of the fray. His connections with his successor, who he quietly supported, kept him on this list, although he plummeted 87 slots to No. 90. He shares that spot with several other veteran politicians, including former New York City Comptroller Scott Stringer (who dropped 82 slots) and former Bronx Borough President Ruben Diaz Jr. (down 19 slots), both mayoral front-runners at various stages. Diaz, who was well positioned to become the city's first Latino mayor, instead focused on finishing out his final term and recently took an executive position at Montefiore Medicine.
Who's in? 
The 2022 edition of this list was dominated by new members of the Adams administration, including New York City Police Department Commissioner Keechant Sewell (at No. 5), First Deputy Mayor Lorraine Grillo (No. 20), chief of staff Frank Carone (No. 21) and longtime Adams adviser Ingrid Lewis-Martin (No. 22). In total, 28 members of the mayor's team made the list, most of them for the first time. Other notable newcomers included Gov. Kathy Hochul (No. 3), New York City Council Speaker Adrienne Adams (No. 4) and Manhattan District Attorney Alvin Bragg (No. 18).
Who's out? 
Other than Cuomo, the biggest names that dropped off the list from last year are former schools Chancellor Richard Carranza (who was No. 10), outgoing New York City Health Commissioner Dr. Dave Chokshi (No. 11), former New York City Council Speaker Corey Johnson (No. 13), former NYPD Commissioner Dermot Shea (No. 17) and former Manhattan District Attorney Cyrus Vance Jr. (No. 18).