New York State
Eric Adams calls for bail reform rollbacks at virtual state budget hearing
The New York City mayor is leaning on Albany Democrats who might be able to sway legislative leaders to back his more moderate public safety agenda in the upcoming state budget.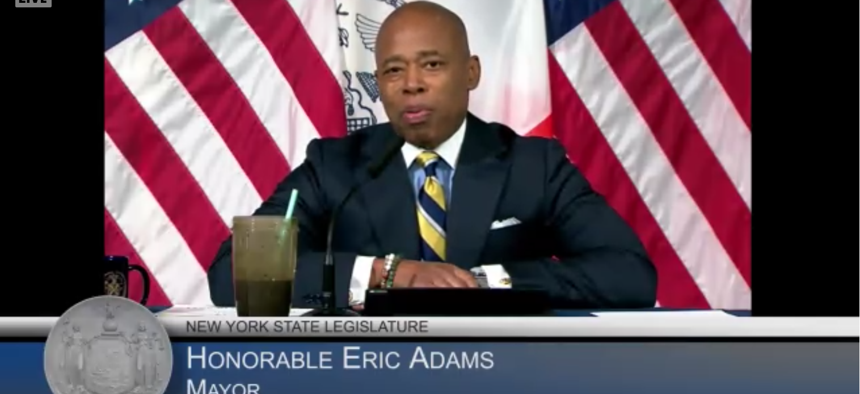 New York City Mayor Eric Adams got plenty of love from members of the state Legislature while testifying at a Wednesday virtual budget hearing during the annual "Tin Cup Day" for local leaders. During his appearance with lawmakers to discuss New York City's needs in the state budget, Democrats and Republicans alike gushed over Adams' approach to addressing violent crime. "I do have to say as a senator from Long Island. I find both the tone and the issue agenda of your administration very refreshing," moderate Democratic state Sen. James Gaughran said at one point. Lefty legislators liked his focus on issues as diverse as dyslexia and the city response to a recent fire in the Bronx. 
Kind words can only do so much for Adams' efforts to get Democrats to undo many of the criminal justice reforms they have approved in recent years as part of his broader public safety plan. Adams wants changes to the 2017 "Raise the Age" law to allow more teens to be tried as adults in some types of gun cases. He also wants alterations to criminal discovery laws that he claims require prosecutors to move so fast in disclosing evidence that it jeopardizes cases. A third proposal would allow a judge to jail some criminal defendants pretrial if a court determines they pose a danger to public safety. "If a former colleague is saying: 'Hey, you guys did a great job, but there's areas we need to tweak, we should not feel as though that this is an attack," Adams, who served in the state Senate from 2007 to 2013, told state lawmakers Wednesday. "This is love."
Support from the rank-and-file could help the mayor move his agenda forward through the state budget due April 1, especially when it comes to winning support from state Senate Majority Leader Andrea Stewart-Cousins and Assembly Speaker Carl Heastie, who Adams has reportedly not spent much time courting as mayor. The two legislative leaders are opposed to Adams' proposals while Gov. Kathy Hochul has signaled a willingness to roll back certain reforms – if other key Democrats go along as well. 
Stewart-Cousins has been particularly vocal over the past week in advocating against making changes to reforms. "Bail reform was done before the George Floyd murder and police reform happened after," she reportedly told liberal activists in Yonkers on Feb. 6. "They were pissed off that it happened at all, and now we have this backlash and a Republican national campaign of fear." She doubled down Wednesday on opposing the so-called "dangerousness" proposal while speaking to reporters. Heastie has also been a key bulwark in recent years against a range of political forces advocating changes to criminal justice reforms, including those affecting cash bail. 
The state budget process has played an outsized role in getting criminal justice reforms approved – and subsequently altered – in recent years because it allows legislators to excuse their votes for controversial proposals by saying they were tied to must-pass provisions on things like school funding. That is what happened in 2019 when Albany Democrats approved new limits on cash bail in addition to other changes aimed at making the pretrial process more fair for defendants. A backlash to those reforms pushed them to make changes the following year through the budget process that allows cash bail for people charged with additional types of offenses. The 2017 Raise the Age law that eventually removed 16- and 17-year-olds from the adult judicial system passed through the budget process as well. 
Big things do not traditionally happen in Albany until the governor, Assembly speaker and state Senate majority leader strike an agreement. Hochul has built her political brand as governor partly on deference to local governments and the state Legislature, including on the various controversies surrounding bail. "There's opportunities to have these conversations with the mayor as well as with the legislature as the session unfolds," she told reporters in late January. While Stewart-Cousins and Heastie are not on board with Adams' legislative asks, the situation could change if he can somehow mobilize a critical mass of Democratic lawmakers to lean on their consensus-driven leadership. 
Moderate Democrats appear to be the first piece of an outside-in strategy to get Albany leaders to back his legislative agenda. "I want to just echo my support for your requested changes to not just Raise the Age but the change to the criminal justice reforms that you're asking for," Democratic state Sen. Diane Savino said at the hearing. Ongoing attacks by Republicans on bail reform will add additional pressure on swing district Democrats to back changes to bail reform, Raise the Age or other reforms. The 2021 election results on Long Island highlight how facts alone cannot save Democratic candidates from losing to GOP opponents willing to distort the still-unclear effects of the various reforms implemented in recent years.  
Yet, the politically moderate mayor, who said Wednesday that he supports the outstanding "Clean Slate" budget proposal to make it easier to seal criminal records, appears to have a long way to go when it comes to getting progressive Democrats to back his legislative agenda on public safety. Recent data offers debate fodder to both sides of the bail reform for their own arguments, and left-leaning Democrats appear to be in no hurry to help Adams alter the reforms they have backed in past years. "I do challenge you to a debate with respect to bail reform and the effects that it has been having with respect to an alleged rise in crime in the city of New York," Democratic Assembly Member Latrice Walker, a key backer of bail reform, said at the hearing. "We are seeing crime on the rise all across the country." Such ongoing resistance from legislative leaders and rank-and-file Democrats alike might be one reason why Adams announced Wednesday that he is planning to visit Albany Democrats next week – this time in person.