Criminal Justice
A budget fight over Clean Slate begins
The governor expressed support for the bill but introduced her own version with a major change.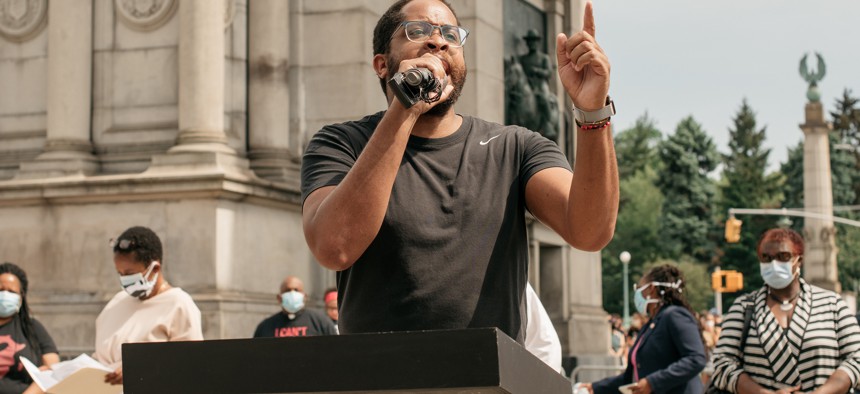 Criminal justice reform advocates applauded Gov. Kathy Hochul when she included the Clean Slate Act as part of her 2022 legislative agenda. The bill, which came close to passing at the end of last year's session, would seal the records of most people convicted of a felony or misdemeanor several years after completing their sentences – as long as they don't get charged with any additional crimes. Hochul included it as part of a broader plan to help formerly incarcerated people reintegrate into their communities and find employment upon their release. 
But the version of the bill that Hochul included as part of her new executive budget includes several small yet significant changes compared to the version that lawmakers nearly passed last year. Most notably, Hochul wants to increase the number of years formerly incarcerated people would need to wait to have their records sealed. And criminal justice reform advocates are urging Hochul to adopt the bill that already exists in the Legislature. 
Under the bill introduced by state Sen. Zellnor Myrie and Assembly Member Catalina Cruz, the waiting period before people can get their records sealed begins as soon as they complete their sentences. For misdemeanors, that time frame is three years. For felonies, it increases to seven. In both instances, that person cannot get rearrested during that time period.
Hochul's bill keeps the same parameters but the difference lies in how each proposal defines when a sentence has ended. The legislative version asserts it happens when a person gets released from incarceration and parole. Hochul's version defines it as the end of the maximum sentence period imposed by a judge. In other words, the governor generally wants to make people wait longer than the legislators. 
As a hypothetical, imagine a person convicted of a felony who was sentenced to 10 years in prison with five years post-release supervision and got released after five years in prison. Under the legislative version of the bill, that person would need to wait seven years after their release before the state could seal their record, or only two years after the completion of their post-release supervision. From sentencing to sealing would be 12 years. Under Hochul's proposal, that person would need to wait an additional 10 years despite their early release for the completion of the original 15-year sentence from the judge. In this case, the person would wait 22 years from the time of their sentencing for their record to be sealed.
This change did not sit well with criminal justice reform activists and advocates for the formerly incarcerated. "We appreciate Governor Hochul's support for the key principles that underpin Clean Slate," the Clean Slate New York Coalition said in a joint statement. "However, the proposed language includes changes that significantly weaken the existing bill, including dramatically delaying when an individual becomes eligible for sealing." 
A spokesperson for the governor did not return a request for comment.
There is hope, however, that Hochul will meet lawmakers and advocates at the negotiating table. Cruz told City & State that she's meeting with the administration soon to discuss the two proposals and their differences, and declined to comment on the changes until she spoke with the governor. Lawmakers and advocates alike remain cautiously optimistic that they have a willing negotiating partner in Hochul in contrast with her predecessor, and that they can resolve the issues before the April 1 budget deadline.
Update: This story has been updated to reflect a request for comment from the governor.