New York State
Five things to know about Kimberly Hill
The new Chief Disability Officer will aim to tackle issues of employment and equitable opportunities for New Yorkers with disabilities.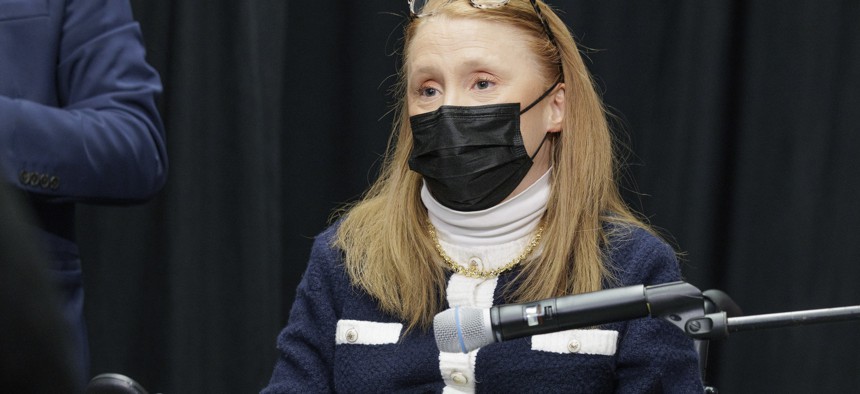 On Valentine's Day, Gov. Kathy Hochul announced the creation of the Office of the Chief Disability Officer in order to address the plight of disabled New Yorkers. Kimberly Hill, who has an extensive history of working with disability advocates and creating initiatives for disabled individuals through the New York State Assembly, was appointed the Chief Disability Officer by Hochul.
In a statement during the Feb. 14 press conference, Hochul emphasized her administration's commitment to "protecting the right of all New Yorkers to live and work in our state free from the fear of discrimination." After two different departments formed from the establishment of the State Office of the Advocate for the Disabled in 1983, the Commission on Quality of Care and Advocacy for Persons with Disabilities and the Justice Center for the Protection of People with Special Needs, the new office will be focused on the disability community and resources necessary for its advancement.
Hill said that she is "looking forward to leading a well-resourced Office of the Chief Disability Officer to bring the voices and priorities of all people with disabilities to the forefront and working towards a more integrated, inclusive and accessible New York" in a statement on Monday. Here are five things you should know about this new office and Hill's new role.
Hill is no stranger to advocating for disability rights 
Hill's resume when it comes to disability rights and advocacy runs long. In her most recent position, she served with the Assembly's Standing Committee on People with Disabilities as their principal analyst. Prior to that, she was the director of the Assembly Task Force on People with Disabilities. Hill coordinated 24 Disability Awareness Days during her time working with the Assembly, and first started working for the state as a writer for the Assembly's Communication and Information Services Department. 
She has roots in Central New York
Hill graduated from Utica College of Syracuse University with a Bachelor of Science degree, and currently lives in Latham. 
Hill was instrumental in the development of the Most Integrated Setting Coordinating Council (MISCC)
The council was an amalgamation of several departments falling under the umbrella of one group focused on services and the needs of those with intellectual and physical disabilities living in New York. During Hill's time serving as director of the Assembly Task Force on People with Disabilities, she worked with advocates and Assembly members to advance this council and associated bills. She also worked to pass bills related to the state's Medicaid Buy-In program and the Nursing Facility Transition and Diversion Waiver. 
Hill is expected to create jobs for people with disabilities 
Upon announcing the creation of the Office of the Chief Disability Officer, Hochul mentioned that the office's goal is to create 1,200 state agency jobs for workers with disabilities. Only 35% of working-age people with disabilities are employed in New York – and 30% of those living with disabilities are living in poverty. According to a report by the Rockefeller Institute of Government, the disabilities job sector could inject $14 billion per year into New York's economy.
Several Assembly members have praised Hill's appointment to this new role
In Hochul's statement released on Monday, Hill was mentioned by other government officials and advocacy groups as someone with an acute understanding of what disabled people are especially in need of in New York. The Office for the Aging's acting director Greg Olsen offered kind words about the hire, stating that he's known Hill for years and that they worked together on the passage of several disability rights bills and that Hill is "the ideal person to advance this critical work." Hill was also mentioned favorably by the very committee she'll be leaving to serve in this role, with state Sen. James Skoufis stating it was a "privilege" to work alongside Hill during his time as the Chair of the Assembly Task Force on People with Disabilities.