Health Care
As NYS removes COVID rules, health experts urge caution over new BA.2 variant
Gov. Kathy Hochul on Thursday said the state's hospitalization rate has dropped enough to resume elective procedures at all facilities.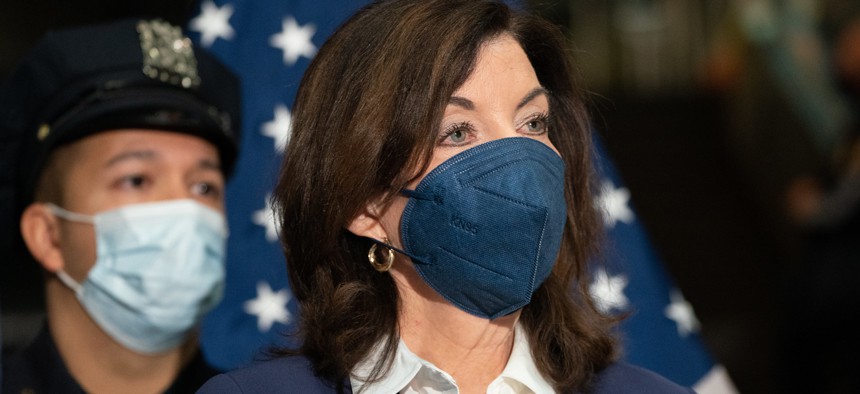 As New York officials rolled back some COVID-19 restrictions this week – and expressed desire to remove even more protocols soon – medical experts were closely watching a new mutation of the omicron variant that appears to be even more transmissible than the original strain.
Gov. Kathy Hochul on Thursday lifted a three-month ban on elective procedures at hospitals with bed shortages, citing 42 consecutive days of declining hospitalizations and a 2.1% infection rate. That's down from a peak of 23% on Jan. 2, at the height of the omicron surge. 
The decision follows Hochul's rescission of an indoor mask earlier this month for businesses where vaccinations are not required, at the discretion of local leaders. The mandate remains in effect in New York City, along with schools and some other public spaces statewide. 
Hochul has said she will wait until early March and monitor data in real-time to decide whether to continue requiring mask usage in schools, a decision voters largely agree with, according to a new poll out Tuesday. Fifty-eight percent of the 803 surveyed  by Siena College said they agreed with the move, and 45% said they felt it was too early to remove the indoor mask mandate for businesses.
The state also nixed a booster mandate for healthcare workers that took effect on Monday, but not because of a dip in case counts. New York joined several other states in declining to enforce the rule due to staffing concerns. 
In New York City, Adams on Wednesday said he too would roll back indoor mask restrictions and wants to end the vaccination requirement for patrons of restaurants and other entertainment venues. 
"I can't wait to get it done," he said at an unrelated press conference, without providing a timeline on when that might happen. 
Medical experts urged caution when it comes to the policy reversals. Dr. Jay Varma, who served as a pandemic adviser to former Mayor Bill de Blasio, warned that high antibody levels among the population from the previous omicron wave, along with climbing vaccination rates, can create a false sense of security.
"I'm very concerned when people say we have reached a very high level of vaccination and that we can then take away vaccine mandates because what happens in the very likely scenario that we face a new variant in the future?" Varma told the Daily News.
Experts say the logic cited by Varma is one reason that the new omicron BA.2 strain has yet to raise alarms.
"It's so soon after that initial BA.1 peak that you have a lot of people who were either vaccinated or boosted . . . (or) got Omicron, and so right now all of those people will have relatively high titers of antibodies," Angela Rasmussen, a virologist at the University of Saskatchewan's Vaccine and Infectious Disease Organization in Canada, told CNN.
Some studies suggest BA.2, which has been detected in at least 47 states and 85 countries, is 30% more contagious than the BA.1 strain. The mutation caused about 36% of cases worldwide as of Feb. 12, according to the World Health Organization, up from 12% just four weeks prior.
Hochul did not mention the new strain on Thursday while discussing the state of the pandemic in New York, but said she is monitoring emerging threats to the state's recovery.
"As I said, I'm going to keep my eye on any global trends that are out there because again, back in November, it seemed like it could be a safe time to start talking about loosening up some of the requirements," Hochul said during a Thursday press conference. "And that would have been the wrong decision at that time given what we know now, looking in the rear view mirror, what happened with omicron when we were just walloped with a variant that spread like wildfire."