News & Politics
Political right highlights 2022 talking points at Conservative Party convention
Gubernatorial hopeful Rep. Lee Zeldin was among the candidates getting the party's blessing Saturday.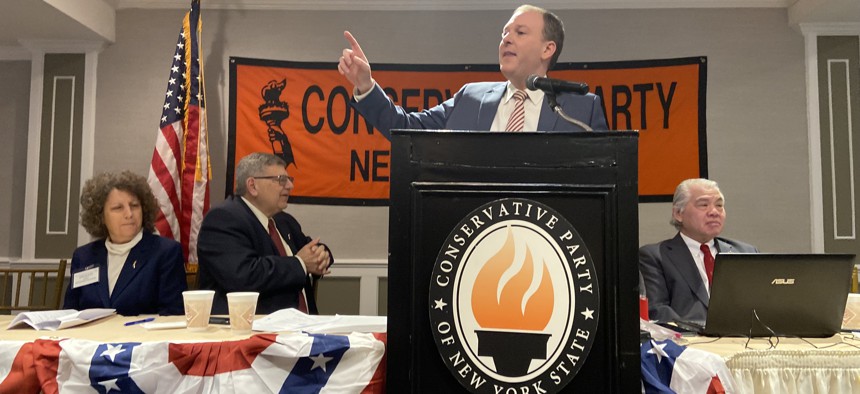 People on the political right are relatively few in New York – but they are feeling emboldened following the 2021 elections about chances of electing the first Republican to statewide office in two decades. The party's 2022 convention offers an early preview of the types of political messaging they will use against Democrats to do that, especially in the gubernatorial race where Rep. Lee Zeldin is the putative frontrunner ahead of the state GOP convention beginning Monday on Long Island. 
Public health rules, criminal justice reforms and the purported excesses of woke culture all came under attack at the convention, but candidates like Zeldin also harped on the importance of ending one-party rule by Democrats in Albany. "This is last stand time — and losing this race is not an option," Zeldin told conservative activists at the convention, echoing right-wing messaging from the 2016 election. "This party will always be holding candidates accountable and asking the tough questions that maybe no one else is willing to ask." He added that he would cut taxes and prevent the purported spread of "critical race theory" as the first Republican elected as governor since George Pataki in 2002.
NYPD Deputy Commissioner Alison Esposito, who Zeldin recently announced as his running mate, also received the official backing of the Conservative Party, which records show has about 163,000 registered members in a state of approximately 19 million people. Party members also voted to support financier Paul Rodriguez (who lost a 2021 race for city comptroller as the Conservative candidate) for state comptroller, former Newsmax host Joe Pinion for U.S. Senate and Michael Henry for state attorney general. Henry beat Joe Sarcone in the only competitive contest at the convention. Conservate Party candidates typically run under the Republican banner as well though the final 2022 line-up depends on the results of the June primary. 
Registered Democrats outnumber Republicans in New York by a 2-to-1 margin in the Empire State and their political advantages have grown in recent years. The party won supermajorities in the state Senate and Assembly in 2020 and New York City Mayor Eric Adams won his 2021 race by a large margin in a city that hasn't elected a registered Republican in a generation. Republican victories in the outer boroughs and suburbs in 2021, however, suggest the political pendulum could swing rightward this fall, especially considering President Joe Biden's current approval ratings and the historic headwinds against the party in power during midterm elections. 
The Conservative Party played a key role in defeating three ballot initiatives, which aimed to expand voting rights and change the redistricting process, last fall backed by Democrats with the help of donor Ronald Lauder. Henry urged conservatives at the convention to consider the value of reaching out to certain ethnic groups that trended rightwards in the past election. "I've been in Korean language media, Russian language media, Chinese language media, because you can't show up in October and expect to vote, you have to start doing this now," Henry said. Linking state Attorney General Letitia James to former Gov. Andrew Cuomo, who supported her 2019 election, will also be a key part of Henry's election strategy, he said in an interview, as part of a wider conservative effort to link Democrats like Gov. Kathy Hochul to the fallen governor, who resigned in August amid multiple scandals. 
Democrats have presented themselves for years as the party of diversity compared to a Republican Party that continues to appeal to white nationalists. The Conservative Party convention highlighted how the political right in New York at least is trying to appeal to Black and Latino voters. This includes backing Pinion, who is Black, for U.S. Senate against Democrat Chuck Schumer. If all goes well this fall, the Conservative Party might even help elect the first Latino in history to statewide office – a fact that is inspiring another line of attack against the political left. "The Democrats also claim to be the party of diversity," Rodriguez said. "They don't mean diversity of opinion which is the only type of diversity that matters."