Brian Cunningham wins Assembly special election in Brooklyn
It was also a win for the Brooklyn Democratic Party and boss Rodneyse Bichotte Hermelyn against her detractors.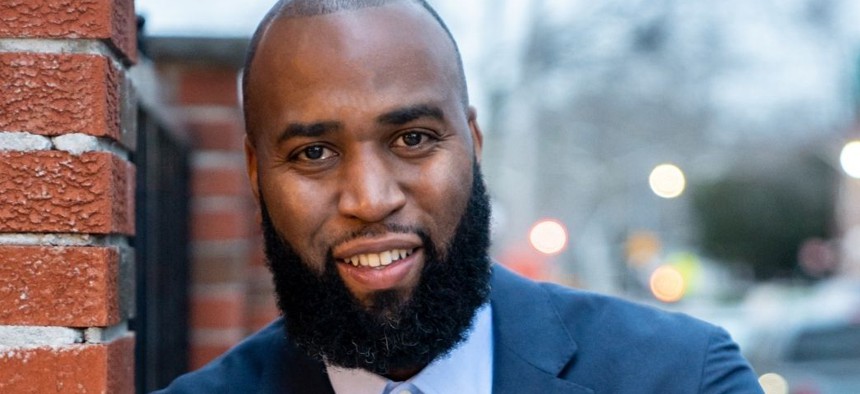 Brian Cunningham won the special election for Assembly District 43 in Central Brooklyn on Tuesday night, notching a win for the Brooklyn Democratic Party against a group of progressive reformers who have been harshly critical of party boss Rodneyse Bichotte Hermelyn's leadership. 
Cunningham led Jelanie DeShong, the Working Families Party nominee, 62% to 35%, with approximately 3,000 votes counted on election night. The Republican Party and Conservative Party nominee, Mesidor Azor, earned just 3%. The result will hold according to a spokesperson from the New York City Board of Elections, because even though 1,141 absentee ballots had been mailed, just 168 had been returned as of Monday night.
Turnout for the special election was very low. Just over 3,000 votes were cast in the district of approximately 130,000 people. That's fewer than half the 8,612 votes that were counted in the 2015 special election when Diana Richardson was elected. But turnout was higher than this year's other special elections for the Assembly. Just 1,322 votes were counted in the January special election in East Harlem's Assembly District 68. And in February, 2,513 people voted in Assembly District 72 in Upper Manhattan, while 2,990 voted in Assembly District 60 in East New York. 
In an election night call with City & State, Cunningham attributed his win to his "commitment to the community," after he unsuccessfully challenged New York City Council Member Mathieu Eugene's reelection bid in 2017. "The voters know me. The voters trust me to go to Albany on day one to deliver what's important to them." What's important? "Housing is paramount. Criminal justice is essential," Cunningham said. "And making sure that public safety and education are centered in everything we do."
Cunningham, the director of operations for the National Institute of Criminal Justice Reform, declined to give a clear answer on whether the state Legislature should make changes to the 2019 bail reform law, saying he's been busy with the campaign and hadn't "looked at all the positions yet," but said that he did not think the issue should be tied to the state budget, which is due April 1.
Cunningham will likely take office in early April and serve out the term through the end of the year. He'll immediately have to run for reelection, as DeShong and other candidates, including progressive activist Tim Hunter, are expected to run in the Democratic primary in June.
The Assembly seat was open after Richardson resigned to become Brooklyn deputy borough president. She quickly threw her support behind DeShong, a political operative who was serving as assistant secretary for intergovernmental affairs for Gov. Kathy Hochul. Other progressive allies backed DeShong as well, including Rep. Yvette Clarke, state Sen. Zellnor Myrie, Brooklyn Borough President Antonio Reynoso and the WFP, which gave DeShong its party line for the special election. Richardson and Reynoso in particular have criticized Bichotte Hermelyn's leadership as regressive and called on her to resign.
But Cunningham had his own high-profile supporters, which shaped the race into somewhat of a proxy war among Central Brooklyn's political power players. The county committee, led by Bichotte Hermelyn and the Brooklyn Democratic Party, overwhelmingly voted to give him the Democratic Party line. That's a massive advantage in the overwhelmingly Democratic district, and more than made up for DeShong's slight fundraising advantage. Endorsements followed from New York City Mayor Eric Adams, state Sen. Kevin Parker and former City Council Member Robert Cornegy Jr.
The race wasn't quite as simple as outsider versus insider, however. DeShong was a top aide to Hochul, the most powerful – and mainstream – Democrat in the state. It wasn't long ago that Cunningham took on the establishment by running against Eugene in 2017. And Cunningham also had major support from City Council Member Rita Joseph, a progressive who defeated Bichotte Hermelyn's candidate Josue Pierre in her primary last year.
Asked if he'd be accountable to the county party, Cunningham said no. "I'm accountable to the people who sent me to Albany, which is the voters."