Politics
COVID restrictions lifted and new pot policies
Rounding up the week's political news.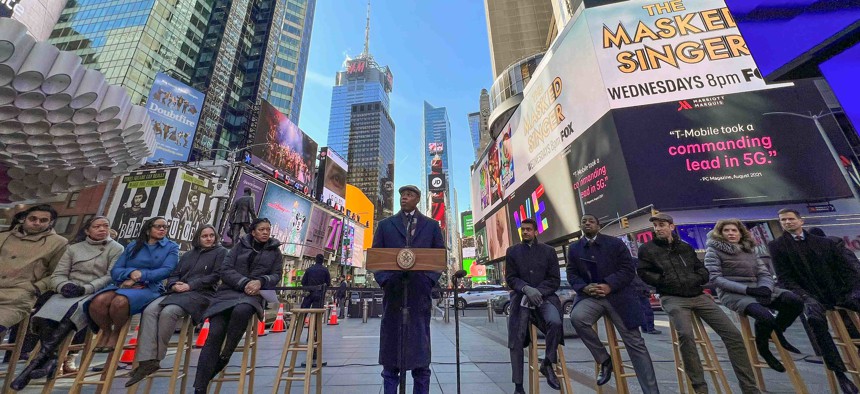 It was a bit of a weird week in Albany. Nothing like the infamous budget coyote from 2018 or the arrest of a Capitol reporter the same year, but an unusual controversy arose and died down just as quickly as budget talks heated up. State Sens. Robert Jackson and Rachel May caught flack for posing with a banner that compared climate change to 9/11. Both claimed ignorance regarding the banner's contents, but not before pictures made the rounds on social media, drawing criticism from Republicans and others. The incident likely won't have any sort of lasting impact, chalked up to another odd Albany occurrence. Keep reading for the rest of this week's news.
COVID-19 restrictions lifted in NYC
New York City Mayor Eric Adams has officially moved the Big Apple a little closer to some semblance of post-pandemic normal by lifting both mask mandates in schools and vaccine requirements to enter private businesses, including restaurants. Until the past week, New Yorkers who wanted to chow down, work out, shop or otherwise enter places in public needed to show proof of their vaccination. Although the requirement is gone, many businesses still choose to check vaccination status anyway as a precaution. The past week also marked the first time in over a year that students in city public classrooms could attend school without masks. Even as Adams celebrated maskless, public health experts warned not to give up safety measures completely as COVID-19 still remains a major concern.
State budget negotiations already underway
With less than a month before the state budget is due, some key issues of debate between lawmakers and the governor have begun to take shape. Notably, universal child care has emerged as a potential point of contention between the state Legislature and the Executive Chamber. Gov. Kathy Hochul did not include any new funding to implement such a program. However, both the state Senate and the Assembly are expected to include more than $3 billion to expand child care in the state, pegged as particularly crucial now as parents begin to return to working in person. Although the state Legislature and the governor seemed to agree on many aspects of the budget when she released her own financial plan, this likely represents the first of at least a few potential high-profile disagreements.
Concerns over questionable police stop
A police stop in New York City that ended with both the suspect and an officer getting shot has drawn intense scrutiny for the apparent lies told by the officers involved. Police recently stopped a teenage rapper Camrin Williams, who goes by C Blu, for a random search. The teen had been released without bail previously on an illegal gun possession charge. Per the police account, C Blu would not comply with requests, kept his hands in his pockets and resisted the search, resulting in the gun in his possession going off. But a judge ruled the testimony was unreliable as surveillance footage showed C Blu calmly complying with the search, which the judge said was illegal in the first place. Still, Adams stood by the cops in question after using the case as an example to roll back bail reform. He maintained that the teen got shot because he had an illegal weapon and that the officers were not at fault, despite the video evidence and judicial ruling.
New legal pot policies
A year after New York legalized recreational pot for adults, the agency in charge of regulating the new marketplace has come out with new policies that promise to deliver on ambitious social and racial equity pledges. With retail sales expected to begin late this year, the state Cannabis Control Board has adopted new rules that would give people who have past marijuana convictions – or their family members – first dibs on licenses. The plan for now is to reserve at least the first 100 of them for people that fit that criteria to help those the state punished for participating in the illegal legacy market enter the new legal one. It is also meant to avoid shortcomings in other states that attempted to aid social equity applicants who did not have the money to back their businesses or were beaten out by big corporations. Legalization and racial justice advocates applauded the move as a positive first step towards making good on the plans laid out in the Marijuana Regulation and Taxation Act.