Transportation
Five things to know about new NYC Transit President Richard Davey
The advisor at the Boston Consulting Group will take over on May 2.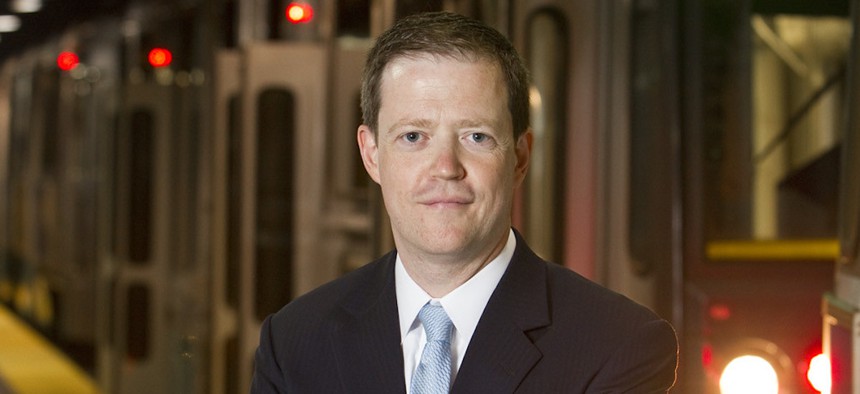 The Metropolitan Transportation Authority has hired Richard A. Davey, a transit advisor at Boston Consulting Group, as president of New York City Transit, the agency announced Wednesday. 
Davey, 48, will take the helm on May 2 and be responsible for managing the 54,000-person workforce, along with operations of subways, buses, paratransit services and the Staten Island Railway. 
 "Rich is someone New Yorkers should feel confident in as the agency moves forward with major accessibility improvements and other capacity and reliability-oriented upgrades like signal modernization, as well as megaprojects such as Phase 2 of the Second Avenue Subway and, in years to come, Governor Hochul's Interborough Express," MTA Chair and CEO Janno Lieber said in a statement. 
Davey, a graduate of the College of the Holy Cross and Gonzaga University law school, lives with his wife and two rescue cats, the MTA said. As he prepares to take on the management of the largest public transportation agency in North America, here are five things to know about the new, incoming transit chief.
1. Davey will be the first permanent NYCT leader in more than two years.
Current interim Transit President Craig Cipriano, who took over in August, will move into the role of chief operating officer when Davey assumes the role, the MTA said. Prior to Cipriano, Sarah Feinberg held the role of interim president from February 2020 through July 2021. Feinberg stepped down when the state legislature failed to approve former Gov. Andrew Cuomo's plan to split the role of chair and CEO between two people and make Feinberg chair. Feinberg succeeded Andy Byford, the last person to formally hold the role of president. Byford, known as "Train Daddy" resigned after two years on the job, amid tension with Cuomo. 
2. He is the former leader of the Massachusetts Department of Transportation. 
Prior to his work at Boston Consulting Group, Davey served as secretary and chief executive officer of the Massachusetts Department of Transportation from 2011 through 2014. Davey's transit career began at the Massachusetts Bay Commuter Railroad Co., where he climbed the ranks to become general manager. In 2010, he was hired as general manager of the Massachusetts Bay Transportation Authority, the fifth largest public transit system in the country, and "while he was there, MBTA had its highest annual ridership since 1946," the MTA said.
3. Davey said his first priority is to bring customers back to the transit system.
Davey takes over as subway and bus ridership numbers are nearly half what they were before the pandemic. In an interview with The New York Times, he said he will focus on restoring fare revenues by luring passengers back to the system. "We can't tell employers to bring employees back," he said. "But on the flip side, if the employees don't feel safe or we're not providing good service, they're not going to want to come back."
4. He lived in New York during 9/11.
Davey, who worked at a law firm in Manhattan from 1999 to 2002, called his experience living in New York City during 9/11 "a seminal moment" in his life, he said in the MTA press release announcing his hiring. "My experience being a New Yorker that day at that time is why I am coming back, because public service and more importantly public transportation is so important to me. I share the same principles as Chair Lieber – delivering on-time and efficient service, welcoming customers to a safe environment, and constantly looking at ways to improve the system. I hope that whenever my tenure ends, New Yorkers can look back and say that guy from Boston made a difference," he said.
5. He doesn't own a car. 
Davey has not owned a car in more than a decade and was reportedly a visible presence on Boston's transit system, according to The New York Times. A watchdog group told Boston.com in 2011 that "he's gotten out there more than any other general manager we've ever seen," The Times noted.