This Week's Headline
The GOP convention and maskless schools
Rounding up the week's political news.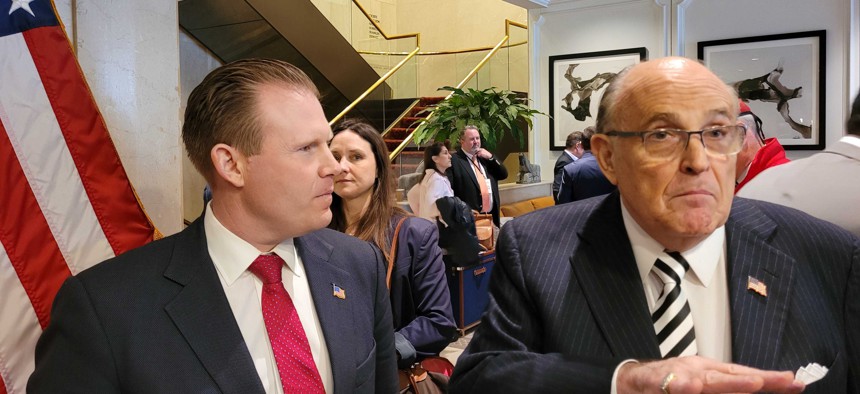 Squirrel enthusiasts, rejoice! The Squirrel Census is back and better than ever. The findings of a 2020 count at two dozen parks across New York City are out now for anyone with love for the ubiquitous rodents known for eating pizza and egg rolls. Luckily for the little critters, they have no government and no legislative districts, so these census results won't lead to any court battles over newly drawn lines – unlike SOME city-dwelling mammals. Keep reading for more on that and the rest of this week's news.
The GOP goes to Long Island
Returning to the site of sweeping electoral victories in 2021, the state Republican Party held its nominating convention on Long Island to decide who would get its official backing in the June primary. The designation for governor was the main event of the two-day affair, although the result came as no surprise. Rep. Lee Zeldin won with overwhelming support from the assembled state committee members, leaving fellow competitors Harry Wilson, Rob Astorino and Andrew Giuliani to petition their way onto the ballot. Though some had thought that Wilson, a businessman and one-time candidate for state comptroller in a close race, might have been able to hit the required 25% support to make it on the ballot too despite entering the contest just a week earlier, that did not happen. The state GOP also designated candidates for U.S. Senate, state attorney general, comptroller and lieutenant governor. Throughout the convention, Republican officials pushed the narrative of their ability to repeat the 2021 wins on Long Island across the state in 2022. 
The race to divest
Both New York City and state entities have begun to divest from Russian businesses and otherwise target Russian oligarchs in the state as Russia continues to attack Ukraine. Hochul said the state would review its dealings and stop any with organizations that have Russian ties. State Comptroller Tom DiNapoli will divest the state pension fund from Russian businesses, a move that several New York City municipal worker pension funds made as well. The New York City Police Department pension fund plans to divest $42 million in Russian investments, while the New York City Employees' Retirement System will get rid of about $31 million in Russian assets. 
Redistricting case begins
A lawsuit brought by Republicans had its first court date in Steuben County as conservatives attempt to overturn the newly drawn congressional and state legislative districts conceived by Democrats. In an early win for Democrats, a state judge ruled that he won't delay the upcoming elections as the case plays out and will allow petitioning – which began March 1 – to continue uninterrupted. But Republicans had their own small victories in the first court appearance as well, with the judge agreeing to an expedited discovery process and directing Democratic officials to comply with the GOP's investigation into whether lawmakers drew the lines constitutionally. 
Masks come off in schools
Across the state, kids are taking off their masks when attending class. Gov. Kathy Hochul announced that she would lift the statewide mask mandate for schools starting on March 2 as kids return from winter break. The decision came in the wake of new guidance from the Centers for Disease Control and Prevention that said that areas with low enough transmission rates for COVID-19 no longer needed to have indoor mask mandates, including in classrooms. Hochul left the door open for counties and cities to make their own decisions on whether to continue current practices. In New York City, Mayor Eric Adams made a similar move shortly after the governor, announcing that masks in public schools could come off on March 7 so long as reported positive cases remained low. However, children under five will remain masked even as the rest of the public school population won't have to.