New York State
Long Island takes center stage at GOP state convention
The GOP playbook this fall depends on replicating their 2021 success in races in Nassau and Suffolk counties.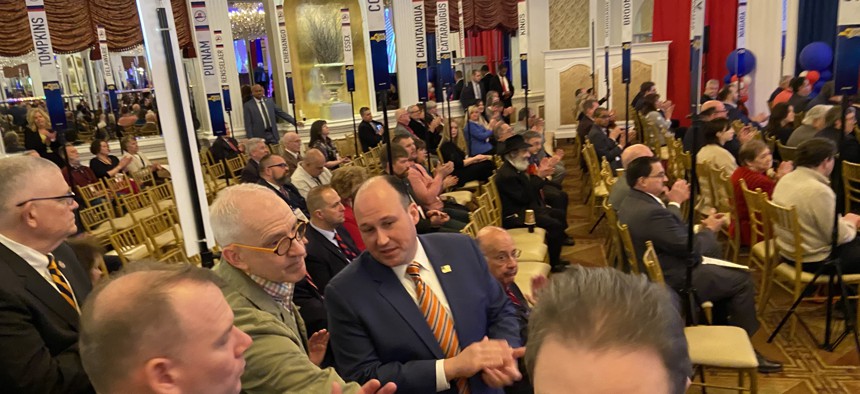 New York Republicans want to make the Empire State a bit more like Long Island.
"We're taking this model of what they achieved in Nassau," state Party Chair Nick Langworthy told the party faithful at the state GOP convention – hosted by the Nassau County GOP – that began Monday. "We're going to do that all across the state of New York." 
The suburban county, along with neighboring Suffolk, was the site of several upset victories for the GOP in local elections last year following a campaign where Republicans focused on what they called Democratic excesses with bail reform and other progressive causes. That same approach could help Republicans win their first statewide election in two decades despite disadvantages with fundraising and party registrations.
A lot of Republicans' success last year came down to candidate recruitment, according to party officials. Nassau County Party Chair Joe Cairo said getting career prosecutor Anne Donnelly to run against Democratic state Sen. Todd Kaminksy in the race for district attorney was key to helping a wider slate of Republican candidates that included now-County Executive Bruce Blakeman and now-Comptroller Elaine Phillips. Donnelly, a Republican, handily defeated Kaminsky in the race for DA, and Kaminsky recently announced he won't be running for reelection in the state Senate either. Blakeman defeated incumbent County Executive Laura Curran, a Democrat, in one of the biggest upsets of the election cycle. Phillips had lost her 2018 reelection bid for state Senate by nearly 10 points amid a blue wave installing one-party rule by Democrats in Albany, but came back last year to beat Democrat Ryan Cronin by 17 points in the race for Nassau County comptroller. 
"(When) Blakeman accepted the nomination, that made me feel real good and confident despite the fact that there were so many naysayers," Cairo said. 
The centrality of Nassau county officials at the convention highlights the issues that Republicans will prioritize this fall. A litany of Nassau Republicans – including Cairo, Blakeman, Donnelly and Phillips – were the first people to speak at the convention on their home turf following opening remarks by Langworthy. Donnelly ran a campaign almost entirely focused on bail reform. Blakeman beat Curran by criticizing her record on taxes before gaining wider fame in office for opposing public health mandates issued from Albany. Victories for Donnelly, Phillips and a litany of local legislative candidates also highlight how Republicans can appeal to women despite Democrats' perceived advantages. "To all the men and the women in this room, but more importantly, to the women in New York state: Take a look at this … We can turn New York State red," Phillips said. Victories in Suffolk County last November speak to the same point, according to Langworthy.  Alison Esposito, an Italian American woman, is currently running unopposed for lieutenant governor.
Democrats have traditionally claimed the mantle of being the party of diversity, but the likely GOP ticket indicates some movement away from being the party of white men in particular. Their likely nominees for U.S. Senate and state comptroller – Joe Pinion and Henry Rodriguez – are respectively Black and Latino.
Two white male candidates are battling it out in the Republican primary for state attorney general. Rep. Lee Zeldin of Suffolk County, the putative front-runner for governor, is also a white man, but his candidacy offers one more sign of how important one specific corner of New York is for Republican chances this fall. 
"Long Island was the birthplace of this great Republican comeback," Langworthy said at the convention held in Garden City. "It started here last November."