New York State
Hochul's proposed deal would put $850 million in taxpayer money toward a new Buffalo Bills stadium
Legislative leaders have yet to weigh in on whether they'll approve funding before the April 1 deadline.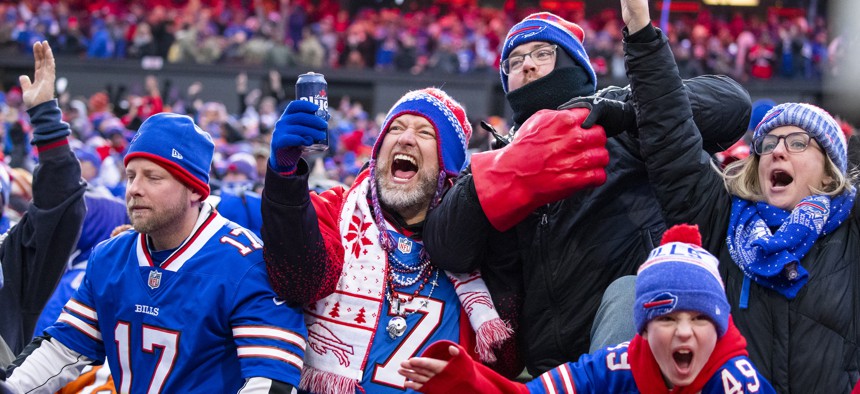 Gov. Kathy Hochul wants state taxpayers to provide hundreds of millions of dollars to a private business as part of a $1.4 billion deal to keep the Buffalo Bills in her hometown for the next 30 years.
"I went into these negotiations trying to answer three questions – how long can we keep the Bills in Buffalo, how can we make sure this project benefits the hard-working men and women of Western New York and how can we get the best deal for taxpayers?" Hochul said in a press release. "We've come out with the best answers possible."
A final deal would end months of speculation about the future of the team owned by the billionaire Pegula family, which had reportedly floated the idea of moving the team out of Buffalo. A final deal, however, will depend on state lawmakers approving a last-minute budget proposal with doubtful returns on public investments, based on the experience of other publicly funded stadiums. 
According to the proposed deal, the state would provide $600 million of the total price tag while Erie County would add another $250 million. The Bills and the NFL would provide $550 more as part of a deal approved today by NFL owners that includes a sizable loan from the league that could eventually be forgiven. The $850 million in total taxpayer money for the stadium is lower than the $1 billion that had previously been rumored. 
Hochul claimed in the press release that a new stadium would pay for itself, as far as the public is concerned, by generating $27 million in annual tax revenue for the state. "The economic and tax impacts generated from the team will support more than 100 percent of the public share of the new stadium cost," reads the press release. A total of 10,000 union jobs would also be generated through stadium construction with at least 60,000 seats in time for the 2023 expiration of the Bills' lease on their current stadium, according to the governor. 
Union leaders and elected officials including Erie County Executive Mark Poloncarz and Assembly Majority Leader Crystal Peoples-Stokes backed the new deal in the press release, but it remains to be seen whether the Democratic supermajorities in the state Senate and Assembly will approve the deal as part of the state budget. Representatives for Assembly Speaker Carl Heastie and state Senate Majority Leader Andrea Stewart-Cousins could not be reached for comment by publication time. 
The long track record – as shown here and here and here – of publicly funded stadiums underperforming the economic projections of their supporters could hinder the governor's effort to secure legislative support in the state budget expected to be approved by the end of the week. "$850 million in taxpayer money to the richest sports league in the world," Assembly Member Robert Carroll of Brooklyn tweeted Monday. "I hope we all get free season tickets. If Erie County wants the Bills to stay this bad they should cover the whole bill."