New York State
How New York is joining Ukraine's fight against Russia
Officials are deploying the financial, regulatory and legislative might of the Empire State.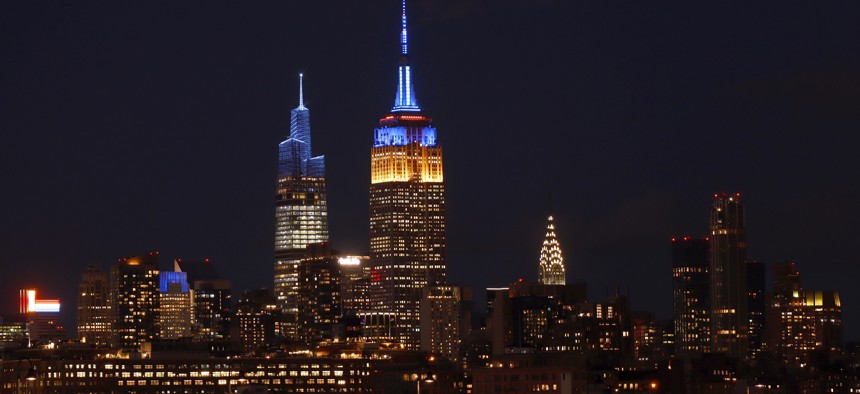 State officials have a new target for sanctions following Russia's invasion of Ukraine. Gov. Kathy Hochul has pushed state agencies to curb their business with Russian entities and other elected officials said they wanted to divest state pension money from the country. The state Department of Financial Services has reminded Wall Street about how best to follow the sanctions. Pricey Manhattan apartments have become the latest front in a worldwide effort to isolate Russian President Vladimir Putin and the oligarchs who help keep him in power as he continues his attacks on Ukraine.
The invasion has inspired a wave of solidarity from New Yorkers to aid Ukraine. Many of the moves have been symbolic in nature, like lighting the Empire State Building in the colors of the Ukrainian flag. Other actions were more concrete, such as adding to the growing financial pressure on the Kremlin. New York has oversight over banks tasked with implementing sanctions and state divestments that could deprive the country of tens of millions of dollars as its economy flounders. New legislation backed by Albany lawmakers took aim at the luxury Manhattan apartments used by Russian elites to stash their money. "We will drive down their economy," Hochul said about Russia on March 2 at St. George Ukrainian Catholic Church in Manhattan. "And that is how we'll bring them to their knees."
Hochul and other officials said New York must act even though the U.S. is not at war with Russia, and since foreign policy is typically above their pay grade. "New York is home to the largest population of Ukrainians in the United States – they are our family and an attack on them is an attack on us all," Hochul said in a Feb. 27 press release that highlighted measures to cut state ties to Russian businesses. "We will make our statements and values known and show solidarity with Ukraine as we rebuke this assault on democracy." The similar sizes of the New York and Russian economies suggest the Empire State could inflict some substantial financial blows to Moscow.
Some of the anger among New Yorkers followed years of reports about how Russian oligarchs spent hundreds of millions of dollars on luxury apartments in Manhattan. "These oligarchs have found safe haven here to essentially launder money that they stole from the Russian people," Manhattan Borough President Mark Levine, who called on the federal government to seize such properties, told City & State. Three properties bought by Russian billionaire Roman Abramovich for more than $90 million were a few examples highlighted by the New York Post's reporting, in addition to other Manhattan properties bought by people close to Putin. Abramovich gained massive wealth, like other prominent oligarchs, by buying state assets after the fall of the Soviet Union, which resulted in the independence of Ukraine in 1991.
New York is home to the largest population of Ukrainians in the United States – they are our family and an attack on them is an attack on us all.
– Gov. Kathy Hochul
There are a few barriers to seizing oligarchs' stateside assets despite what might be publicly known about their closeness to Putin. Owning luxury properties is not against the law, though buying them with laundered money is illegal and could result in forfeiture. Some oligarchs like Abramovich are not the direct target of sanctions. The people on the sanction list often hide their ownership of properties through a variety of legal maneuvers, including getting a family member or a limited liability company to buy an asset on their behalf. Then there is the sheer scope of the problem. "It's not solely related to the U.S. and in Manhattan," Justine Walker, head of global sanctions and risk at the Association of Certified Anti-Money Laundering Specialists, said in an interview. "It is an issue everywhere globally."
However, with Wall Street, New York has enormous authority to make sure banks keep an eye out for suspicious activity that would indicate money laundering or efforts to evade sanctions by oligarchs, businesses, the Russian government or its allies. "I would say as the premier state financial regulators, (the Department of Financial Services) has a leadership role to play," former Superintendent Linda Lacewell told City & State. Her recently confirmed successor, Adrienne Harris, issued guidance on Feb. 25 that highlighted how regulated entities need to update their screening processes for illegal activity. More vigilance was also needed on the cybersecurity and cryptocurrency fronts as well, she added, given how they might be used to undermine countries friendly to Ukraine.
Any future legal action by the department against the Russian war effort would add to the recent history of the state going after international bad actors. Deutsche Bank was fined $425 million in 2017 by the department for its role in helping launder $10 billion out of Russia. In another case in 2018, the French investment bank Société Générale SA was fined $420 million. The U.S. Department of Justice, the Federal Reserve Board, the Treasury Department's Office of Foreign Assets Control and the Manhattan district attorney's office worked together to crack down on illegal transactions to Iran, Sudan, Cuba and Libya from 2003 to 2013. "I don't see it as stepping on toes at all," Maria Vullo, who was the superintendent of the department at the time, told City & State about the role of state agencies versus the federal government in fighting money laundering and enforcing sanctions. "That overlap is for the protection of our national security."
State lawmakers have mobilized in the expanding efforts to flush out any oligarch wealth hidden in Manhattan. "Money laundering, tax avoidance, evasion of sanctions and systemic code violations have been protected for too long in New York by the veil of (limited liability companies') anonymity," Assembly Member Emily Gallagher of Brooklyn said in a Feb. 28 press release. Legislation introduced by Gallagher and state Sen. Brad Hoylman of Manhattan would broaden the reporting requirements of who owns real estate and place that information in a public database. More transparency could in turn help banks, experts said. "The whole point is that these financial institutions understand who they are dealing with," Robert Rhatigan, a Washington, D.C.-based attorney specializing in regulatory issues. "You can't assess whether or not someone's engaged in money laundering if you don't understand who they are."
These oligarchs have found safe haven here to essentially launder money that they stole from the Russian people.
– Manhattan Borough President Mark Levine
An earlier volley came from a Hudson Valley legislator inspired by the 1980s divestment movement against apartheid South Africa. "The international condemnation that came with severe economic consequences was effective ultimately, in helping bring about change," state Sen. Elijah Reichlin-Melnick of Rockland County told City & State. "I've got a lot of constituents whose families came over in the wake of the Holocaust from the Ukraine, and obviously people are concerned. This is what they left to avoid." His legislation would require state Comptroller Thomas DiNapoli to create a list of people and businesses who would be barred from contracting with the Empire State because of their Moscow ties. The comptroller would also have to pull investments in Russia from its nearly $300 billion pension fund.
DiNapoli announced on March 1 that his office would cease making new investments in the country while evaluating its current portfolio. His office held an estimated $110.8 million in "direct holdings and commingled funds in Russian companies," according to a press release. "While American sanctions already prohibit investments in many Russian companies, I believe it is prudent to freeze purchases in all Russian companies due to the situation's unpredictability and the likelihood that conditions will deteriorate," DiNapoli said in the press release. The move came two days after Hochul issued a sweeping executive order that required state agencies "to the extent practicable" to terminate any investments or business with "any institution or company that is determined to be a Russian or supporting entity."
State officials said they were keeping their efforts in perspective considering the battlefield realities between Ukraine and its powerful neighbor. "Nobody thinks that sanctioning Russia will cause them to turn their tanks around and go back to the border," Reichlin-Melnick said. "The question is what kind of long-term price do they pay for this intervention?" He and other state legislators still have to get their bills through the state Senate and Assembly. Divestment initiatives announced by Hochul and DiNapoli will also presumably take weeks to implement, though spokespeople for the two officials could not confirm an exact timeline before publication. Still, the loss of more than $100 million from New York state or pricey pieds-à-terre in New York City added to reasons for the Kremlin to abandon its deadly attack on Ukraine sooner rather than later.
Events are moving fast on the battlefield while the U.S. and other countries continue taking actions against the Kremlin that fall short of joining the actual war. Such measures accompanied other forms of solidarity offered in the most New York of ways. LBGTQ people and others demonstrated their support for Ukraine at a rally outside the Stonewall Inn, where the modern gay rights movement began. Hochul had the Empire State Building and other landmarks lit up in the Ukrainian national colors of blue and gold. At least one Manhattan baker even changed the colors of black and white cookies to blue and gold as part of the Empire State's support for the Ukrainian war effort.
While some people and groups on the political right – former President Donald Trump most notably – have expressed sympathy for the Russian version of events since the invasion began, more New Yorkers have crossed ideological lines to declare their support for Albany Democrats' efforts to deploy the financial, regulatory and legislative might of the Empire State against Russia. "These are unprecedented times," Assembly Minority Leader William Barclay, a Republican, said in a text message about Hochul's executive order. "I'm supportive of this and anything else as a way of pushing back on Russian aggression."
– With reporting by Sara Dorn
Powered By
NEXT STORY: Petitioning kicks off, with pandemic-era signature requirements gone.