New York is beginning to face off with a new omicron subvariant. Here's what you need to know about BA.2.
Officials still have much to learn about the new coronavirus strain.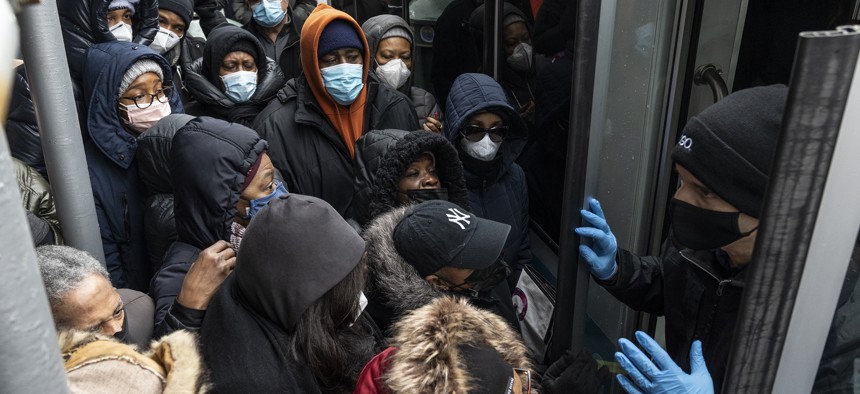 New York health officials are monitoring a new subvariant of the coronavirus that has begun to spread in New York and across the country. BA.2 is a subvariant of the omicron strain, and it made up 39% of cases in New York as of last week according to CDC variant data. While omicron still accounts for 61% of positive cases, it saw a significant drop off from the week ending March 5 when it accounted for 76% of all cases in the state. The subvariant has caused surges in cases across Europe, but doesn't appear to be more severe than omicron.
During a press conference this morning, New York City Health Commissioner Dr. Ashwin Vasan commented on the symptoms seen so far in the new BA.2 variant, but cautioned that it was still too early to tell how this strain would manifest compared to other variants. 
"I think there's some suggestion that this subvariant may be similar to omicron in some ways… maybe associated with more symptoms above the lungs… less respiratory compromise and more upper respiratory tract with the itchy throat, the runny nose," Vasan said. "There's some indication that BA.2 is following that trend, but it's still quite early."
Gov. Kathy Hochul announced this week that New York would be investing in 20 million COVID-19 rapid tests, and the target of their distribution will be NYCHA housing, nursing homes, schools and other community centers in areas where high transmission and infection rates are most possible. This announcement comes after the White House said on Wednesday that it may not be able to pay for COVID-19 tests and treatments for much longer. 
"While the proportion of BA.2 in New York has risen, it continues to rise more slowly than in many other countries. The Department continues to monitor the situation closely," said Samantha Fuld, deputy director for public information with the New York State Department of Health in a statement to City & State. 
At the New York City press conference with Vasan, Dr. Ted Long of the NYC Health and Hospitals system pointed out that home tests are especially useful to use in conjunction with PCR test data, since PCRs are trackable by the city's health department and hospitals whereas home tests are not. 
"Home tests are a tool that we didn't have before that we have now. Especially with our early warning system, if we see risk increasing we can distribute at-home tests throughout New York City through community-based organizations," said Long. 
The new variant is beginning to spread shortly after New York City Mayor Eric Adams announced that the Key to NYC vaccine mandates would be suspended and that mask mandates in schools would be lifted in response to the low levels of transmission reported at the beginning of March. Adams also released a new mode of monitoring transmission with a color-coded alert system that will let residents know if spread is low, medium, high, or severe. As of now, transmission and hospitalization rates are decreasing, so lifted mandates are likely to remain that way.
Omicron is highly contagious and quickly dominated the previous Delta strain of the coronavirus as the main variant of concern in the country and throughout the world, but it proved to be less severe than Delta with milder symptoms. About three-quarters of New Yorkers have been fully inoculated against the virus, and in New York City, that rate is slightly higher at 77%. BA.2 is not projected to be as contagious as omicron was or as dangerous as its predecessor, Delta. 
Neighborhoods that have reported a higher level of positivity in between March 9 and 15 include TriBeCa in Manhattan with a positivity rate of over 5%, followed by Prospect Heights with a rate of over 4%. Hamilton county recorded the highest average positive tests in New York in the week ending March 12 with an average of 32 positive cases per 100,000 tests administered. There is no indication as to whether a majority of these cases are the BA.2 variant, but these neighborhoods have not caused concern for health officials as of yet. 
Dr. Jay Varma, a professor of epidemiology at the Weill Cornell School of Medicine in New York, said that even with the low transmission rates observed in the city, officials should be starting to buckle down on their defense against this subvariant now given how quickly it has started to spread in Europe. 
He said that officials need to start trying to get high quality masks and tests out to more homes in the city and state, in addition to ramping up their antiviral treatment programming and reinstating the vaccine mandate for indoor spaces given how few adults have received their booster shots. 
"Not everyone has the awareness, the money to go out to buy these masks. So anything that we can do to reduce that friction so people have it available to them will be helpful," said Varma. 
Varma said that given the nature of previous variants and how they impacted the city and state's efforts to try and reopen spaces to the public, officials need to be wary and take precautions as soon as possible in order to prevent another wave of infection that could shut activity down once again.
"I think we've learned an important lesson over the last few years and that is, the virus is always able to mutate…the virus is always able to adapt to any defense we put up. When we see events happening in Europe, particularly the UK, that situation inevitably gets repeated here. We should be taking this threat very urgently," said Varma.