New York City
Nightlife-loving Eric Adams calls New York City 'boring'
The mayor made the remark while announcing the city would suspend its COVID-19 vaccine mandate for most indoor businesses, effective Monday.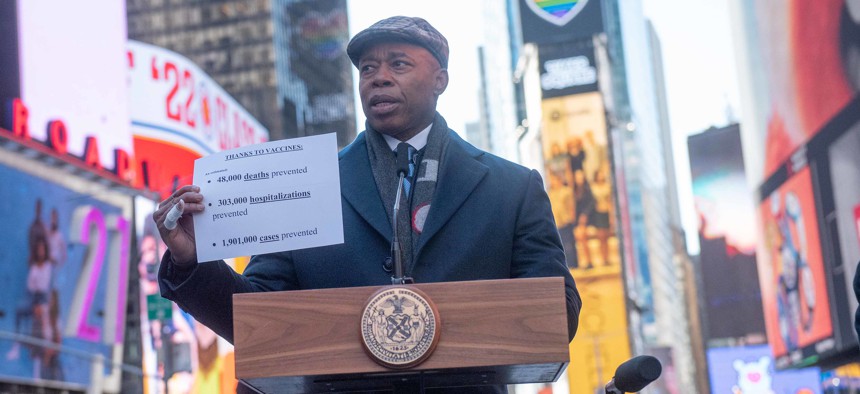 New York City Mayor Eric Adams has an odd way of trying to lure tourists. At a Friday press conference in Times Square, the mayor made a direct call to travelers to return to the city – which he then declared was "so boring." 
"It is time for us to enjoy our city again. All of these 'nos, nos, nos.' We've become a city of 'nos.' I want to become a city of excitement," Adams said while announcing the citywide COVID-19 vaccine mandate for most indoor spaces would officially be lifted on Monday. 
So does that mean Adams didn't 'enjoy' his numerous high-profile dinners and exclusive night club outings in recent months? He's been spotted frequenting the celeb-heavy Zero Bond on several occasions, out at Osteria La Baia in Midtown (with some questionable guests), celebrating his election victory at Casa Cipriani, and he recently sat courtside at a Knicks game. 
And while the announcement was cast as a citywide reopening, most businesses have been open for over a year, with some operating at capacity in recent months. It's clear even to the casual observer that the bar and restaurant scene is back in full swing. The Broadway League reported a 92% capacity average at shows last week. Attendance at Knicks games was down just 3% from pre-pandemic levels in December, according to Sports Business Journal, and attendance at Nets games was higher than in 2019. "The Knicks and Rangers, concerts at the Beacon, have all been attended very well with confidence," Tony Malkin, CEO of Empire State Realty Trust, told Bloomberg last month. "All these things provide some level of normalcy to help bring people back."
The mayor's declaration that the city has lost its spark was made in response to a reporter who asked if the Puerto Rican Day Parade, which was virtual last year, would be held in person in 2022. "We're going to reinstate every parade, every festival, every block party," Adams said. It was also a plea to tourists: "That's why we're right here in Times Square to tell people from Canada, Arkansas, from New Zealand, from anywhere else, come here but don't come here to just walk, spend some money in restaurants," he said.
The suspended vaccine mandate comes after Adams said on Sunday he would make a final decision about the fate of the "Key to NYC" program by the end of the week. The city's mandate requiring all employees of private businesses be vaccinated for COVID-19 remains in effect, and businesses can still require patrons to show proof of vaccination at their own discretion. The directive could be reinstated if cases climb, according to guidelines unveiled Friday that are in line with Centers for Disease Control protocols.  Former Mayor Bill de Blasio implemented the rule – which requires patrons of restaurants, bars, gyms, theaters, and other entertainment venues to show proof of vaccination –  in August amid the delta variant wave. "I want to thank the former mayor . . . no matter what decision Bill made, he had an opposing view," Adams said Friday. 
Adams is also facing opposition to the suspension, which some public officials and health experts have said could be counterproductive to the city's recovery. New York City Public Advocate Jumaane Williams called the decision "unnecessary and unwise" in a statement Friday. "We should only move forward only in a way that ensures we don't go backward," he said. Jay Varma, former pandemic advisor to de Blasio, also said it was "wrong" to rescind the order in a Daily News op-ed on Thursday. The rule promotes high vaccination levels that help protect the city against new variants, Varma noted. "We have no way to predict what the virus will do next," he wrote.
The restaurant industry reacted to the news with tempered enthusiasm, and in some cases, fear that the measure could expose workers to unvaccinated customers and deter vaccinated patrons. NYC Hospitality Alliance Executive Director Andrew Rigie said its members largely support the suspension of vaccine requirements. "Generally speaking, it's a big sigh of relief, and people are hoping it sends a signal that New York City is coming back," Rigie told City & State. He noted that restaurants will benefit operationally by not having to check vaccine cards and deal with difficult customers. "There's emotions and opinions running high and strong throughout the pandemic, and restaurant workers and owners had to be at the receiving end of all those opinions," he said, adding that he disagrees with sentiment that the move will open the floodgates for unvaccinated tourists. "I don't think lifting the proof-of-vaccination requirement is intended as a strategy to invite unvaccinated tourists to New York City," Rigie said.
Additional reporting by Annie McDonough.
Powered By
NEXT STORY: The coronavirus in New York, by the numbers