New York State
Why economists called Kathy Hochul's $850 million Buffalo Bills deal a 'boondoggle'
The agreement would be the largest public funding of a sports stadium in U.S. history.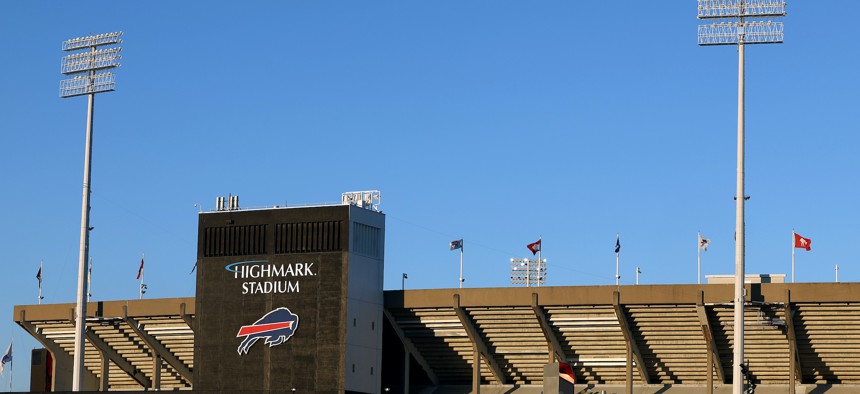 Sports economists and lawmakers criticized what they called a "boondoggle" of a deal announced Monday by Gov. Kathy Hochul to provide $850 million in public funding for a new Buffalo Bills stadium.
In a briefing hosted by the Strong Economy for All Coalition and attended by Assembly Member Ron Kim and state Sen. Liz Krueger, several sports economists detailed how public subsidies for professional sports facilities were rarely, if ever, beneficial to the taxpayers who foot the bill.
Krueger and Kim also didn't like what they said was the sudden inclusion of the deal in this year's state budget, which is due on Friday.
"The lack of transparency is astounding, especially because the new administration took power on promises of being transparent, open and collaborative," Kim said. "It's one giant scam."
Krueger called the last-minute deal "extremely disturbing."
Hochul announced a $1.4 billion deal with the Bills on Monday that would keep the team in her hometown for the next 30 years. The state would provide $600 million, and Erie County would contribute $250 million, while the Bills and the NFL would put $550 million toward the deal.
The deal would be "the largest handout ever given to a sports stadium in the United States," Victor Matheson, an economist at the College of the Holy Cross, said during the Tuesday briefing.
While Hochul said in a press release that the new stadium would generate $27 million in annual tax revenue, economists said the real benefactors would be the billionaire owners, Terry and Kim Pegula.
"We've been studying deals like this for over a quarter-century, and it is the overwhelming and essentially unanimous opinion of economists who are not directly associated with league or directly associated with the teams that the economic impact from large subsidies for stadiums or franchises has little or no economic impact on the localities that host them," Matheson said.
Matheson explained that Hochul's logic was based on a falsehood: If Bills fans were not spending money at the stadium on Sundays, they wouldn't spend any money at all.
"In fact, spending money at a local wings joint in Buffalo is going to be much better for the local economy than spending money at a Bills game," Matheson said.
Neil deMause, co-author of the book "Field of Schemes," a critique of public sports stadium subsidies, estimated that the deal will cost taxpayers $40 million a year.
"It really is a stunning amount of money, obviously, to drop on the Legislature with three days to go before the budget has to be approved," he said.