New York City
Adams plans to fight court ruling allowing toddlers to shed masks
The mayor said on Friday the city would appeal the decision due to an uptick in cases caused by the COVID-19 BA.2 variant.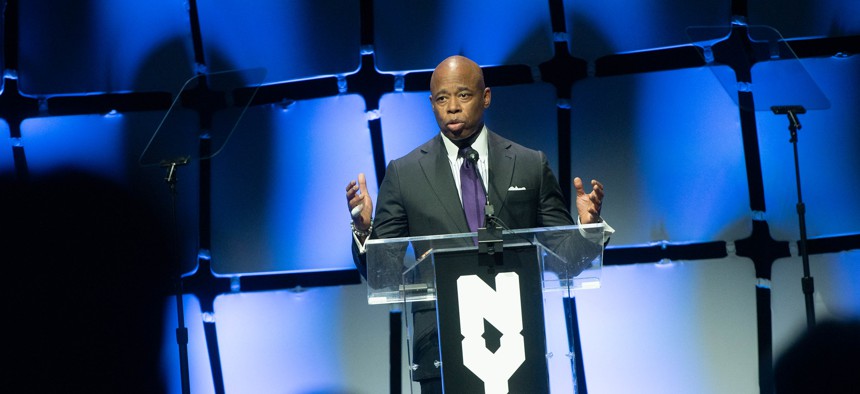 New York City plans to appeal a ruling issued on Friday by a Staten Island judge prohibiting City Hall from requiring masks for 2- to 4-year-olds, Mayor Eric Adams said Friday.
Judge Ralph Porzio, siding with a group of parents who filed a lawsuit to fight the masking rules, reportedly deemed the requirement "void and unenforceable . . . arbitrary, capricious and unreasonable."
Adams' desire to mandate masks in schools and daycare settings  for toddlers – who are not eligible for the COVID-19 vaccine – is a reversal from plans he announced on March 22 to tentatively shed the requirement on Monday, pending an assessment of the pandemic's trajectory. Earlier in March, Adams also dropped the mask mandate for school children in kindergarten through 12th grade. 
"I think it's imperative . . . due to the rise in cases that we're seeing, as slight as they are. Our plans were to take a week to assess the numbers before removing masks for 2- to 4-year-olds," Adams said. "We truly believe this is within our powers to execute what's best for the city of New York, and the legal team is going to take the necessary steps to ensure that we're able to do so."
The announcement comes as the city is coping with a slight uptick in COVID-19 cases due to the rise of the omicron BA.2 variant, which as of last week, accounted for 78% of new cases in the city, Health Commissioner Ashwin Vasan said at a press conference on Friday alongside the mayor.
"This afternoon, we're asking for a bit more patience and a bit of grace. Cases are definitively rising, and it's gotten our attention. They will continue to rise over the next few weeks, and it's likely that over these weeks, we will move into a different level of overall risk across the city," Vasan said, encouraging people to continue getting vaccinated, boosted and tested. 
Adams, wearing a mask himself, encouraged all New Yorkers to mask up in indoor settings, depending on their vulnerability and comfort levels. He also announced the city would distribute an additional 6.3 million free at-home test kits via community-based organizations, schools, libraries, churches, elected officials' offices and testing sites. The city has already distributed 11 million at-home test kits, including 7 million to local schools, Adams said.
"We're not going to sit around and wait to act," he said. "We're going to be aggressive in our response. And I say over and over again GSD, get stuff done."
When asked about the ever-changing COVID-19 regulations and any confusion it may be causing for New Yorkers, Adams defended his messaging strategy.
"No one can say that this administration is not very clear on what we're doing," Adams said. "So what I'm asking New Yorkers to do (is) ignore the noise and listen to their mayor, and he's going to give you clear instructions on what we can do."