This Week's Headline
COVID-19 cases rise while the former lieutenant governor sets up his defense
Rounding up the week's political news.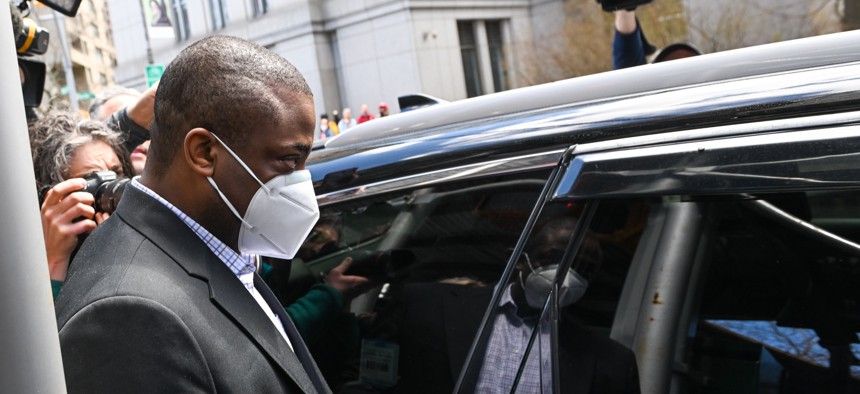 There's a lot of news to keep track of, but remember Rikers Island, the notorious New York City jails complex infamous for its violence, mismanagement and chaos? Well, it's still there and still not doing great. In fact, the U.S. attorney for the Southern District said that the federal courts may take control of the troubled complex from the city. Despite a federal monitor, the conditions at Rikers have not improved and in fact grown worse in the past year and a half. But Mayor Eric Adams isn't ready to give up control and asked the courts to "give (him) a chance" as he's less than half a year into his four-year term. As the fate of Rikers remains undecided, keep reading for the rest of the week's news.
Benjamin sets up his defense
After pleading not guilty to federal charges of bribery and fraud, former Lt. Gov. Brian Benjamin has built up a legal team that may be familiar to longtime politicos. He hired the attorney who represented former New York City Mayor Bill de Blasio when federal investigators looked into his fundraising practices. De Blasio never faced charges despite prosecutors convicting a donor of his for bribing the former mayor, so Benjamin is likely hoping for a similarly advantageous outcome in his trial. His lawyer has already begun to offer a defense that successfully kept de Blasio out of trouble, arguing that Benjamin received no personal benefit from the alleged bribery scheme – the money he got all came in the form of campaign contributions. Prosecutors said federal investigators had issued more than 160 subpoenas for records that resulted in 160,000 pages of documents. Meanwhile, Gov. Kathy Hochul's options to remove Benjamin from the ballot remain limited as the state Senate indicated it would not take up any legislative changes to that end and she has said she won't ask him to move out of state.
COVID-19 on the rise again
The number of COVID-19 cases in New York continues to tick up after the discovery of two new omicron subvariants. Hochul warned that the state may be on the verge of another spike, reiterating the ongoing requirement to wear masks on public transit despite the recent court ruling striking down the federal mandate. She also reminded New Yorkers of the masking rules still in place at state-regulated health care facilities, jails, prisons and homeless shelters. If cases continue to rise in New York City, it may cause a change in the city's COVID-19 risk level. Under a system implemented under Centers for Disease Control and Prevention guidelines, the city's risk level right now is green, or low risk. But it's not too far from a risk level of yellow, indicating medium risk. Although it doesn't automatically trigger new restrictions, the city Health Department has several recommendations for Mayor Eric Adams to consider. Both he and Hochul have expressed reluctance to bring back onerous mandates, but have remained open to the possibility that a new spike may require them to take additional measures.
A plan for carbon neutral buildings
In anticipation of Earth Day, Hochul and Adams joined with former President Bill Clinton to lay out a plan of action on how to make New York City high-rises carbon neutral. Although cars may come to mind first when it comes to greenhouse gasses, buildings actually account for about half of the state's carbon emissions. Reducing that footprint will be crucial in hitting the ambitious climate goals created by the 2019 Climate Leadership and Community Protection Act. The plan invests $300 million to retrofit buildings across New York to make them more environmentally friendly. So far, over 130 buildings have signed up to go carbon neutral with help from the state, including the Empire State Building, where Hochul, Adams and Clinton made the announcement. It came after Adams unveiled a new Staten Island rooftop garden for Earth Week, one created with help from a $14 million initiative to get more green space on top of city buildings.