New York State
Democrats granted temporary pause of lawsuit against New York's redistricting maps
Petitioning for the upcoming June primaries can continue as planned, despite a judge's ruling that the maps were blatantly gerrymandered.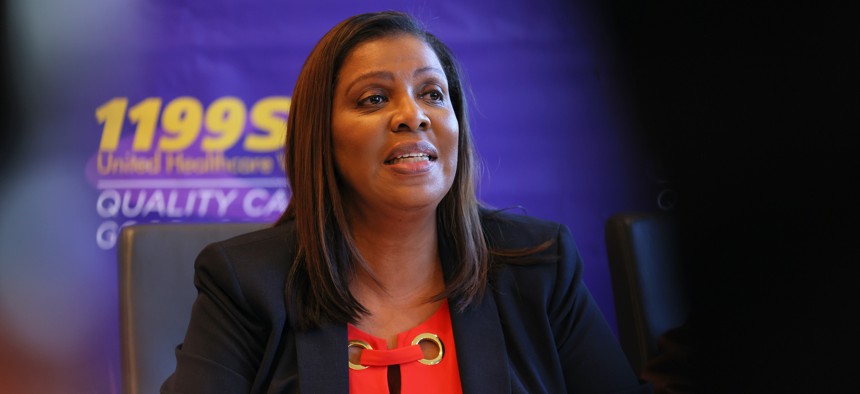 Petitioning for the June primary election cycle can continue as planned under new district lines deemed unconstitutional by a state judge on Thursday. An appellate judge issued the ruling Monday in a quick turn of events that puts the power back in the hands of Democrats – for now.
Steuben County state Supreme Court Judge Patrick McAllister on Thursday ruled in favor of a group of Republican-backed petitioners seeking a redrawing of the state Senate and congressional maps that benefit Democrats in the upcoming election cycle. The Democrat-dominated state Legislature approved the maps in February after the state's bipartisan Independent Redistricting Commission failed to come to an agreement on the district lines. 
In addition to the state Senate and congressional maps, McAllister also ordered the Assembly map to be redrawn before an April 11 deadline, or the job would be turned over to a bipartisan expert. "The petitioners were able to prove beyond a reasonable doubt that the map was enacted with political bias and thus in violation of the constitutional provision against gerrymandering under Article III Sections 4 and 5 of the Constitution," McAllister wrote on Thursday. 
Gov. Kathy Hochul, represented by State Attorney General Letitia James' office, immediately appealed the decision, and State Appellate Division Associate Justice Stephen Lindley on Monday granted them a stay in the proceedings.
Republicans have vowed to see the case through. On Friday, Senate Republican Leader Rob Ortt and Republican lawmakers sent a letter to Senate Majority Leader Andrea Stewart-Cousins and Assembly Speaker Carl Heastie seeking a meeting to reassess the maps. Stewart-Cousins reportedly denied the sit-down, pending the appeal of Thursday's ruling.
Former State Rep. John Faso, who has been working with Republicans fighting the maps, expressed optimism about their odds in the case. 
"The temporary stay issued today clarifies that candidate petitions can be filed with the state and local Boards of Elections by Thursday, and the Court made clear it would rule on the stay pending appeal on Thursday," Faso said in a statement. "While Democrats want to delay the judicial process so that they can run one election on these unconstitutional maps, we are confident the Courts will see through that gambit and will order constitutional maps for the 2022 elections."
A hearing is reportedly scheduled for Thursday – the deadline for filing petitions – to determine next steps.
With reporting by Rebecca C. Lewis
Correction: A previous version of this article incorrectly identified the judge who issued the appellate ruling. We regret the error.
Powered By
NEXT STORY: Nonprofit human services workers may finally get a raise through the state budget