New York City
As Eric Adams looks to reduce waste, council points to city offices in need of staffing
The City Council is pushing back against vacancy reductions at Sanitation, the Department of Buildings and more.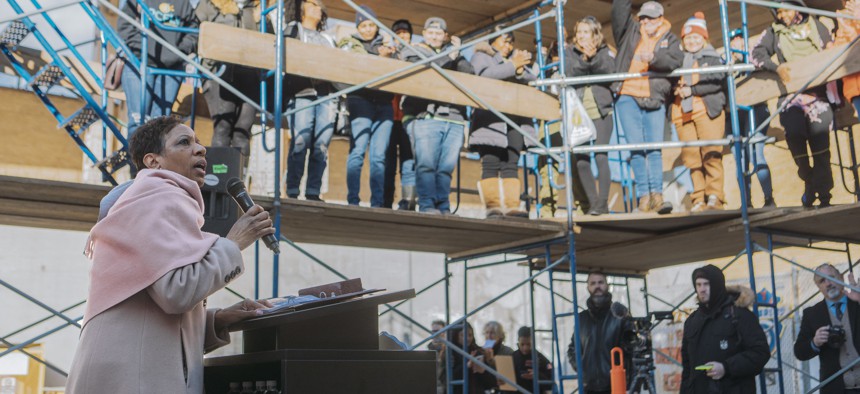 A key part of New York City Mayor Eric Adams' preliminary budget proposal is finding savings through reducing vacant positions across almost all city agencies. But in its response to Adams' budget, the City Council is calling for several of those reductions to be restored.
The council's budget response is a 66-page, wide-ranging document that identifies areas for investment that the body's leadership says were missing in Adams' preliminary budget, proposing a total of over $1 billion in additional spending. (The council estimated the city's revenue will be higher than projected by the mayor's Office of Management and Budget.) Included among the council's priorities is increasing funding to the New York City Housing Authority and affordable housing, investing in new mental health services, and boosting a grant program for the city's small and underresourced hospitals. 
But also included in the council's budget response are calls to restore several of the agency vacancy reductions that Adams sought, along with a call for funding of some new positions, including hiring 100 more "community coordinators" at the Department of Education to help students living in shelters – an estimated 28,000 spent time in shelters last year – get to school and receive educational support. 
Though vacancy reductions are a key part of Adams' citywide savings plan, the council – and its leader, Speaker Adrienne Adams – have not fully bought into the so-called Program to Eliminate the Gap. "The Council takes serious issue with implementing a PEG program without understanding the full impact it will have on the City's ability to retain and hire staff, and the impact it will have on an agency's ability to deliver key services," the council's budget response reads. Spokespeople for Mayor Adams did not immediately respond to a request for comment.
Some agency heads have raised concerns about already low levels of staffing and trouble hiring for new positions. Some city employees have warned that an in-person work requirement has civil servants heading for the door and applicants turned off of municipal work. And soon after Adams released his preliminary budget in mid-February, some proposed cuts started to draw rebuke, including pausing the planned expansion of the city's curbside composting program at the Department of Sanitation. 
The council is calling for the restoration of now-vacant positions including at the Department of Sanitation (including 161 uniformed personnel for composting), the Department of Buildings (81 full-time positions), Housing Preservation and Development (28 full-time positions), and several smaller offices like the Civilian Complaint Review Board that oversees complaints about police conduct and the Landmarks Preservation Commission. The council's budget response does not object to vacancy reductions at every city agency, but focuses on several agencies where it says the restored number of available positions are key to providing city services. 
"It is imperative that the Department of Housing Preservation and Development (HPD) be allowed to maintain its current headcount for positions involved in executing financing and acquisition of properties, tenant protection enforcement, and supportive housing programming," the council's budget response reads. "These positions are vital to HPD's core mission and must be exempted from the citywide PEG savings plan." 
"Frankly, any commissioner who says they were not disappointed by a reduction, it won't be truthful," HPD Commissioner Adolfo Carrión Jr. said at a City Council budget hearing last month. "Losing 28 full-time employees is not a good thing."
Experts have warned that vacancy reductions shouldn't be the city's chief concern when it comes to the municipal workforce, however. A report from the Citizens Budget Commission last week found that for the most part, Adams' vacancy reductions won't keep city agencies from hiring in areas of need, as the city is still authorized to hire 18,000 more full-time positions than it currently employs thanks to existing vacancies across the workforce. "While some agencies and program areas may be understaffed, the challenge for the City is not insufficient vacancies, but rather managerial and operational processes that affect how quickly and efficiently the City can fill priority vacant positions," Ana Champeny, deputy research director at the Citizens Budget Commission, wrote in an email to City & State.
In one example, the Citizens Budget Commission pointed out that under the citywide savings plan, the Department of Buildings saw 81 vacant positions eliminated, but even with that reduction the department still has 473 vacant positions to be filled, as of this February. 
In other areas, the council is calling for funding to hire new positions, including $12 million to hire shelter-based community coordinators at the Department of Education. According to the council's budget response, only 52% of city students who have been homeless and spend time living in shelters graduated on time, while 60% were chronically absent. Education advocates have called for more funding for community coordinators to serve as resources for these students.
The council also calls for the city to fund the hiring of the Department of Parks and Recreation's maintenance and summer workforce employees. In the last fiscal year, federal stimulus funds covered $42 million for the hiring of 3,500 seasonal workers in parks and another $10 million was included in the last fiscal budget for 150 park maintenance workers. The council now asks the city to put $52 million for these positions. 
Apart from calling for some new and restored staffing, the council's budget response also asks for funding to support voter education and registration assistance for noncitizens newly eligible to vote in municipal elections, and proposes expanding supervised injection sites to all five boroughs. 
Negotiations between the administration and the council will continue at least until the budget deadline July 1, with the mayor typically releasing an updated "executive budget," in April based on feedback from the council's response.