New York State
Gov. Hochul's job approval rating dips to new low: poll
Crime and the economy are top-of-mind for voters.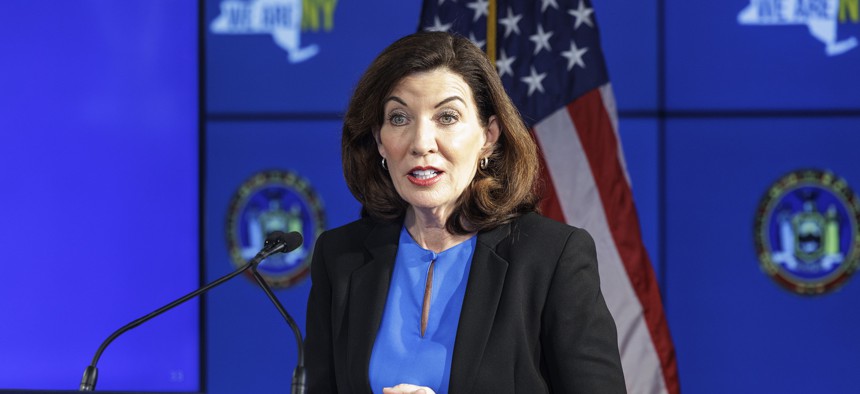 Gov. Kathy Hochul's job performance rating has plummeted to a new low, according to a recent poll, dipping to 36% from 43% just a month prior. 
Most voters are dissatisfied with her record on crime and economic issues, with negative approval ratings among 69% and 63% of voters on both issues, respectively, Siena College reported Monday. The research institute polled a total of 806 registered New York state voters between April 18 and 21. Hochul's favorability rating among all voters fared a bit better, at 44%, on par with the 45% favorability rating Siena reported last month. If she wins the Democratic primary in June, 45% of voters said they would vote for "someone else" in November's general election. 
In addition to crime, economic issues, including jobs, inflation and taxes, "were by far the top issues mentioned by voters as the most important to them in deciding which gubernatorial candidate to support in November," Siena wrote. 
The state's $600 million pledge to help build a new Buffalo Bills stadium, championed by Hochul, was another point of contention, with 63% of voters disapproving. However, one Hochul-backed policy voters overwhelmingly agreed on was suspension of the state's 16-cents-per-gallon gas tax, with 73% backing the proposal.
Also notable were voters' responses to bail reform changes. While a total of 67% of all voters agree with proposed changes by Hochul and the legislature to the 2019 bail law, 38% believe it will have no effect on the crime rate. Sentiments on bail were split between party lines. Half of Democrats still believe the law is good for New York, while just 10% of Republicans favor it. 
The law requires judges to release people accused of misdemeanors and non-violent felonies without bail. Hochul has proposed giving judges more discretion by adding additional offenses to the list of non-bail-eligible crimes.