Heard Around Town
Jessica Tisch led City Cleanup Corps before sanitation appointment
The department's new commissioner went to work for the city program after she stepped down as chief information officer in January.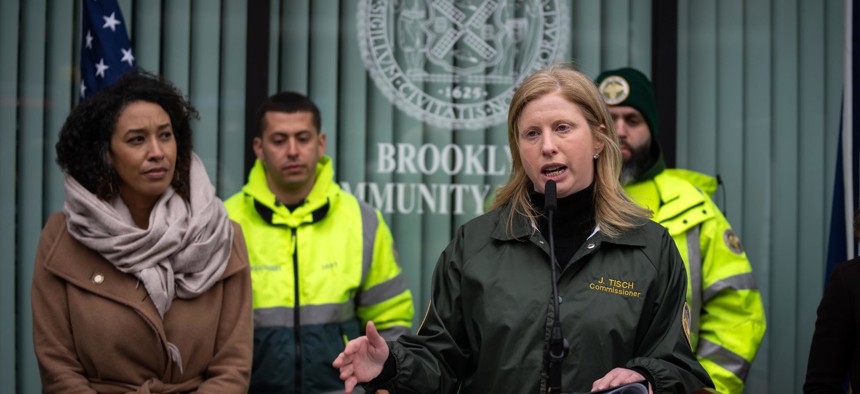 Jessica Tisch's long-rumored appointment to lead the New York City Department of Sanitation was made official on Monday, but it turns out Tisch has been working for the city for the past few months, even though she stepped down as the city's chief information officer in January. Though it wasn't mentioned in the 5 a.m. press release announcing her appointment, City Hall confirmed that for the past few months before being chosen to lead the Sanitation Department, Tisch had been in an apparent under-the-radar tryout leading the City Cleanup Corps under the supervision of Deputy Mayor for Operations Meera Joshi. The corps is a program launched under Tisch's old boss, former Mayor Bill de Blasio, to hire 10,000 people to clean up public spaces and parks.
As DoITT commissioner, Tisch had been making $243,171, according to the City Record. It's unclear what her salary was at the City Cleanup Corps. City Hall did not provide information about Tisch's salary in her most recent position, instead directing City & State to the City Record, though information about Tisch's position with the corps isn't available there. In a posting on NYC311's website, rank-and-file jobs with the City Cleanup Corps are advertised as paying $15 per hour.
In her goodbye email sent to colleagues when she resigned from DoITT at the beginning of the year, Tisch indicated that she intended to continue working with the city. Members of Tisch's family – which runs the Loews Corp., a massive conglomerate – donated a total of $10,000 to Mayor Eric Adams' campaign. On Monday, Adams praised Tisch as a "'Get Stuff Done' leader."